Return of the Kosmic Mother Funk
Sam Adams this week re-released their limited-edition Belgian style ale, Kosmic Mother Funk (KMF) Grand Cru. This marks the second annual release of the beer, which is now heading out on the road for a Tasting Tour across the country. I was on hand at the brewery in Boston for the launch party this past Wednesday and shared a few beers with founder Jim Koch.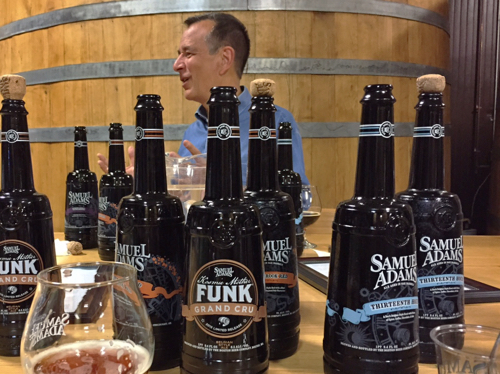 This year, Sam Adams bottled up a very small batch of the beer, which will be available only for a short time at the brewery (in fact, it may already be sold out). For those who aren't able to pick up a bottle in person, the Tasting Tour will be visiting 20 cities through December, ending up in San Francisco. One final, fan-determined tour stop will be scheduled following the SF date. Vote here: www.SamuelAdams.com/kmf.
As for the beer itself, KMF is a wild yeast-dominated beer, loaded with Brettanomyces and Lactobacillus and was aged for up to a year in Hungarian oak tuns. It's a really tasty brew–spicy, fruity, bright and tart–and one of the best Sam Adams beers I've had.
Expansion Plans
There were a host of brewery expansion projects announced this week, including a possible east coast expansion for Oregon's Deschutes Brewery. If the expansion goes through, Deschutes would continue the trend of west coast brewers like Sierra Nevada and New Belgium opening up east coast shops. And further to that, Massachusetts may finally see some Deschutes beer.
Buying, Selling & Consolidation… Oh My
In the ongoing saga of acquisitions and consolidation in the drinks industry, Vintage Wine Estates picked up yet another winery this week: Napa Valley's Swanson Vineyards. This is the second acquisition as of late for the family-owned wine company. Their first purchase this summer was Sonoma Valley's B.R. Cohn.
On the beer front, Anheuser-Busch scooped up a few more wholesalers, continuing their pursuit of utter domination across the three-tier system. Less than one month after A-B announced the acquisition of four wholesalers in Colorado, the world's largest beer company announced this new transaction which included two wholesalers in California. If you can't beat 'em, buy 'em. Right A-B?
Hot Events
The 10th annual Newport Mansions Wine & Food Festival returns in less than one month, kicking off on September 25, 2015. This is a picture-perfect wine event that I have been to and enjoyed on numerous occasions. This year's event will feature a two-day Grand Tasting, along with a handful of culinary icons like Jacques Pépin. Find out about tickets here, and I'll hope to see you there!
Book Report: Holy Beer
Jeff Alworth's newest book, The Beer Bible, was just recently released and includes 700 pages full of beer knowledge that covers the entire globe. If you're looking to learn more about different styles of beer, the brewing process, food pairings and beer tourism, this could be just the book you're looking for.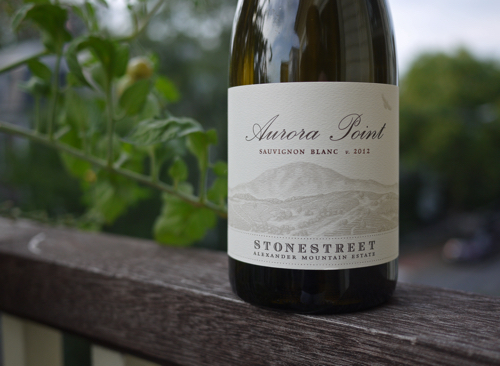 And finally, our drink of the week:
Stonestreet Aurora Point Alexander Mountain Estate Sauvignon Blanc 2012
Steve Heimoff, of Wine Enthusiast fame, introduced me to Stonestreet earlier this year when we met in Boston. Steve had recently started working for Jackson Family Wines, who owns Stonestreet, and tasted me on the estate Cabernet, which I loved. A few weeks later I attended a Jackson Family Wines dinner where I was introduced to this particular wine, the Aurora Point Sauvignon Blanc, and was blown away. So, of course, I had to track a bottle down for myself… which I eventually did, and then consumed… this week. 
The Stonestreet Aurora Point is the kind of white wine that puts your senses into overdrive and transports you to the mountain where the grapes for this wine grow at over 800ft. It's exotic fruit meets stony minerals and layers of complexity met with bright acid. Delicious. 92 points.