If you have friends and family who like their holidays to be drinkfully merry, you're in luck; because there are more great drinks and drink-related products on the market this year than ever before.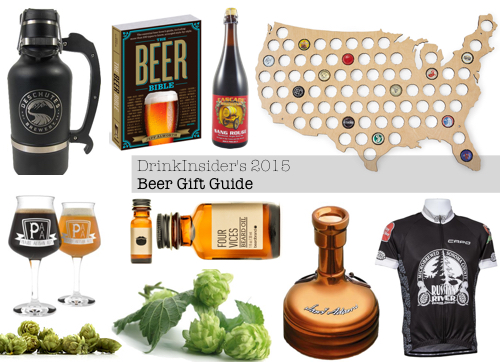 As I do every December, I've compiled a selection of some of my favorite gift-worthy drink things and drink gift ideas. Here's part I: Gifts for the Beer Lover.
1. A Bounty of Hops
Let's start with the obvious: beer drinkers like beer. So, why not give them the gift that is sure to please?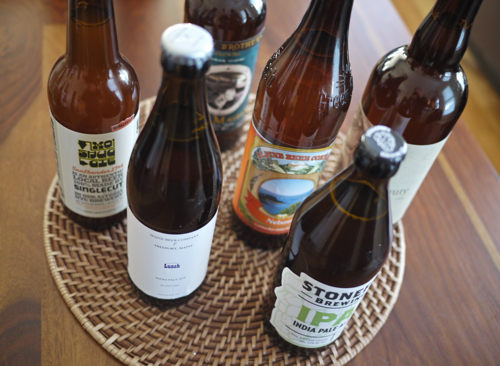 My recommendation is to pick out a nice selection of a particular style of beer, focusing on local, new and highly rated beers in that style. And, as the most popular beer style in America, you can't go wrong with IPA (unless, for some strange reason, your intended gift recipient doesn't like hops). Instead of buying a 6-pack or two, go to a store that sells singles or put together a selection of large format bottles. A diverse selection will show your gift recipient that you really put some effort into picking out beers you think they would enjoy.
If you need a little hoppy inspiration, here are some reasonably accessible new and cool IPAs/IIPAs in the Boston-area right now that I'd put in my bounty basket: Alpine Duet or Nelson (new to the Boston area), Stoneface IPA, Night Shift Santilli, Wormtown Be Hoppy, Lord Hobo Boom Sauce, Foley Brothers Fair Maiden, Singlecut Mo' Shuggie, Stone Enjoy By, and any IPA from Trillium.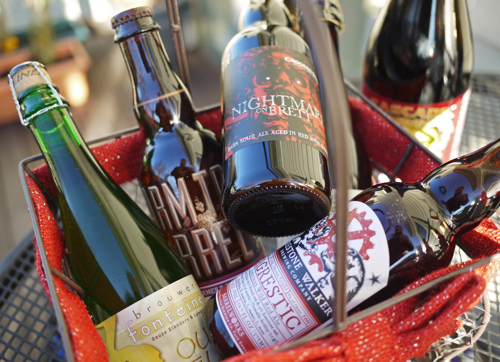 2. A Bounty of Sours
If your gift recipient is the adventurous type, you may want to put together a basket of sours instead. With more great, readily accessible sour beers on the market than ever before, and with more craft beer lovers finding their taste buds for sour, a hand-selected gift pack of sour beers could be a big winner. Plus, unlike IPAs, most sour beers are built to age. So, these beers can serve as a nice starter for, or addition to, a home beer cellar.
Here are a few (mostly) available and well-distributed selections I'd recommend: Cascade Sang Rouge, The Bruery Sour in the Rye, Boulevard Love Child No. 5, Goose Island Juliet, the latest Allagash sour, or pretty much anything from Crooked Stave and Almanac. Also make sure to look in the import aisle for Lambics and other European sour styles (that your local store clerk may recommend). Pucker up!
3. Proper Glassware
Some beer drinkers have a cabinet full of beer glasses… equipped for every style of beer imaginable… like me. If your gift recipient is one of these people, this is not a good gift for them. If, however, they have a cabinet full of pint glasses with random brewery logos half scratched off, then perhaps it's time to help them upgrade. You can look to a variety kit, like this Spiegelau Beer Tasting Box. Or you can take a little more custom and personalized approach.
My recommendation for beer glasses is to order glasses from your gift recipient's favorite brewery or breweries. Most breweries offer up style-specific branded beer glasses that you can order online. And most of them are pretty high quality. You'll sometimes even find some unique one-off beer glass shapes with certain breweries. Like, for instance, Sam Adams–who has a Riedel Utopias glass and their classic Boston Lager pint glass. Avery Brewing has a really cool beer snifter (featured above). Deschutes has some ruggedly awesome Hydro Flasks and growlers. And a number of breweries, like Lost Abbey, sell Teku glasses which are great stylish additions to any beer glass cabinet. The Spieglau Craft Beer Tasting Kit is sold on amazon, starting at $40 for a 4-piece set.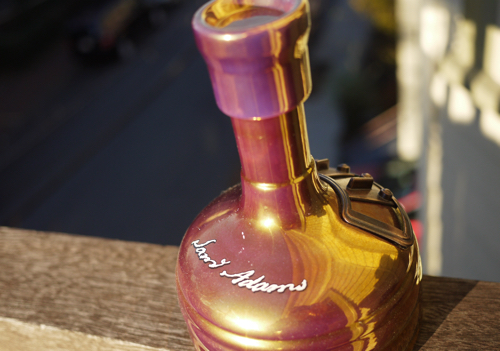 4. Sam Adams Utopias
When it comes to unique, special and memorable beers, Sam Adams Utopias is at the top of that list. From the bottle (if you can even call it that) shape, to the ABV (nearing 30%), to the taste profile (Sherry-like, non-carbonated), to the fact that you can open it and drink at your leisure for years to come, Utopias is the ultimate beer lover's beer gift. And you can be sure that your gift recipient will showcase it with pride in their home.
The 2015 edition of Utopias was just released last month and can still be found in top liquor stores around the country. It's not cheap, but neither are memories. $200
5. Brew Gear
I guarantee that your beer-loving friend or family member/gift recipient has at least one piece of brewery apparel or gear in their house. But I can also guarantee that they would love to have another. If you know their favorite brewery, check out that brewery's website for authentic branded apparel and swag. Like this bad ass hat from Trillium Brewing. Or like this rockstar cycling jersey from Russian River Brewing.
You can also check out PubGearUSA.com which has a whole host of brewery apparel and gear from breweries all over the US.
6. Beer Cap Map
For some reason I save my beer bottle caps. I don't know why… I guess some day I feel like I'll use them for something. Anyway, I've got several Scotch canisters filled with bottle caps and I need something to do with them. If this sounds like any of your friends or family members, perhaps a Beer Cap Map is just the fun project they've been looking for. This thing is actually pretty cool and I could see it becoming a neat memorable piece of wall art in a man cave or behind someone's home bar.
Beer Cap Maps are available in a host of shapes, including many major countries and US states. Prices start at $40, but can climb up to $75+ for the USA country map. 
7. Big Ass Beer
The holidays are a time for sharing. And what's better for sharing than a big ass 1.5-3 liter bottle of craft beer?
A growing number of breweries are producing these extra large format bottles now that are readily accessible during the holiday season. Some that I've seen around recently include: Stone Arrogant Bastard, Allagash 10th Anniversary Interlude, Chimay, and St. Bernardus "Abt 12" Quad.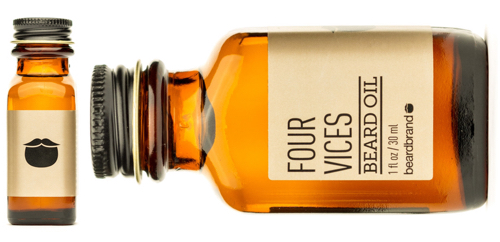 8. Hop-Scented/Infused Beard Things
There are two things that many craft beer drinking men have in common: they like hops and they have beards. If your beer-loving friend or family member is one of said men (like me), there are a number of hop-scented/infused beard products on the market to choose from. Here are two products that are worth checking out: Beardbrand Four Vices Beard Oil (made with "unique scents of tobacco, coffee, hops, and hemp cannabis to create the perfect subtle blend of manliness"), and Lesher's Beerd Balm (comes in a number of different hop varieties). Four Vices is available on BeardBrand's website for $40. Lesher's Beerd Balm is available on Etsy for $16.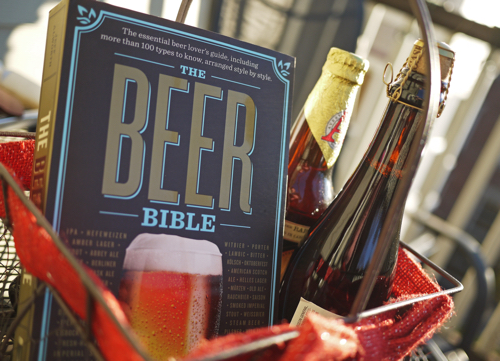 9. Jeff Alworth's Beer Bible
There are a lot of beer books out there, but one of the newest and most comprehensive books on the market is Jeff Alworth's Beer Bible. This tome came out in August this year, and covers the world of beer–from styles to history and geography to ingredients, brewing, food pairings, beer tourism and brewery tours. It also has plenty of photography, illustrations and maps throughout that keep the book entertaining and engaging. Buy it on Amazon for $11 (or $24 for hardcover).
10. Pico Brew (Delayed Gratification)
Okay, this one is a bit on the expensive side and won't be ready for shipping until after the holidays; but for your patient craft beer lover who won't mind waiting around a few months for the right gift, the new Pico Brew homebrewing appliance is pretty bad ass. They literally just wrapped up a Kickstarter campaign which netted them $1.5m, ranking Pico Brew in the top 20 Kickstarter design projects of all time and the second most funded Kickstarter kitchen appliance ever. You can preorder Pico Brew now, but when it's ready to ship in Spring 2016, it'll launch with a whole Brew Marketplace to pick ingredients and kits from. Pre-order on PicoBrew's website for $599.
Hope this list helps you pick out the perfect beer gift for this holiday season!