When was the last time you went into a bar and ordered an ale? Not a Pale Ale or an India Pale Ale or a Double Dry-Hopped Imperial India Pale Ale, or any number of other ales with other words before the word "ale." Just an ale.
I know for me, up until this past week, it had been a long, long time.
This year is Harpoon Brewery's 30th Anniversary, and to celebrate the occasion they re-released their very first beer ever: Harpoon Ale. It just hit the market, and will be available for a limited time this summer. The label is simple. White with the classic red logo that originally adorned the bottles back in the day. It's a really cool throwback and, frankly, the perfect beer to highlight Harpoon's three decades of "loving beer, loving life."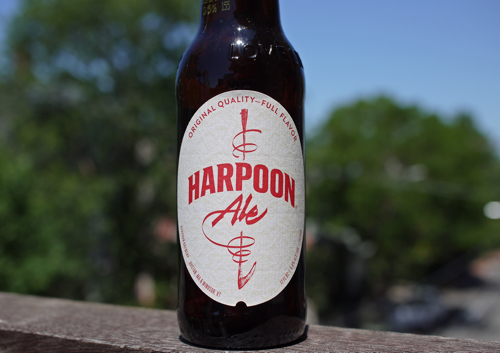 You've got to admit, sometimes it's nice to peel back the layers and recall a time when craft beer wasn't so complicated. When the word "ale" meant something and words like imperial and barrel-aged and enjoy-by were just figments of some home-brewers imagination. It was about making a good beer, and relishing the fact that there were now options in a bar that weren't yellow-tinted beer water, and being proud that, finally, Americans had proven that they too could make good beer like the Europeans. 
The re-release of Harpoon Ale is more than just a cool throwback. It's Harpoon saying, hey, we remember why we got into this thing in the first place: the quest for a good, locally-made ale that lubricates a social conversation and makes you smile. And that will always be a part of who we are.
Admittedly, when I first took a sip of the newly re-released Ale on a 30th anniversary trolley tour around Boston last week with Harpoon co-founder Dan Kenary (more on this later), I couldn't help but to feel a little nostalgic.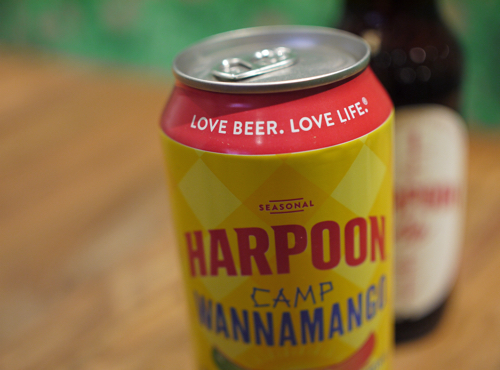 And I'm not saying that Harpoon hasn't partaken in the innovation-focused culture or the one-upmanship culture of craft beer in the last 30 years. Hell, they have a beer out this summer called Wannamango that is brewed with, yes, mango. But, I think the point here is that through all of the added layers, through the rise of Harpoon IPA, the dozens of 100 Barrel Series releases and unfiltered fruit beers, Harpoon has been able to hold onto the fun, the enjoyment, and the independent mindset that got them into this in the beginning. And that's more than you can say about many of the breweries that are out there now, especially the ones that have made it this long.
Dan Kenary reiterated the importance of this sentiment many times on our epic six-hour trolley ride around Boston. He clearly feels strongly that at the end of the day beer is to be enjoyed and shared amongst friends. You can love it (as Kenary surely does), but let's not put it up so high on a pedestal that we forget what it's all about.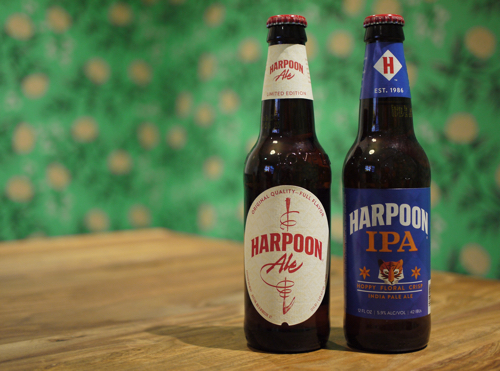 Along with Dan, we were joined by a number of long-time Harpooners and beer journalists on our journey through Boston. It was a celebratory ride and a historic one, commencing at Harpoon's brewery, then proceeding to four bars that had been important to Harpoon over the years. Stories were told on the way. Stories about Harpoon's annual trips to Europe, funny mistakes they'd made while trying to "figure things out," beer deliveries in blizzards…
We stopped at Jacob Wirth's and tried Harpoon's new, delicious Kolsch-style beer Sweet Spot. Harpoon has been making Jacob Wirth's house dark beer since the early 1990s. We stopped at The Sevens Ale House on Beacon Hill and cracked into fresh bottles of Harpoon Ale. Sevens was the very first bar to carry Harpoon back in the day. In fact, the bar's founder Jack Kiley actually was with us for the whole tour. He told a story about how he gave Dan and Rich (Doyle) a chance to take an open tap line in 1986 (which, of course, they took). The bar hasn't had an open line since.
We stopped at Warren Tavern for a UFO Big Squeeze (Harpoon's shandy), and Bell in Hand for a Wannamango. Both bars have been an important part of Boston's history, but have also been long-standing customers of Harpoon since the late 1980s/early 1990s. We had dinner at a new bar on the waterfront, State Street Provisions, and enjoyed pitchers of Harpoon's excellent DIPA Hoppy Adventure. It was a tour de force of old bars and new beers. 
Then, it was back to Harpoon's beer hall for their 30th Anniversary party, where hundreds of Harpoon fans had joined to celebrate the last 30 years, and the next. 
It was a memorable experience, to say the least. And one that really brought it all back home for me. 
It's not about going backwards. Innovation is good, evolution is good, competition is good, double dry-hopped India Pale Ales are good, hell, even mango beers can be good (seriously, Wannamango… pretty pretty prettttttty good)… but at the end of the day, let's not forget that thirty years ago, when two guys from Boston were starting a brewery called Harpoon, you couldn't get a good American-made beer if you begged for one. Now, thanks to guys like Dan Kenary and Rich Doyle, and many of the other original craft brewers, we've got more good beer in this country than we know what to do with. Let's hold onto that nugget.
Kenary made a little speech over dinner and toward the end he said something to the effect of: listen this is the beer industry. I've been lucky to work in this industry that I love for 30 years. And if we're not having fun with this, something's wrong.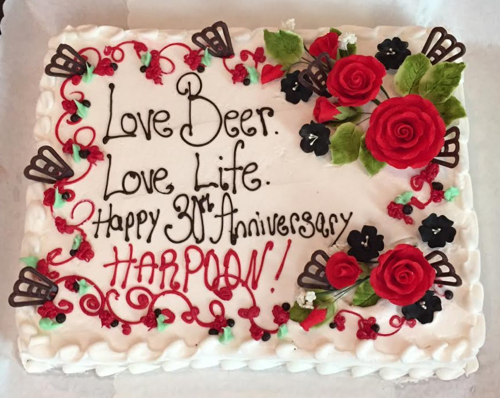 Happy 30th, Harpoon.
A massive THANK YOU to Liz at Harpoon for putting together this incredible day.