If there are two things I've been really excited about lately, it's "New California" winemakers and Syrah. And, when you put these two together you narrow in on a handful of producers up and down the Golden State that are elevating Syrah to its rightful place as one of California's great wines. One of these winemakers is Pax Mahle. Pax is, one might say, an overachiever. He has three winery projects that are each producing some tremendous wines in very different styles. Pax Wine Cellars was his first endeavor, started in 2000. Wind Gap came a few years later in the mid 2000s. And Agharta, his final creation (to date), launched in 2010.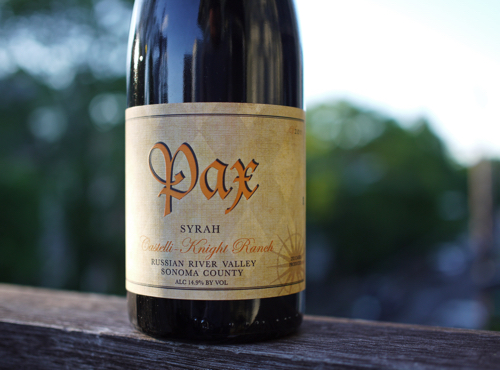 Each of Pax's wineries have a specific focus and purpose. Pax Wine Cellars focuses on bigger, higher alcohol and more intense wines from a variety of vineyards; mostly Syrah. Wind Gap tends to focus on lighter, more ethereal and cooler climates wines; Syrah, again, from many vineyards, but branching into Pinot Noir, Chardonnay and some offbeat varietals. And Agharta… ahhhh…garta… (ref. Miles Davis) which seems to be the place Pax goes with his most righteous creations, from a few select vineyards. The Agharta Black Label Syrah, for instance, is aged in oak for over five years and has continually raked in scores in the mid-90s year over year.
I had the opportunity to taste a number of the new Wind Gap releases and a few of the limited Agharta selections recently (thanks, Gordon's). Coming away from the tasting, I was even more enamored with Pax's wines. Here's my take…
Wind Gap Trousseau Gris 2015
You don't see this grape very often, anywhere… especially in the US. It's indigenous to the Jura region of France. But thanks to Pax and a few other California producers (i.e. Jolie Laide, Zeitgeist) it seems to be getting a little bit of that cool California spotlight recently. Actually, according to Pax, we really have Kendall Jackson to thank for this grape's existence in California (they blended Trousseau Gris into their Chardonnay for a long time, thus saving the vines). But whatever, it's here now, and we're all better for it.
Pax's expression of Trousseau Gris is bright, with super fresh fruit, a zesty tartness and a soft floral quality. It's a funky wine, for sure, totally unique, yet so drinkable and delicious. You should buy this wine (if you can get your hands on it) and drink it in the sun all summer long.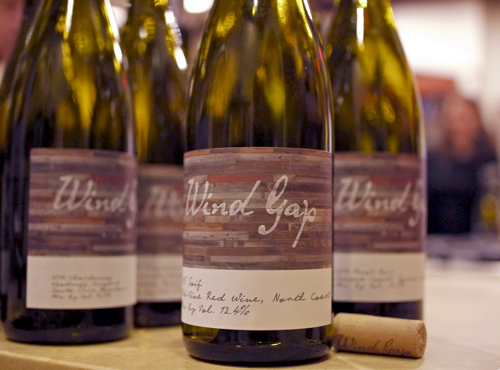 Wind Gap Woodruff Chardonnay 2014
The Woodruff vineyard is a small, dry-farmed plot of land up in the Santa Cruz Mountains, in the Coralitos wind gap. Pax gets both Chardonnay and Pinot Noir grapes from this vineyard. The 2014 Chardonnay release is lean and mineral driven, rocky with a light oaky quality, full of bright limey acidity and concentrated mountain fruit. It definitely seemed to be one of the most popular wines of the tasting, looking around the room. Pax says it's his favorite release of this wine since they first started making it in 2008. 
Wind Gap Woodruff Pinot Noir 2014
The Pinot, from the same Woodruff vineyard, is another great showcase of the Santa Cruz mountains. The grapes are all crushed by foot with no de-stemming and are fermented with very little extraction (essentially, Pax's M-O for most of his wines). This is a light, mysterious, and delicate wine with a ton of flavor. It's floral, fresh and fruity with a streak of minerality. 
Wind Gap Sonoma Coast Pinot Noir 2014
The Sonoma Coast Pinot is made with grapes from five cool climate vineyard sites in the Petaluma wind gap. It's an ethereal Pinot, a little more rich than the Woodruff, goes straight to the head. Silk on the mouth with bright fruit, strawberries and a smokey, earthy richness. Light and fresh, with lots of red candied fruit. Beautiful juice. 
See how many of Wind Gap's wines are made in this super fun wine music video:

Wind Gap 2015 Soif
A delightful, bright and fun wine made from old vines and abstract varieties (predominantly Valdiguié), met with carbonic maceration, aged in concrete and bursting with a super fresh, vibrant playfulness that will get your juices pumping. Soif is the French word for "thirst" and this wine is the definition of thirst, quenched. A slice of fruit, the essence of vineyard-to-glass. Serve chilled or whatever you want. Just drink often, and in large quantities. 
Wind Gap Nellessen Syrah 2014
The Nellessen vineyard is a tiny little vineyard up in the Sebastopol hills (not too far from Wind Gap's winery in downtown Sebastopol), grown on sandy soils, and is about as cold climate as it gets in this area (especially for Syrah). In fact, Pax mentioned that these grapes are harvested at sugar levels that many winemakers wouldn't consider ripe enough (even though it's picked in November). The wine clocks in at only 11.5%, but it is super flavorful, dense, and layered with cocoa, berries, and pepper. Bright and savory with lots of cool fruit.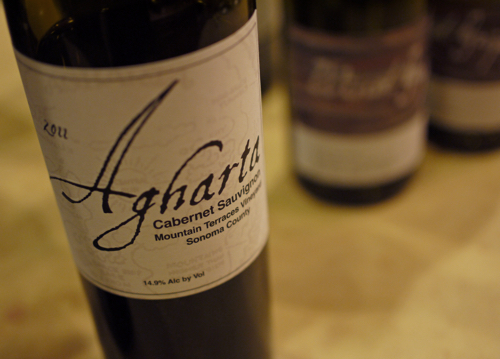 Agharta Mountain Terraces Cabernet Sauvignon 2011
Jumping from Wind Gap to Agharta is a big shift. This Mountain Terraces Cab comes from high up in the mountains above Sonoma Valley, on the Sonoma side of Mount Veeder. It's planted in rare volcanic ash, and when the grapes come into the winery they're covered in a white dust. The wine isn't bogged down by extraction or oak (just a small percentage of new oak), as you'd expect from Pax, but it's bursting with flavor. The wine's got an old school California Cab charm, with spice and dust, loaded with concentrated fruit, cassis, and chocolate. It's rich but not extracted, lush but pure, wonderfully textured, and rusticly delicious. 
Agharta Black Label 2009
Finally we get to this… Agharta Black Label. This wine is a Pax Mahle gem, a descendent (not directly related) of the Pax Wine Cellars Pangea barrels, 100% whole cluster Syrah, and aged for a little over five years. The fruit comes from the Mountain Terraces Vineyard and from a vineyard up in Mendocino County. It's a full bodied and rich wine, with umami notes, soy, chocolate, berries and pepper. Very different from the Wind Gap Syrah wines, no question about that. A strange and deviantly sexy wine.