I'll admit, I have a slight addiction to Instagram. Maybe you do to?
Of course, my Instagramming tends to focus on alcohol. My mother follows me (thanks, mom!) and once asked me why I just post about booze. I don't know, mom, I like booze? Anyway, all of those hours scrolling around Instagram does lead to some good. For instance, I am constantly finding new wines to check out. Many of which are from young, under-the-radar wineries that are making killer juice. Wineries like Red Cap Vineyards in Napa Valley.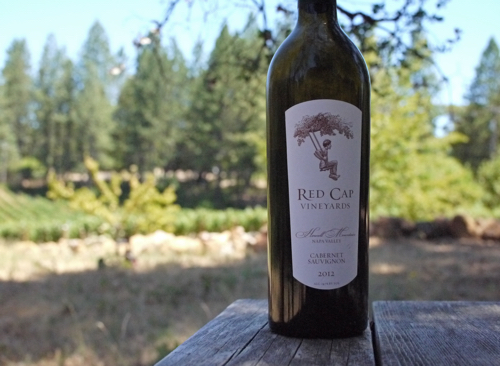 I don't know if you've ever gotten wine envy on Instagram, but when I first came across Michael Nguyen, a.k.a. @thehowellmonk, I got a major case of wine envy. Michael started popping up in my feed and it was impossible to ignore his constant barrage of drool-worthy Howell Mountain wines. Dunn, Robert Craig, Cade, Retro Cellars, O'Shaughnessy, Red Cap Vineyards… all of these beautiful wines! I. Needed. To. Have. Them.
If you're still wondering if social media has changed the wine business, I can tell you right now that it has.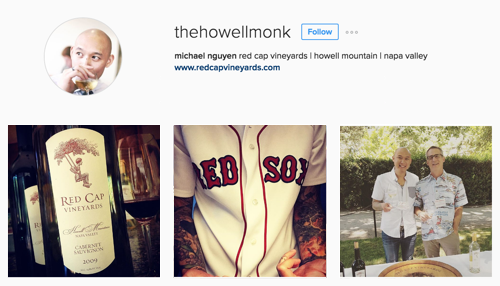 Finding #RedCapVineyards
I wound up connecting with Michael through various comment streams and DMs, and when I was in Napa last month I went up to Howell Mountain to visit him at Red Cap Vineyards, where he works.
Michael has a larger-than-life kind of personality (both online and off). He's a San Jose-born Red Sox fan, covered in tattoos, with an incredible passion for baller California wine, and a tendency to drop an f-bomb or two. He's also one of the nicest guys you'll ever meet in the middle of a vineyard. If you need proof that the face of California wine is changing (and getting a whole lot cooler), look no further than Michael Nguyen. 
The weather was absolutely perfect when I arrived at Red Cap on a Saturday morning in early July. Michael greeted me and my fiancé outside Tom and Desiree Altemus' house (the owners of Red Cap), and proceeded to take us for a narrated stroll around the property. We stopped to check out a few bunches of grapes and a water tank with a graffiti mural that reads "Howell Mountain." Eventually we came to an open area with a picnic table that looked out over the vineyard as it sloped up toward the peak of the mountain.
It's a magical place.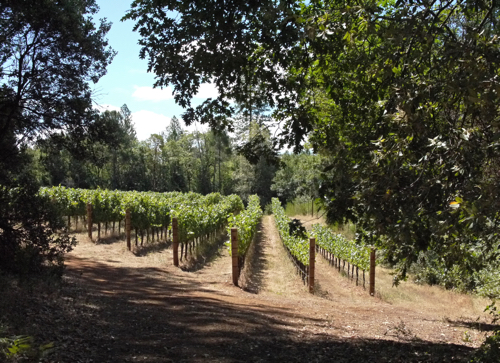 Conquering Howell
Each of the mountains in and around Napa have their own unique look and feel, and their own unique terroir. Howell Mountain is no different. It's not full of big Redwood trees like Mount Veeder, but its rolling hills and vineyards teased by the fog line make it an absolutely beautiful sight to see. And Red Cap's little slice of heaven on the peak of the mountain is truly stunning. 
Up there, the valley floor seems like a distant memory. At an elevation of 1,900 feet, the Red Cap property is true mountain terrain, built on deep red, rocky, volcanic soils. The vineyard is planted 100% to Cabernet Sauvignon and it shares the land with the Altemus' family home. Not a bad place to plant your roots, I'd say.
If you're wondering how a relative newcomer to Napa like Tom Altemus (who arrived in the late 1990s) could find a beautiful plot of land at the very top of Howell mountain, Michael will assure you that it wasn't easy. In fact, a Howell Mountain neighbor, Robert Craig, originally had their eyes on this property. But the land that the Red Cap vines are now built upon was completely covered in trees, and only Tom had the patience and audacity to mold it. It took eight years to get the property ready, clear the ground, plant the vines, and start producing Cabernet that was ready for market.
Tom and Michael met in 2012 at a wine event in the Bay Area. Tom was pouring his Red Cap wines and Michael was looking for a way to transition out of tech and into the wine biz. It took some persistence, but Michael eventually convinced Tom to give him a shot doing some social media work for the winery. And it didn't take long for that move to pay off.
In just a few short years, Michael helped to take Red Cap Vineyards from a virtually unknown producer on Howell Mountain, to a highly sought-after and allocated winery with an incredibly active community of online wine lovers. Sure, Michael couldn't have done it without a truly stellar product in his back pocket, but nevertheless, it's pretty damn impressive.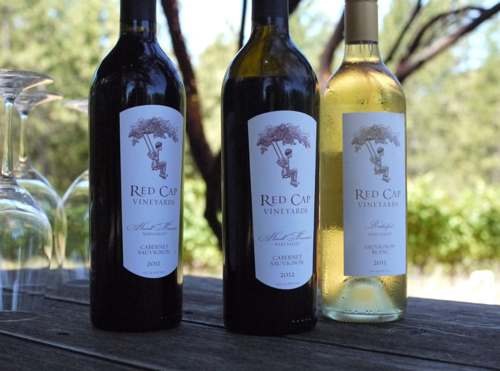 The Wine
In the clearing, we sat down on the weathered picnic bench and Michael brought out a few of the Red Cap wines to try. We started with their 2013 Sauvignon Blanc which is sourced from the Alsace Vineyard down in the valley in Rutherford. It's 90% Sauvignon Blanc with 10% Semillion, aged in neutral oak for about eight months. Fresh citrus, minerals, textured, and lingering, it's an elegant and delicious wine that is quintessential Napa and a great value at under $30. 
But the estate grown Cabernet Sauvignon is what I had come for. I must've seen these bottles pop up hundreds of times on Instagram and I had been dying to try them. Michael poured us the 2011 and 2012 side-by-side so we could see the variance of the vineyard from year to year. 2011 gets a bad wrap in the valley, but I've actually grown a fondness for these wines. The good producers made some really great wine in 2011, and Red Cap was no exception. 
2012 was the first year of a series of stellar vintages brought on by the drought. So, as to be expected, the 2012 is more fruit forward than the '11 and a bit more ripe. The 2011 is brighter and more edgy. Both wines, however, are bold and rich, layered with impeccable mountain fruit that bursts from the glass. Michael asked me which I preferred, but I couldn't decide. These are killer cabs, especially at the price point they charge. Believe it or not $75 is a steal for these wines. Howell Mountain cabs are a pricey bunch, and I think these Red Cap wines stand up to wines twice their price.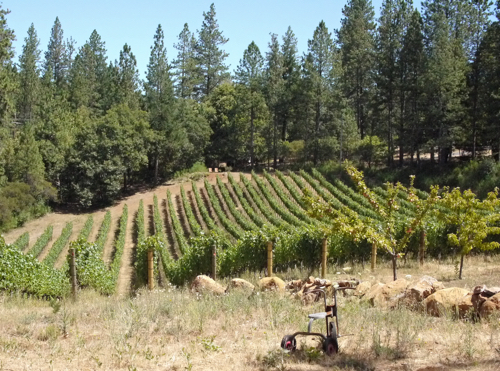 Connecting the Dots
Of course, none of this would have ever happened if I hadn't stumbled upon Michael Nguyen on Instagram. I wouldn't have taken the mountain road out and up from St. Helena another 20 minutes into steep rolling hills and winding vineyard land to seek out a small winery hidden deep in the terrain. I wouldn't have sat on a picnic table, in the middle of grape vines, drinking delicious mountain Cabernet at ten in the morning in the middle of the summer.
Through @thehowellmonk I found Red Cap and Howell Mountain and a community of wine drinkers that have a serious passion for these wines. It's amazing what a little 400 million-person social community can do when put in the hands of a passionate wine drinker.
Cheers to that!
And a big thanks to Michael Nguyen for being a stellar host. Go follow him on Instagram (@thehowellmonk), and while you're at it, you can follow me too (@drinkinsider).