It was a hot July day in Colorado and I found myself standing in the middle of Red Rocks Amphitheater talking about whiskey with the Master Distiller of Stranahan's, Rob Dietrich.
We were surrounded by leagues of impossibly fit people, running stairs and working out, sweating profusely in the late morning sun.
The group I was with–a motley crew of whiskey writers/professional drinkers/people who don't like to work up a sweat–were way too engaged in a conversation with Rob to think about improving their physique. Our sites were on a much better cause: the Stranahan's Cask Thief event which would be taking place later that night.
It's why we were all here; to take part in this inaugural showcase of some of the distillery's most prized casks. An event created to give Stranahan's fans a taste of some of the best and most limited experimental creations that the distillery had ever birthed.
And I certainly had no intention of missing this momentous occasion.
But before we could crack the casks of Rocky Mountain single malt, there was a Rob Dietrich-lead tour of the Denver-area to attend to.
Red Rocks was actually our second stop. The first was the night prior. We had gone to an historic meat house in downtown Denver called the Buckhorn Exchange which has more dead animals and dead animal body parts on the wall than Colorado has breweries. A few of said animals had even been killed by famous people, like President Teddy Roosevelt. And there was a strange cowboy-like person upstairs playing an autoharp.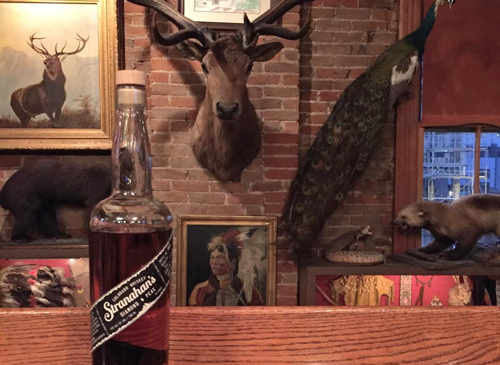 At noon the next day I was still working off meat sweats.
After Red Rocks, Rob–who, I may add, could probably pass for Wolverine's brother from the X-Men series–-took us up to check out the old mining town of Idaho Springs. We had lunch at a new restaurant called MTN Prime and drank a few glasses of Stranahan's Diamond Peak whiskey.
Clearly, whiskey was needed as it was already past noon.
Diamond Peak is Stranahan's latest year-round release, a four-year single malt whiskey aged in new White American Oak barrels. It's rich and robust, full of stone fruit and chocolate. A killer spirit, and a testament to the high quality juice these guys are putting out.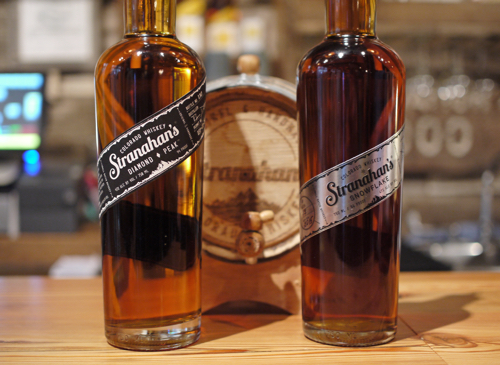 Later, cruising down out of the mountains back toward Denver for the big event, Rob talked about his prior life and how he got into the spirits business.
It was his love of motorcycles that had brought him to whiskey. After spending some time in the military and about a decade in the music industry, Rob met Stranahan's founder Jess Graber. The two bonded over bikes and booze, and becoming a distiller was the obvious next move.
Rob is kind of a bad ass dude, if you hadn't already worked that up in your head. An ex-military, music biz veteran turned distiller with big 'ol chops and a vintage motorcycle with a side car. Yeah, that's the guy I want making my whiskey. Clearly Jess thought the same.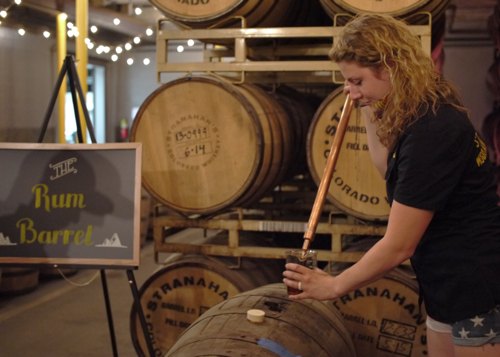 That night we got to see Rob in his comfort zone; surrounded by barrels, whiskey drinkers and a whole roasted pig.
I was in my comfort zone too. The whiskey was flowing strong.
Admittedly, I've rarely had the opportunity to taste barrel samples like the ones that were being poured that evening. It was an absolute treat.
Rob and his team had selected six very distinct, one-of-a-kind barrels to feature. The liquid contained in each had started as the regular 100% malted barley whiskey that goes into all Stranahan's products, but had been matured in different ways. The barrels featured included a rum barrel, an Oloroso Sherry butt, a three-year barrel, an "OG" barrel, a "broken" three-year barrel, and a "lost" barrel which was a bit of a mystery to everyone.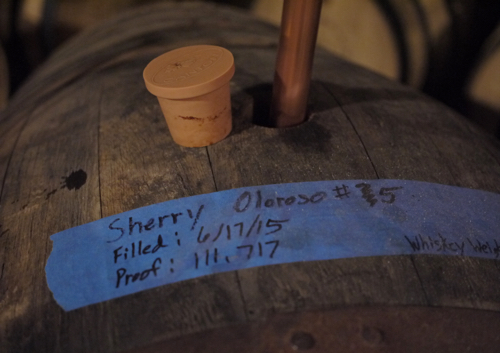 Perhaps you've heard of Stranahan's elusive Snowflake series—an annual limited edition release that is never the same one to the next. It's so popular the whiskey sells out in a matter of hours.
Trying these cask samples was like being given the golden ticket to try six different Snowflakes. 
If I had to pick, the whiskey in the Oloroso Sherry barrel was probably my favorite. Two years in the regular Stranahan's barrels followed by one additional year in Oloroso Sherry, and they had liquid gold. I actually tried one of the Oloroso-aged Snowflake releases in their new distillery lounge (which is open to the public), and it wasn't as good as this. Which is saying a lot.
If tasted blind against some well-matured sherry-aged Scotch whiskies, I'm pretty sure that this whiskey would have come out near the top.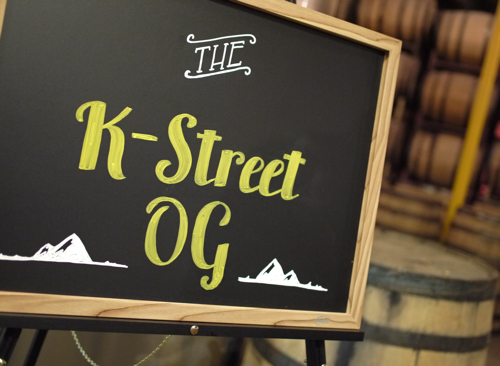 I also loved the "K-Street OG" barrel. This was the very first barrel that had been filled in the current distillery building, nearly seven years prior. If this whiskey is representative of where these guys may eventually get with an older product, I can't wait for them to get there. This was another wow whiskey—uber rich and chewy, saturated in barrel flavor, yet balanced and delicious.
If Stranahan's intension of bringing a bunch of whiskey geeks and writers out to Colorado for the weekend was to show us that their state is cool and their whiskey is great, then they succeeded. Not to say that I needed to be convinced on either front, but seeing the full extent of what Stranahan's is producing right now—from their Original to their Diamond Peak to these experimental barrels—took my respect for their spirits to another level.
Twelve years in, Rob Dietrich and Stranahan's have seriously honed their art and are producing some exceptional spirits–you may even say some of the best craft whiskey in America. If you haven't done so already, it's definitely time to tap this Rocky Mountain Single Malt.
A big THANK YOU to Rob Dietrich, Vicki Loo from Exposure, and the Stranahan's team for organizing this amazing weekend excursion.