With the re-release of Blue Spot in 2020, one of Ireland's most iconic whiskey brands is complete once again. Read on for my take on these remarkable whiskeys.
Whiskey-making is sometimes a collaborative process that expands beyond the walls of an individual distillery. In fact, there is a long history of non-distillery parties — independent bottlers, bonders — getting involved in the maturation, blending and finishing of whiskey. In many cases, these collaborations have led to remarkable products that have stood the test of time. This is especially true in the case of Ireland's Spot Collection, a century's old partnership between Mitchell & Son and Jameson Distillery. 
The presence of non-distillery producers can easily be traced back into the 1800s. Gordon & MacPhail, for instance, started as a grocery store in the Speyside region of Scotland in 1895. They are one of the world's best known independent bottlers, that has sourced, matured and bottled whiskies from distilleries across Scotland for over 100 years. Compass Box, a newer example from this century, has become known as one of the world's best whisky blenders; sourcing from distilleries across Scotland and maturing, blending and bottling up some truly creative inventions.
Then there's the aforementioned Spot Collection — another successful collaboration between outside party and distillery, bringing great products to market that would have never been possible if the whiskey never left the original distillery.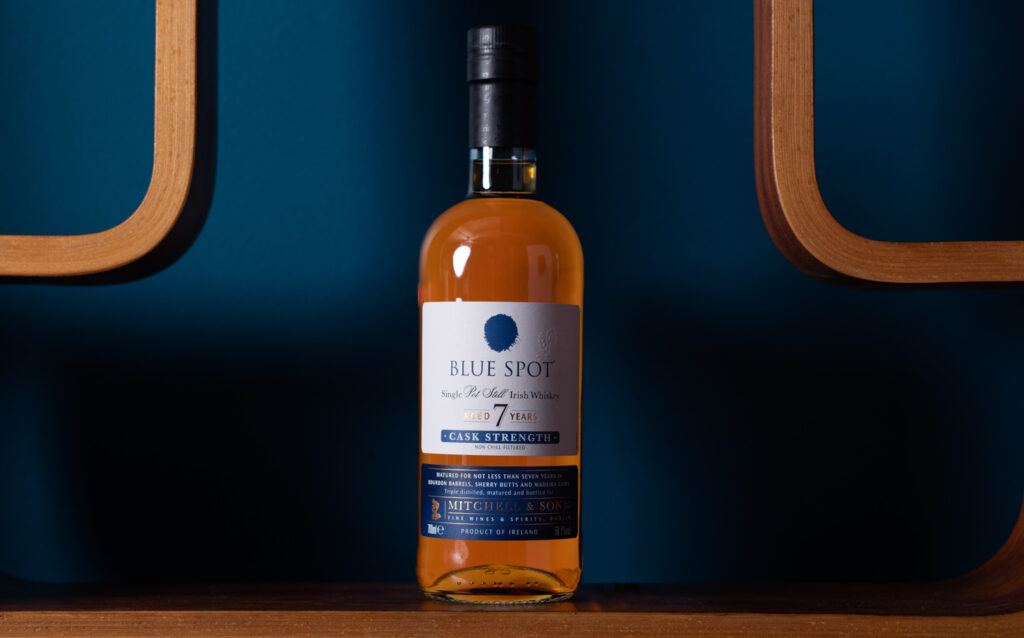 The Spot Story
The story of the Spot whiskeys starts in Dublin in the early 1800s. Like Gordon & MacPhail, Mitchell & Son was begun as a local shop for grocery-type items — tea, confectioneries, cakes and the like. But, by the latter part of the 19th century Mitchell & Son had expanded into the wine importing business. With access to empty wine, Sherry and Port casks, the entrepreneurial Mitchell family discovered a secondary use for their wine barrels: aging whiskey. The Mitchells began sourcing new make spirit from their neighbor just down the road, Jameson distillery, and began maturing whiskey in their cellar warehouse under the streets of Dublin.
Each of the Mitchell family casks were marked with a spot of paint which identified how long the barrels would be matured for. The color-coded system — Blue for 7 years, Green for 10, Yellow for 12 and Red for 15 — gave rise to the monikers the brand still abides by today.
Green Spot was first officially released in the early 1900s, according to the company, and has been available ever since, albeit not always with its current global reach. It is the only one of the Spot whiskeys that has been continually sold since launch, with the three other whiskeys going out of production in the 1950s and 1960s. However, as Irish whiskey began to regain popularity over the past decade, these whiskeys have slowly reemerged — Yellow Spot in 2012, Red Spot in 2018 and finally Blue Spot in 2020 (available in the US in early 2021).
The original Spot Collection has finally reunited. The labels still proudly read Mitchell & Son, but the whiskeys are now very much a collaboration between the Mitchell family and Irish Distillers (the company that owns the Jameson and Spot brands).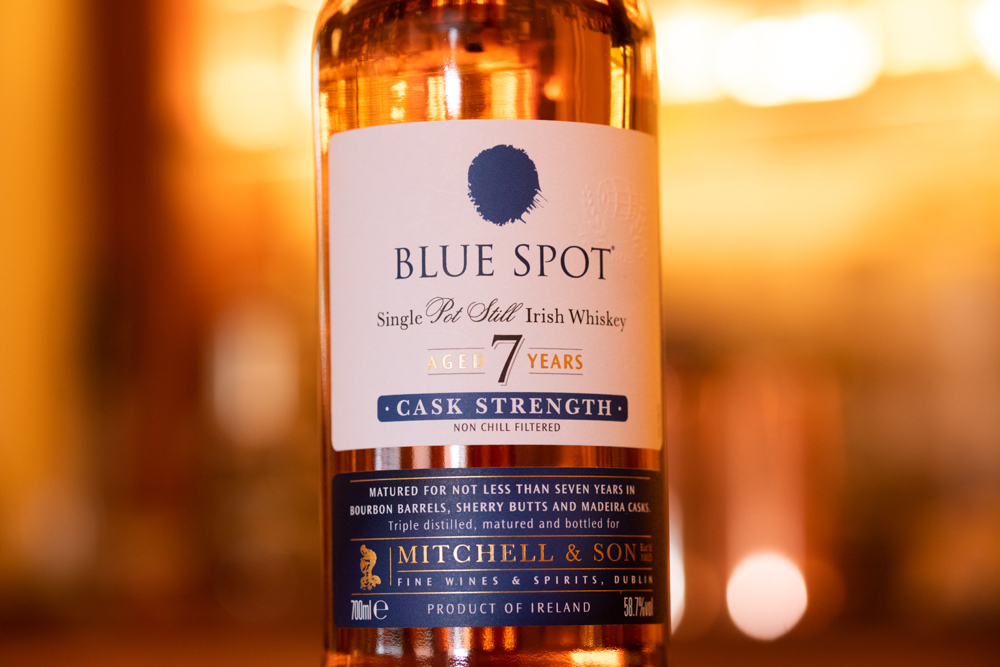 The Whiskeys
The Spot expressions are all single pot still whiskeys that are triple distilled and then aged in a combination of ex-Bourbon barrels and pre-seasoned Sherry butts. In addition to differing age statements, Blue, Red and Yellow Spot whiskeys also have an additional cask finish in their blends. Yellow is Malaga casks, Red is Sicilian Marsala casks and Blue is Portuguese Madeira casks. The latter is also bottled at cask strength, unlike the others in the series.
I had an opportunity to taste through the recently reunited foursome side by side and came away impressed. I had tasted Green and Yellow Spot many times prior (in fact, I think I had a bottle of Green Spot at one point), but I had never tried Red and Blue. I discovered that these final two are my favorites of the collection, with Yellow just slightly behind.
In fact, when taking into account price points, I may just have to give the Best Buy to the newcomer: Blue Spot. Don't be deceived by its relatively modest 7-year age statement: while it initially might appear that Blue is the youngest of the bunch, the reality is that Blue Spot is a blend of whiskeys that range between 7 and 20 years. In addition, you have the benefit of Madeira cask-aged whiskey and cask strength bottling which add layers of flavor and texture.
Here's my take on the full lineup:
Green Spot is a NAS whiskey, aged 7-10 years and bottled at 40%. I'd also note that it's the only chill-filtered whiskey of the lot, which in combination with the low proof point starts it off on a milder tone. I get a lot of fruit on the nose — green apple, orchard fruit, pear. The palate is soft yet textured, with underlying wood spice that builds into a spicy finish, a hint of sweetness and clove. A tasty whiskey, but given the more simple flavor profile, it's my least favorite of the bunch. 87 points, $60.
Yellow Spot is a 12-year (min) whiskey, bottled at 46%. This is where the lineup starts to get exciting for me, with the addition of a third cask type in the blend, along with a higher proof point. Malaga is a fortified sweet wine made in Spain from Pedro Ximinez grapes. This additional cask brings in a sweet, nutty note to the nose. Much more complex than Green Spot, I get exotic fruit, peaches, orange peel, honey, and a heaping of creme brûlée. There's a lot more depth to this whiskey, with a sharper edge and a much richer profile than Green Spot. 91 points, $100.
Red Spot is aged 15 years and is bottled at 46%. Here you get the addition of Sicilian Marsala wine casks which bring dark fruit flavors, even more richness and a healthy heaping of spice. There's more layers of complexity with this whiskey, likely due to the extended maturation and selection of barrels. I get cooked fruit, black cherry, leather, earth, and lots of wood spice. Delicious. 93 points. $130-$150.
Blue Spot is a blend of 7-20 year whiskeys, and bottled at cask strength of 58.7%. This whiskey benefits from the addition of Madeira wine casks, which bring in nutty notes, toffee, and stewed fruit. Rich, spicy, nutty and sweet, Blue Spot is full-flavored, deeply textured and full of wonderful energy and edge. I get some tropical fruit on the nose, with a dash of cinnamon, nutmeg and a layer of toasted wood. The palate brings in notes of caramel, chocolate and leather. Even at nearly 60 proof, this whiskey feels just right without any water. Fantastic. 92 Points, $80.