One of my favorite whisky events last year was The Single Malt & Scotch Whisky Extravaganza put on by The Scotch Malt Whisky Society of America (SMWSA). You can check out my review here.

On October 11, SMWSA kicks off their 2012 fall Extravaganza tour in Boston and I can't wait to see what's on tap. After swinging through Massachusetts, the tour will continue on to Chicago, DC and five additional markets around the country wrapping up in Fort Lauderdale, FL on December 6th. It really is a well done event, and a great opportunity to taste through new and classic whiskies from top distillers in an intimate setting. If you're thinking about going, here's a discount code: TDI2012.
The Scotch Malt Whisky Society of America, as you may know, is the American arm of the parent society based in Scotland, which has been around for about 30 years. It's a membership-based organization that gives whisky lovers access to truly unique single cask offerings as well as access to events such as the Extravaganza. Every month, the Society puts out a number of new releases, all cask strength expressions that you won't find elsewhere. They have released limited edition bottlings from over 120 distilleries and continue to churn out quite remarkable finds.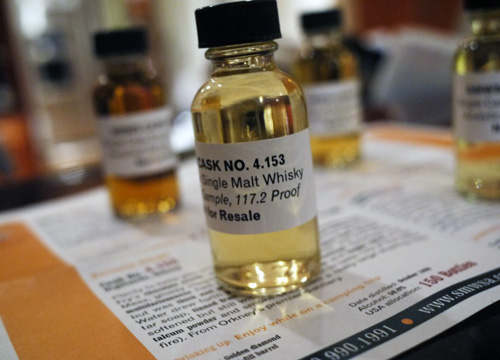 I've been asked on a number of occasions if the Society is worth joining. There's a fairly significant fee upfront (which also gives you four 100ml bottles) and an annual renewal fee. But, depending on how into whisky you are, gaining access to their whisky offerings could absolutely be worth it. I've reviewed a few of the releases from August's Outturns below. I'll be doing my best to review their monthly offerings on an ongoing basis, so stay tuned for more to come.
For the August releases – eight in total – I was quite impressed with the overall quality and span of taste profiles. This was my first opportunity to taste a number of their releases side by side. There were a few in particular that stood out for me. In the Late August Outturn, Cask No. 53.157 – a Caol Ila whisky from the North Shore of Islay – was perhaps my favorite of the month. A terrific peated 10 year whisky bottled at 58%. It has a superb balance between sweet, peat and spice. Oceany, peat fire, BBQ, marshmallow, some orange and milk chocolate notes, dry and just really nicely done. At $95, not only was 53.157 the least expensive offering of the late August release, but it's also one of the only ways to get a cask strength Caol Ila in the US. My score: 90 points.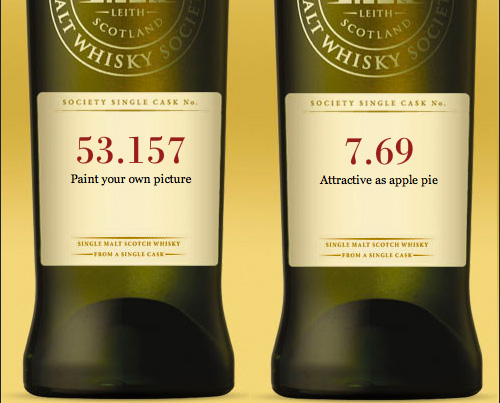 I was also impressed with Cask 7.69 from the Early August Outturn – an 8-year Longmorn (again, the most affordable of the bunch). A big, bold and spicy whisky, the Longmorn opens nicely with a touch of water, taming the 61.6% cask strength. Toffee, vanilla, apple, honey and fudge notes create a delicious sweet while red hots, cinnamon and a massive punch of tannic heat build great character and backbone. I haven't had the fortune of drinking a lot of Longmorn, but after tasting this whisky I'll surely be on the hunt.
Another stellar release in the August Outturns was Cask 3.182, a 21 year Bowmore from Islay. Like 53.157, this whisky has a wonderful sweet, peat balance. Salty smoke meets juicy pear, tangerine and passion fruit. There's also some roasted nuts, honey, peat fire and even some floral notes to create a complex, smooth and full bodied whisky. At $145, 3.182 was the top price point of the Early August releases, but for a unique, one-of-a-kind 21 year Bowmore cask strength release, certainly a good spend.
Thanks to Gabby and team at SMWSA for providing the samples. And for any of you who may be coming to the Boston Extravaganza event, I'll hope to meet you there.