Earlier this year I wrote about a few Isle of Jura whiskies, including the distillery's quite unique 21 year expression. In the months since, that 21 year Jura has become a favorite of mine. Rich, oceany and full of dessert notes, the whisky has proven to be the perfect after-dinner drink. So, when I was recently given the opportunity to try two of Jura's most recent limited edition releases, I jumped at the opportunity. The 30 year Camas An Staca and the 1977 Vintage are two exquisite, limited release older bottlings from this Island distillery that show an even greater window into the rich world Jura.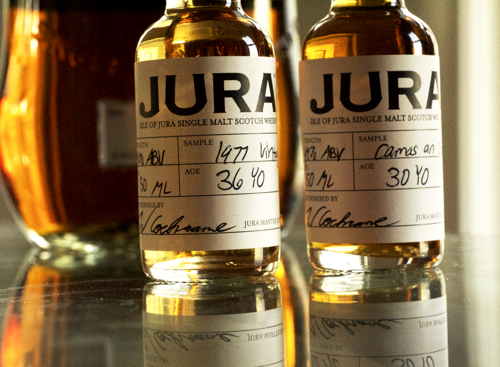 The 30-year-old 'Camas an Staca' is named for Jura's largest standing stone. It spent 27 years maturing in American white oak plus a final three in fine oak sherry casks, and was bottled at 44%. Only 200 bottles are making their way to the US (about 2,500 are produced globally), and the whisky retails for about $550.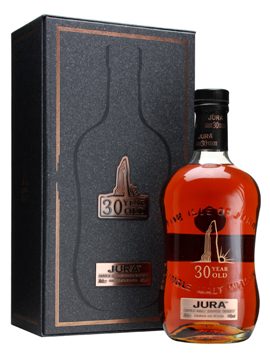 The first thing I notice about this 30 year expression compared to its 21 year younger sibling is that the whisky shows less of that salty sea air, and more of the rich, dessert-like notes. Baked apple and pear, burnt sugar, honey, figs and earthy baking spices coat the nose, truly intoxicating. I've really grown to love these Jura aromas, and this 30 year is absolutely exceptional in the glass. The whisky enters the palate silky smooth and has a building spice that peaks into a sharp and smokey note on the finish. And just when you think the whisky has shown its final notes, a burst of sea spray coats the exit. Camas An Staca is full of plump orange, toffee, anise, orange blossom and honeyed raisin. This is truly a decadent expression, just as unique in its profile as the 21, but ratcheted up a few notches. This whisky has really aged gracefully. 91 points.
The 1977 vintage, or 'Juar,' takes its name from the Gaelic word for the Yew tree. The liquid was matured in three first fill bourbon casks before being finished in a ruby port pipe for 12 months. The whisky was bottled at 35 years old and 46% – less than 500 bottles were released worldwide. At about $900 retail, this one will definitely run you a pretty penny.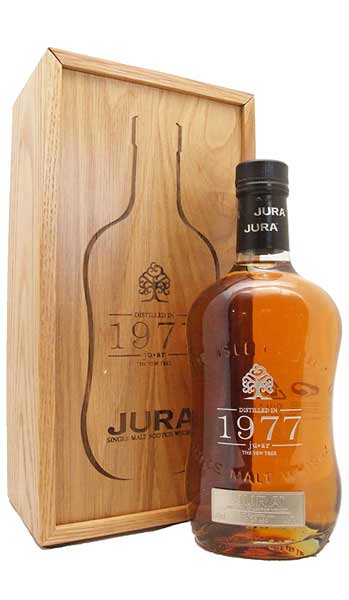 My initial impressions of the 1977 show a lighter and more laser focused whisky than the 30 year. Wood smoke and vanilla, caramel, salty ocean, a little peach and a hit of pepper on the back round off the nose. Generally speaking, this is a much more mellow nose than either of its predecessors but still quite distinct for a whisky of 35 years. On the front palate, a dry and woody entry opens into a very prominent topical fruit note – melon, passionfruit and a bit of toasted coconut. The fruit eventually opens up into a blend of peppercorn, honey, cassis and vanilla. The whisky has a long, spicy oak finish with chocolate, a hint of smoke and at the very end, a bit of those tropical notes come wafting back in. Sophisticated, intriguing and full of surprises. This is one of those whiskies that will continue to show new things every time you drink it. 90 Points.
Overall, there's more of a progression from the Jura 21 to the 30 year. The 1977 is in a world of its own. Though both whiskies are excellent, for my money and my palate the 30 year would be my choice of the lot. If money were no object, I'd have them both in my whisky cabinet. It's a shame more people won't be able to try these unique whiskies. They're fine examples of what well-aged whisky can achieve. Start saving your bucks, folks.
Both whiskies are expected to arrive in the US this month. Big thanks to Cecilia at Emanate PR for the samples.