When Sam Adams and Goose Island started barrel-aging beers 20-something years ago, the American craft beer industry was forever changed. The reality is, experimentation has played an integral role in the growth of craft beer. Without this passion to push boundaries, to be curious and experimental in nature, the industry would be completely different. Try to imagine what the craft beer landscape would look like if it weren't for beers like Bourbon County and Triple Bock.
Of course, barrel aging is just one example of how breweries have experimented with beer. Take Night Shift, for instance — this Boston-area microbrewery has been experimenting with unique ingredients since day one; like habanero, rose hips, green tea and hibiscus flower. Their beers are completely unique and offer drinkers new flavor profiles and experiences that wouldn't have been possible without this quest to explore.
Experimentation, however, is a two-way street. The demand for brewers to pursue experimental efforts has become even greater as craft beer drinkers have become more wanting of diversity and more open in their drinking preferences. Even the big craft breweries are embracing their experimental side. Take Harpoon Brewery, for example. I recently attended an event Harpoon, America's 12th largest craft beer producer, to help kick off a new monthly series called X-Nights; an event that allows the brewery to showcase their experimental efforts to hundreds of local fans. For this inaugural X-Night session, Harpoon introduced a freshly brewed Belgian Dubbel, that — like all of their experiential beers — was developed on a 10-barrel pilot system. In addition to this featured small batch release the crowd was also able to taste through a number of other brewery-only pilot beers, including a rather tasty sour stout called FrankenBarrel.
Not every craft brewery, however, is as fortunate as Harpoon to have a huge beer hall at their disposal that they can bring hundreds of guests in to try new experimental releases. It's really an ideal scenario that allows Harpoon to show off their experimental process, and get valuable market feedback about which beers may make the cut for a larger-scale release. But even before Harpoon opened their beer hall or even conceived of these X-Nights events, the brewery was running small batch consumer experiments with their 100 Barrel Series. Some of these releases — of which there are 50 now — have gone on to become official year-round beers for the brewery, such as 100 Barrel Series #37: Rich & Dan's Rye IPA.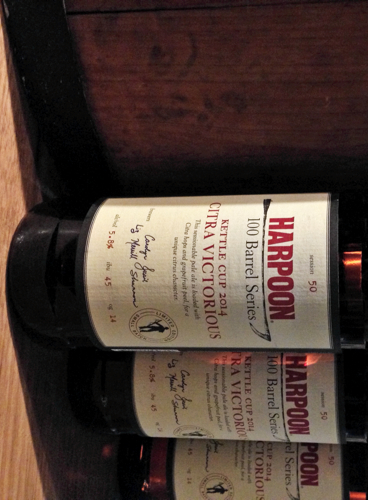 Citra Victorious is the newest 100 Barrel Series release, a pale ale loaded with Citra hops and grapefruit peel. I had an opportunity to taste this beer at X-Night and thought it was quite delicious. But the coolest thing about the beer is that it was the result of an inter-brewery competition that empowered all Harpoon staffers (brewers and non-brewers alike) to experiment on their own and produce something unique. The winning beer was submitted by an all-female team under the guidance of brewer Charlie Cummings and is yet another example of how innovation and experimentation is catching fire in the beer industry.
For breweries like Harpoon, experimentation does more than satisfy brewers curiosity and consumer wants, though. It also ensures that they stay relevant in an industry that is in a state of constant evolution and reinvention. This is true both in regards to public perception and changing consumer preferences. Just think, 10 years ago IPA's were niche beers consumed by mostly hardcore craft beer geeks. Now, they're the most popular craft beer style in America. The reality is, craft beer is still new to a lot of people, and it's still only a single digit percentage of the entire beer industry. Experimentation is key to not only preparing for future trends, but also for expanding reach into new markets that may have never converted otherwise.
With events like X-Nights, Harpoon has invited the consumer to take part in this experimentation. And not only is that really cool, but it's a smart move. If you're interested in being a part of this exciting experimental brewing that's taking place, the next Harpoon X-Night is on May 28th – which just happens to be my birthday. I highly recommend checking it out if you're in the area. And if you see me there, wish me a happy birthday and buy me a beer.
Cheers.