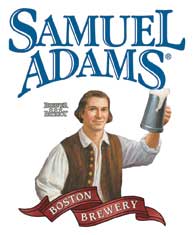 I believe I was about sixteen or seventeen years old when I had my first taste of Samuel Adams Boston Lager. I was with my family, staying with an aunt and uncle in New York. It was late, everyone had gone off and I snuck into the kitchen to raid my uncle's beer stash. All he had was Sam Adams. At that age I guess I could really care less what beer it was or what it might have tasted like. That wasn't the point. But I cracked into the Sam, took a sip and immediately thought, whoa… what the hell is this?! I certainly wasn't an advanced beer drinker at the time, but I had dabbled in the underage basics – Natural Ice, Mickey's, Milwaukee's Best – and this was nothing like anything I had experienced. The flavors were explosive, bitter, difficult yet strangely mind-bending and eye-opening.
That was my first craft beer memory.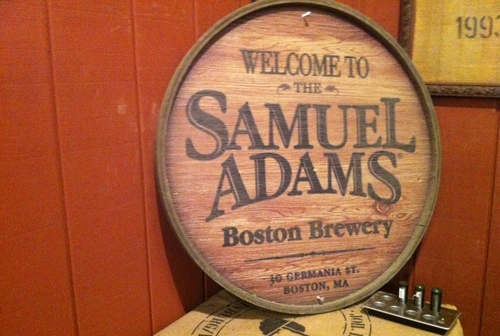 Fast forward to the present and after nearly a decade of living in Boston I finally found myself at the Boston Beer Company in Jamaica Plain, home of Samuel Adams. I don't know why it took me so long to get here – perhaps when something is in your backyard you just figure you'll get there… one of these days. I was invited to a special tasting and tour by the nice folks at batch ice cream – a local, (mostly) organic and fair trade ice cream company that just happens to produce their from-scratch delicious ice cream in the building directly next to Sam Adams. This collaboration was a first of its kind beer and ice cream pairing event at the brewery. Needless to say, it was nothing short of fantastic.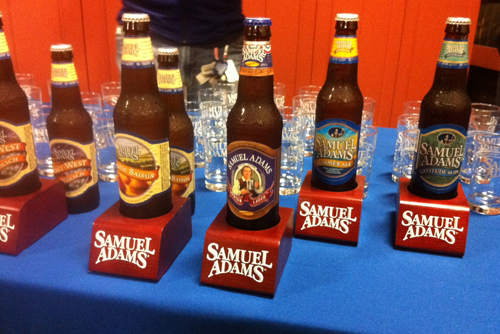 There were three pairings in total. We started with the classics – the traditional Sam Adams Boston Lager and batch's salted caramel (their most popular flavor). I must have had Sam Adams hundreds of times since my first experience nearly two decades ago, but this was no ordinary Boston Lager drinking moment. First, this ice cream is really, really good. It's salty sweet in just the right amounts. But, after tasting some of the ice cream on its own, I took a swig of Sam to see how the two paired together. The flavors of the caramel ice cream blended beautifully with the beer, creating a nice sweet, rich and creamy texture to the beer. An absolutely decadent pairing, and the first indication that beer and ice cream are, indeed, a match for the ages.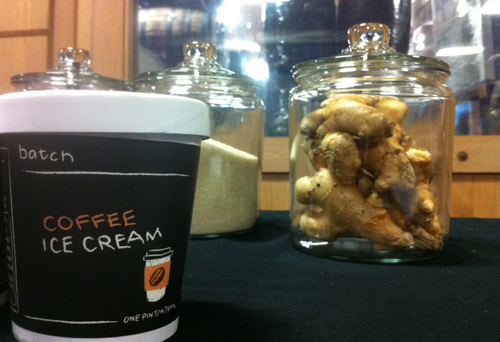 Although the second pairing was not my favorite, both the vanilla bean ice cream and the Sam Adams Rustic Saison on their own were good (skewed in batch's favor). In fact, if you're a fan of vanilla ice cream, batch's rendition is potentially the mecca. The vanilla bean flavors are absolutely explosive, mouth-coating and potent. It packs a hell of a sweet punch without being overbearing. The Saison was frankly outmatched by the explosive flavors of the vanilla bean. It just couldn't stand up to the onslaught. That said, on its own, the Rustic Saison is a fresh, easy-drinking light farmhouse ale with big, fruity Belgian notes of ripe banana and clove. There's also this underlying earthiness that adds a nice complexity to the brew. A solid beer, perhaps not incredibly rustic, but tasty and ripe for summer drinking nevertheless. Score it 87.
The final pairing was easily the most natural and complimentary of the session. In all honesty, for my palate I wasn't really a fan of either the Ginger ice cream or the East-West Kolsch on their own. But when the two came together, it was like they were destined for pairing. The jasmine floral notes of the beer mixing with the intense, fresh ginger created an explosive complexity that was absolutely perfect. The beer cut the ginger down a few notches and the ice cream made the jasmine blossom. I'll admit, I'm not a fan of ginger, but I can also admit that this is probably a pretty solid ginger ice cream if you like that flavor profile. Furthermore, I'll say that I'm not a big fan of the German Kolsch style, but for what this beer is trying to accomplish, it's doing it well. The East-West is extremely light and refreshing with some nice floral, citrus and grassy notes to add depth to an otherwise very mild beer. At just 5% alcohol, I can see this being a great, go-to summer session beer. Score it 86 points.
After the tasting, we were given a short, intimate tour of the brewery. As our most excellent and knowledgeable tour guide, Seth, mentioned, the Boston brewery is not Sam Adams' main production facility (they also have breweries in Cincinnati and Pennsylvania), but this is their main innovation hub. Just from the variety of barrels scattered throughout the brewery, you can tell that Sam likes to experiment and innovate. I haven't seen many beer breweries lined with Olorosso Sherry casks, Port casks, Bourbon casks and giant 134-barrel-holding Hungarian oak tons. The latter of which, by the way, contains the base beer for all of their barrel series brews which they have aptly named Kosmic Motherfunk. Despite any preconceived ideas you have about Sam Adams, this is a cool brewery.
My hat goes off to both Boston Beer Company and batch. This was a great event, but more importantly a meeting of two really interesting companies. If you like ice cream, and you are in the Boston area, go seek out batch. And as for Sam Adams, it's hard to deny that this company has been a tremendously innovative leader in the craft beer movement. They continue to constantly experiment and bring new flavors and styles to the forefront. From their most traditional Boston Lager to their barrel selects, seasonal brews and special projects (such as Utopias), Sam is continuing to push outside the box and provide beer consumers with a solid line of go-to's and a growing line of unique offerings that allow us to expand our palates and grow our appreciation of beer.
My respect for this brewery has been upped.