It's snowing like the dickens outside. Something about Finding Nemo and the worst snowstorm Boston has seen since 1978… I don't know, but I've got a couple bottles of just released local beer from two of New England's best local breweries and they're calling my name. While others were (perhaps, smartly) stocking up on water and other storm essentials, I made it a priority last night, and this morning (before the Governor shut off the roads) to pick up some new beer and whiskey to drink while this Blizzard of Oz treks on. I picked up a bottle of the brand new Russell's Reserve Single Barrel (which I'll review shortly), but right now I've got two new seasonal beers to drink: a spanking new release from Maine Beer Co called Lil One, and a new release from Jack's Abby called Private Rye.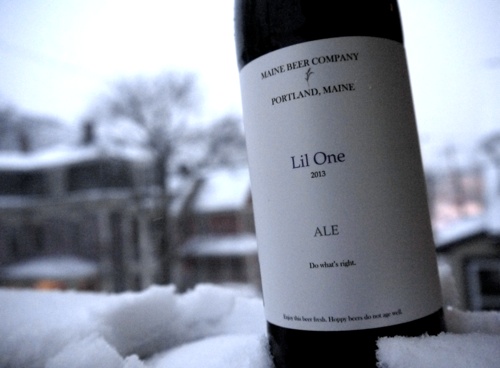 If there ever was a beer made to go with a snowy blizzard, it is a strong winter ale. And that's exactly what Maine Beer Co is calling Lil One. It perhaps could be defined as a double IPA, or a hoppy barley wine, but we'll take MBC's word for it since they made it and all. Regardless, at 9.1% and smelling like a snow covered pine tree, I'm happy to call this Lil One whatever they want me to call it as long as I get to drink it.
This brew is hoppy, dry, filled with candied orange, melon, berries, sweet malt and tangy, woody bitter… good for melting snow. The 9.1% is well hidden in the flavorful character, but the long, warm finish reminds you that this beer packs a punch. Just the punch I need to get me through this snowy eve. Overall, another nice effort from Maine Beer Co, but not enough to overthrow my love for Mo and Zoe. 88 Points.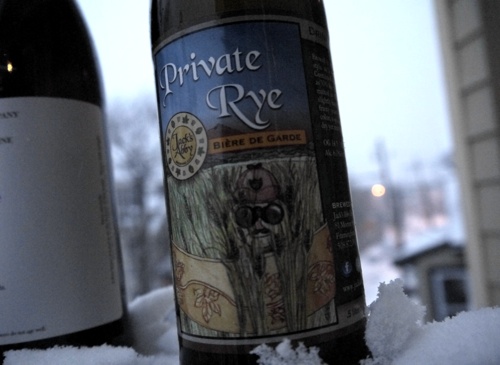 Jack's Abby is a really interesting brewery that's based out in Framingham, MA, just a short ride from Boston. The brewery launched in 2011, and I, unfortunately, haven't been able to visit them yet, but they're on my shortlist. There aren't too many craft breweries in the US that specialize in lagers, but these guys do a really great job of pushing the lager category and making the style shine in a local way. Their three year-round brews are all excellent – Jabby Brau (a session lager), Smoke & Dagger (a black lager) and Hoponius Union (an India Pale Lager) have seen a lot of refrigerator time in my house over the past year. I especially like the fact that they sell half liter single bottles and 4-packs for ridiculously low prices. Like less than $3 for a single. Compare that to MBC which is $8 for a single for the same size bottle.
Private Rye is a Beire De Garde, brewed in the farmhouse style as a warm fermented lager. This is one of their current seasonal brews and it's the first time I've seen it in market. The beer contains a 30% rye malt locally sourced in Massachusetts. Immediately, on the nose and palate there's a dry and spicy rye character that permeates this beer. It's got some mellow malty notes, with just a bit of fruit sweetness, and a very creamy texture that is balanced with that sharp, spicy rye. Bready, vegetal and earthy. On a snowy day, this beer is doing the trick, but I can't say it's one of my favorites from Jack's Abby. Definitely not as righteous as their Brett Biere de Garde – a past seasonal release that kicked major ass. 86 Points.
Okay, so perhaps these aren't my favorite two releases from these two awesome breweries, but it's a friggin' blizzard outside, so who cares. I've got power (for now) and lots of good local beer, so what else do you really want?
Stay dry, New England.