We're under two weeks away from one of the best annual whisk(e)y events in New England. Julio's Liquors 2013 Go Whisk(e)y Weekend is coming up on February 22-24, and if you're a whisk(e)y fan in the Northeast, you've got to be there. A lot of people go to the Sunday Grand Dram Tasting, which is a free event that's open to the public. But, for me, the most exciting part about the weekend is the full day of whisk(e)y seminars on Saturday followed by the Meet & Greet.
It just so happens that I've got a pair of tickets to giveaway for the Meet & Greet event on Saturday night from 7pm to 9pm. All you have to do is leave a comment on this post with a whisk(e)y you've been enjoying lately and your favorite president. I'll do a random drawing and announce a winner on President's Day (February 18) in honor of George Washington and his love of the spirit.
Speaking of awesome dudes who make whisky, there's a terrific schedule lined up for Saturday starting with an hour-long seminar with Compass Box founder and whisky maker, John Glaser. In the past 10+ years, John has become one of the most respected whisky makers in the world and his approach to Scotch whisky is fresh, innovative and truly exciting. The seminar with John starts at 11am. Also on tap Saturday is a tasting of The Classic Malts of Diageo. Seriously, this may be the only opportunity you have to try this stellar lineup all side by side, so don't miss out!
These are just two seminars in the packed Saturday lineup. The day also includes:
– Al Young of Four Roses
– Gable Erenzo of Hudson Whiskey
– Journey thru Scotland with Iain McCallum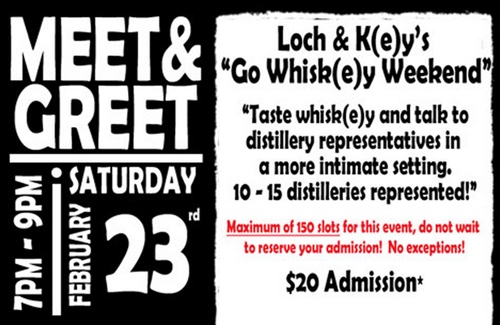 So, basically, if you're a whisk(e)y geek like me, you should plan on camping out at Julio's all day on Saturday and staying for the Meet & Greet tasting at 7pm. There's only 150 tickets sold to this evening tasting, so it really is a great opportunity to taste in an intimate environment and talk to some of the people making the world go 'round.
Then if you're up for it, you can come back on Sunday for the Grand Dram Tasting.
Good luck, and hope to see you there!