There are a few truths about San Diego. One, the weather is amazing. Two, there's a whole lot of Mexican music on the radio. And further to that point, the Mexican food is really, really good. And finally, San Diego is one of the best craft beer cities in the world.
I was in San Diego last week for Brewbound Session, a craft beer conference that brings out some of the industry elite like Tomme Arthur, Sam Calagione and plenty of start up brewers, brand managers, wholesalers, equipment manufactures and the like. I was at the Boston Session this past May (which I spoke at), but this SoCal Session took it to the next level. At the after party at Coronado Brewing's new tap room I found myself at one point of the night in a conversation with Pete Slosberg of Pete's Wicked fame, Joey Redner of Cigar City and Greg Koch of Stone. There's not a lot of events where situations like this can happen. Needless to say, it was pretty damn cool.
Of course, the other cool part about being in San Diego for the conference, was getting all day Friday to take in the sights and pints of San Diego's unbelievable craft beer scene. With about five hours to do some serious damage I set out to make the most of it. Here was my hit list.
Stop 1: The Best Damn Beer Shop (Downtown, San Diego)
I had a little time to kill before the breweries opened so I decided to hit up a craft beer shop. I had scoped out a few spots before my trip but I ran into a guy at Brewbound who works at West Coaster, a San Diego craft beer magazine, and he confirmed that the Best Damn Beer Shop was the place to go. So, I went, and yes… the clouds parted and God shone his light down. Sours galore, Bruery Melange, every Fifty Fifty Eclipse you could ever want, every San Diego beer you could want, wow.
I wound up with a bottle of Stone Southern Charred, Deschutes 2013 Abyss and an Almanac Sour Porter. Not bad for a morning's work.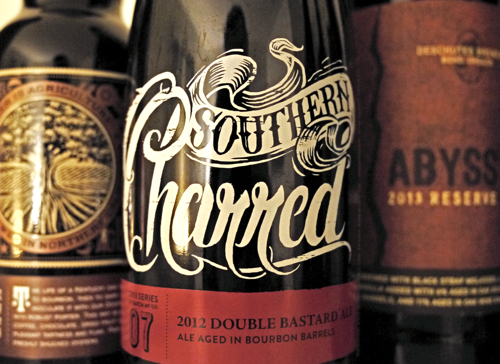 Stop 2: White Labs, Tasting Room
I guess you have to be a real beer geek to find yeast sexy. I, happen to be one of said beer geeks, and thus I made White Labs the first stop on my brewery tour of the day. I have to be honest, White Labs was not on my radar when I arrived in San Diego. But, in a conversation with Pete Slosberg my radar was quickly re-calibrated. For those not familiar, White Labs is a manufacturer of yeast, specifically made for the purpose of brewing, winemaking and distilling. As I'm sure you do know, yeast holds quite a bit of responsibility in the fermentation process. In fact, if it weren't for yeast, there'd be no booze. And that would be sad.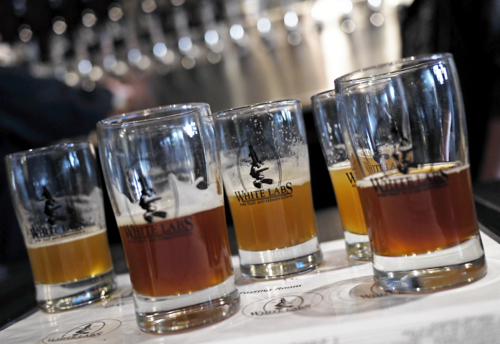 So, in showing my respect for this devilishly magical creature, I spent some time sampling beers in the White Labs tasting room. Which, by the way, were all excellent! Basically how it works is you order a flight of say, red ale, and taste how different yeasts (like Irish Ale Yeast or East Midlands Ale Yeast) affect the outcome of the beer. Their IPA flight was actually more of a study in hops than yeast, but that was also really cool. The winter spiced ale that they were serving up was probably the most extreme example of how different yeasts can completely change the profile of a beer. In this case, the same batch of beer was split into Belgian yeast and California ale yeast. The difference was staggering.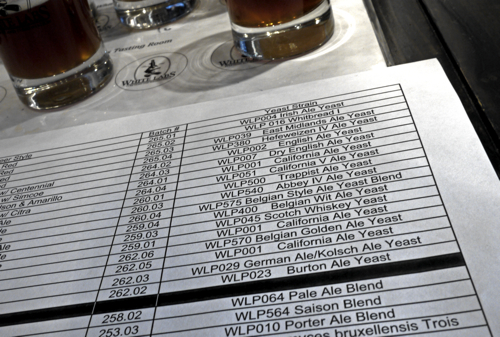 Anyway, if you dig this kind of thing because you're just really into beer, or are a brewer of the home or professional type, White Labs is a must visit. Their staff is also very knowledgeable and friendly.
Stop 3: Alesmith Brewing Company
Alesmith is a brewery that I have held in very high regard for years. Their IPA was one of my early favorites, but lately I've been really into their big, dark beers. A month or two before coming out to San Diego I had found out that the release of their annual barrel aged Speedway Stout was happening during the time I was going to be there. What a bloody amazing coincidence. So, of course I had to pick up my previously-ordered beer, but it was also an excuse to visit the tasting room.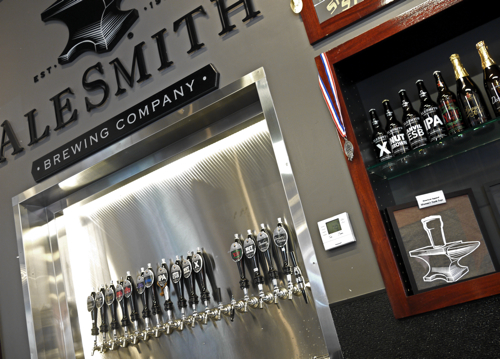 Turns out Alesmith is just down the road from White Labs. In fact, there are a whole handfull of breweries that are in this small radius, including Ballast Point (which is next up) and Green Flash (which I unfortunately didn't get to). But, Alesmith is definitely one of the best of the best when it comes to San Diego craft beer (which is saying a lot). Their line up is full of killer beers from more straightforward American and English styles to huge monsters like the 11% Old Numbskull west coast barleywine, and Speedway Stout, a massively delicious, coffee-injected imperial stout. They actually do about 15 variations of Speedway, which you can taste at various times in their tasting room. On the day I visited, they were serving up a macadamia nut variation. Pretty stellar stuff.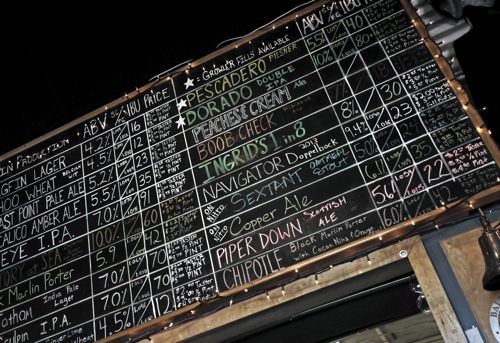 Stop 4: Ballast Point
Ballast Point is home to one of the best consistently produced, nationally distributed IPAs in the country, Sculpin. So for me this was another obvious choice, even though I didn't actually try a super fresh Sculpin on tap. Their special releases looked a little too interesting to wander through the known. I wound up trying their 2013 Doppelbock and a chipotle version of their Black Marlin Porter which was aged on cocoa nibs and orange peel. Both of these beers were absolutely fantastic… clean, balanced, laser focused and full of rich flavors, just like every one of Ballast Point's beers I've ever had.
By the way, these guys produce a few whiskeys as well, which I heard are pretty damn good… if you can find them.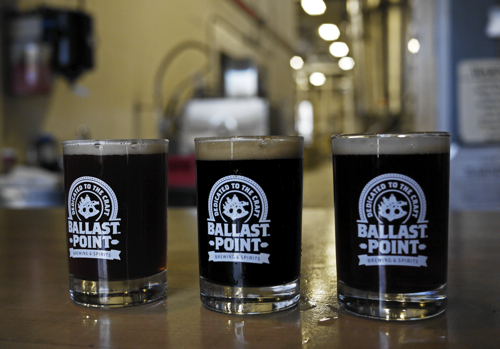 Final Stop: Societe Brewing Company
My final stop before hitting the airport was a new brewery that I learned about the day prior at Brewbound. Societe has been producing beer for about a year and a half and they have a beautiful, 16,000 square foot brewery and tasting room in the Kearny Mesa area of San Diego – about halfway between Ballast Point and downtown. Pretty much everyone at Brewbound who was tasting Societie's beers for the first time was blown away. Including me. In fact, I may venture to say that there's not a more exciting new brewery in all of Southern California.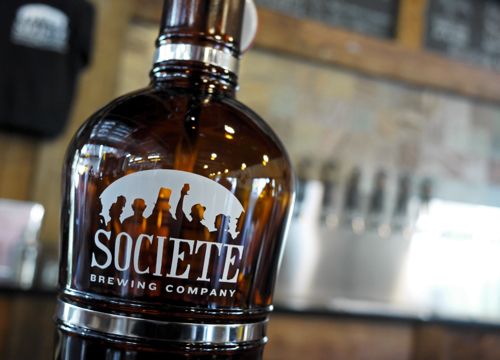 Digging deeper into the Societe story, you'll quickly learn that the two founders – Travis Smith and Doug Constantiner – have pretty impressive resumes. Both spent time at The Bruery, and Travis also spent time at Russian River Brewing. This decorated past has obviously played a major role in the high quality of beer these guys are producing.
At the tasting room I sampled their huge west coast IPA, Pupil. This beer smacks you in the face with massive, earthy hops and subtle fruit, and it's nothing short of amazing. Frankly, I'd put it right up there with Tree House Brewing's Julius for best new IPAs in America. I also tried their imperial stout, The Butcher; a divinely rich, dark and roasty beer, with coffee and cocoa notes, and a long finish that caries on forever.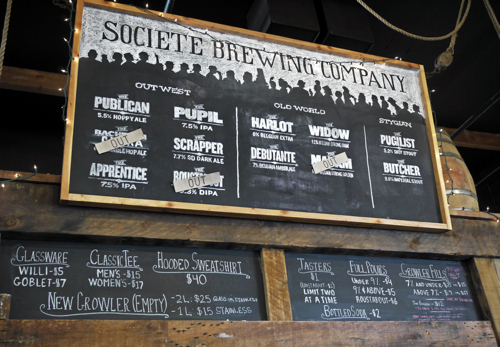 If you live in San Diego and haven't been to Societe, you're missing out big time. And for the rest of you beer geeks, go. Go soon.
When I arrived at the San Diego airport and passed through security I was craving one last beer. Just so happens that there was a craft beer bar next to my gate. And they had some fresh Sculpin on tap. Damn I love this city.