Four Roses is one of the hottest Bourbon brands in America, and if you didn't know any better, you might assume that it has been this way for a long time. But for master distiller Jim Rutledge and the Lawrenceburg, Kentucky-based Four Roses team, the path to success has been rocky, and the climb to the top has only been recent.
"September will be 10 years," said Rutledge about the launch of the company's iconic Four Roses Single Barrel. "In one way it's hard to believe that it has been 10 years already. And in the other it has gone by in a heartbeat." The launch of Single Barrel symbolized the beginning of the distillery's road back to American prominence. It set them on an innovative course that made Bourbon consumers realize that Four Roses was, in fact, one of the best.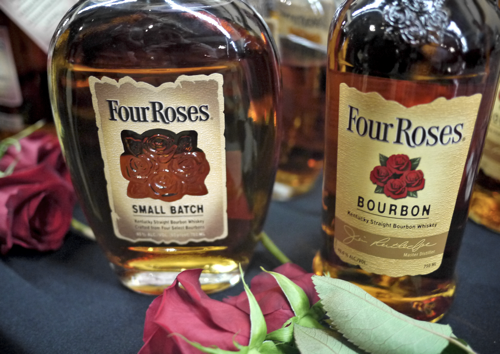 I caught up with Rutledge for a short interview at Julio's Go Whiskey Weekend, just a few weeks ago. He spoke proudly about the company and their recent successes, including getting named Whisky Distiller of the Year for the past three years by Whisky Magazine. As always, Jim's southern drawl and extensive history in the industry showed a side of Bourbon that you don't always get to see so close up.
"Last year was an extraordinary year." I could see him light up when he started talking about Four Roses' rise over the past decade. "When the Secretariat Foundation came to us and asked us if we wanted to participate in the 40th anniversary of Secretariat's Triple Crown win… And Penny Chenery came to our bottling warehouse to select barrels with me and, my gosh, she's absolutely an unbelievable lady… To be a part of that, well, it may be the highlight of my whole career. Is it better than bringing Four Roses back to the US? Is it better than the Single Barrel introduction? Probably so; because this shows we're here. It's one of the highlights of my entire life."
If you're familiar with the Four Roses story, you know that the brand has gone through a number of ownership changes, dating back to 1943, when the company was first purchased by Seagram. Seagram took the brand through some unfortunate times, in which product quality dipped, focus on the American market faded, and faith in the brand collapsed. But, under the new ownership of Kirin (starting in 2002), Four Roses was given the freedom to pursue a new path. One that set it back on the right track, with Rutledge at the helm and good Bourbon on the horizon.
The result has been an impressive charge into the limelight of a quickly mainstream-shifting Bourbon industry. The company's sales have spiked and cult status has started to surround some of their elite products. "We've grown 42%, 58% and 71% (respectively)," said Rutledge regarding the company's growth over the past three years. "That's domestically. Now we could not have done that — we would not have had the Bourbon barrels to fill the bottles — had it not been for the stock market crash and the plummeting sales in other parts of the world."
Jim's point about Bourbon stocks is something that has been a factor across the board for the industry. Not many distilleries predicted the upward shift in demand that was about to take place. But couple the overall industry demands with a ridiculous spike in brand demand, and you've really got to give Four Roses credit for being able to navigate the waters. And, if I may say so myself, they've done so with finesse and while maintaining some of the true essence of what has built them – like, for instance, their private barrel program.
Which leads one to wonder… with the pace of demand continuing to accelerate can Four Roses continue with programs like their private barrel selections?
"I don't think we'll be slowing that down," said Rutledge. "It's what built us… word of mouth and our private barrel programs. People like Ryan at Julio's, they get these private barrels and they're their barrels. It's Four Roses Bourbon, but it's their barrel. Retailers are proud of their selections. That's helped turn a very small company with very limited resources for marketing into a giant. Because everyone is doing it with us. Not for us… with us."
The private barrel program is not unique to Four Roses, but they've been one of the Bourbon distilleries that has really been leading the charge. Also, the fact that Four Roses produces a variety of products makes it especially unique. "People can come in and not only pick the 100 proof regular Single Barrel," said Jim, "But the fact that we do distill and age 10 unique recipes, they have the option of picking all 10 at barrel strength… And for a consumer, that's as close as most people are ever going to come to having Bourbon siphoned out of barrel."
Speaking of these truly unique, one-of-a-kind selections, Four Roses has also built up quite a following around its annual limited edition releases. Last year's 2013 125th Anniversary Small Batch, and its 2012 predecessor both won Whisky Advocate's American Whiskey of the Year. I was one of the many critics that gave both of these truly remarkable whiskeys glowing reviews. The demand, however, and the limited availability nature of these annual releases (combined with the accolades) have turned these whiskeys into hot commodities on the market. Finding the 125th Anniversary Small Batch last year in retail was nearly impossible. This is a trend we're seeing with other highly sought after brands like Pappy Van Winkle and the Buffalo Trace Antique Collection as well.
In turn, a Bourbon after-market has risen up in which people buy and sell hard-to-find whiskeys for highly inflated costs. I asked Jim what he thought about this growing black market:
"Doesn't make any difference what my feelings are," smiled Rutledge, letting off a little laugh. "I thought it was crazy… the second day after we introduced it [the 125th Anniversary Small Batch release], the bottles that first hit the market in Kentucky were selling on the internet for double, triple the value. As far as feelings… it was already going for higher than we've ever charged because the demand was so great… And then people are willing to pay that much!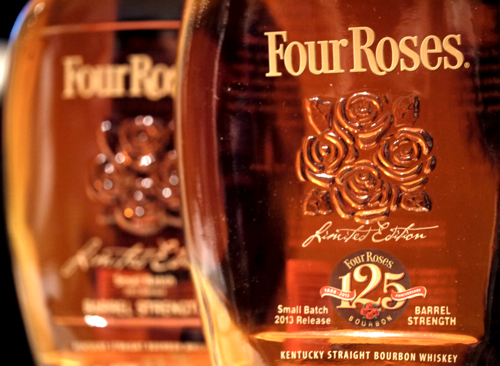 I guess it's just a fact of any market that is built off of supply and demand. And producers, like Jim Rutledge, sit idly by and watch this after-market take shape. At the end of the day, there's really nothing they can do about it. Just ask Julian Van Winkle… or Vinnie Cilurzo at Russian River Brewing.
That said, all of this hype – and all of these accolades – is bound to cause some added pressure, one might presume. Having to do it year after year, continuing to one-up yourself… or even just stay at the same level. It's a heavy ask.
"You're always trying to compete with yourself… trying to get better," said Rutledge. "But that doesn't mean that you get discouraged if you can't… because things like that don't happen all the time. Both of those whiskeys were what I would consider the best Bourbon I've ever tasted… Compared to last year, it's going to be hard to beat.
Of course, the whiskey market is continuing to grow into uncharted waters. More people are drinking whiskey, and the number of distillers in the US (and around the world) is growing at a steady rate. Consumers are being offered a much more diverse line of products than they've ever seen before. All of these market factors beg the question, what will the near future look like for Four Roses and the rest of the Boubon industry as more craft players enter the market?
"We're not concerned about it," says Rutledge. The way I've always looked at it — even within the eight major bourbon producing distilleries in Kentucky — if something happens… good! If Barton Brands is in the news, or Jim Beam or whomever, anytime you bring the attention to Bourbon it helps us all. And the small, boutique distilleries that have started up across the US, and the ones that get to the point where they have Bourbon to sell that's there own, are going to help the entire industry. We've got such a long, long, long way to go when you look at Scotch and compare case volumes to Bourbon. It's David and Goliath. So any attention that's brought to Bourbon helps our entire industry. So, I think it's good."
And to that point, I say, I think it's good as well. The growth of the Bourbon industry, the American craft industry, Four Roses… it's exciting! And I'm glad that there are guys like Jim Rutledge who are still around to bring a long history of perspective to the table. It's going to be a major asset to the inevitable changes that the whiskey industry will face in the coming years.
Cheers to Jim Rutledge for his time, and to my pal Corey Bunnewith for setting up the interview.