Per capita, Portland, Oregon has more breweries than any other city in America, and DrinkInsider has taken the PDX challenge head-on to narrow down the best of the best. In Part II, we've got five more breweries: Hopworks, The Commons, Lompoc, Pfriem, and Deschutes. Check out Part I here!
Hopworks Urban Brewery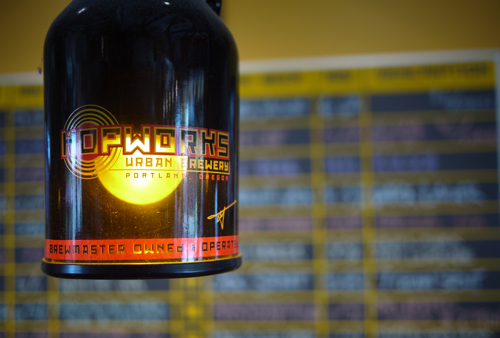 Walking into HopWorks BikeBar in Northeast Portland, it becomes instantly clear that this is where all of the city's hipster bikers go to drink. But fear not my fellow non-hipster biker friends, because Portland's bike community obviously has good taste in beer. In fact, I was pretty damn impressed with almost every one of the beers I tried. I was a big fan of Survival 7-Grain Stout — a bright and easy drinking brew, rich on the roasted malts and espresso and sharp in the mouth. I also thought their namesake HopWorks IPA was one of the big standout IPA's in a city full of IPAs. I'd go so far as to say it was one of the best, balanced Northwest style IPAs I had on the whole trip.
If stouts and IPA's aren't your thing, you'll find about 20 other brews on tap at HopWorks BikeBar, including some really interesting beers like a hop-forward imperial red and a beer by the name of Notorious FIG. I'd also recommend their dark lager Midnight in PDX, which I thought was one of the best examples of this style I've had in a long time.
The Commons Brewery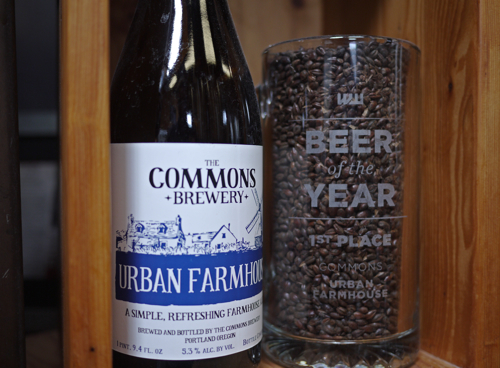 If you're interested in checking out the start-up craft scene in Portland, I'd recommend checking out Upright or The Commons – although, I personally enjoyed my visit to and the beers at the latter a bit more. As one of the smaller breweries in town, The Commons is using lots of local Northwest ingredients to produce hands-on, small batch beers mostly in the Belgian style. Their cool, modern space in Southeast Portland opened in 2011, and is a great spot to chat it up with fellow beer geeks or dig into the brewery's constantly rotating lineup. If you go, keep an eye out for their limited production wild ales; definitely some of this brewery's shining stars.
The New Old Lompoc Brewery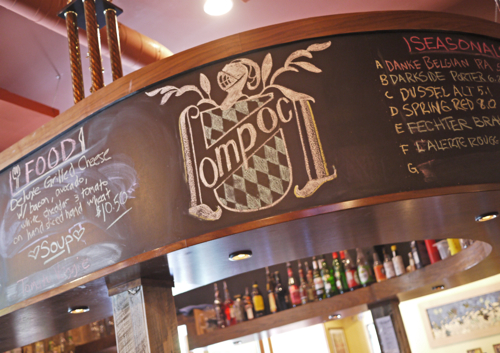 Lompoc was not on my initial radar prior to visiting Portland, but after getting the recommendation from some fellow beer drinkers at The Commons, I decided to check them out. Which, I may add, is an important takeaway to all of this beer geerkery travel stuff. It's impossible to research your way to all of the great breweries in any city. Talk to locals, buy them beers, get them saucy so they tell you about the hidden gems. That's the only sure way to make sure you're finding all the good stuff.
Anyway, The New Old Lompoc Brewery (formerly known as The Old Lompoc Brewery) has a few locations around town — including their brewing facility, Fifth Quadrant. Yes, yes, it's all a little confusing, but what matters is the beer; and these guys are making solid, well-balanced, flavorful brews. I wound up at the brewery's newest location, Lompoc Tavern on NW 23rd Ave, where I enjoyed an awesome patio lunch and a round of tasters. My favorite of the lineup was Lompoc's C-Note Imperial Pale Ale, a big hop-forward ale with pine and herbal spice notes and a citrusy finish.
Deschutes Brewery & Public House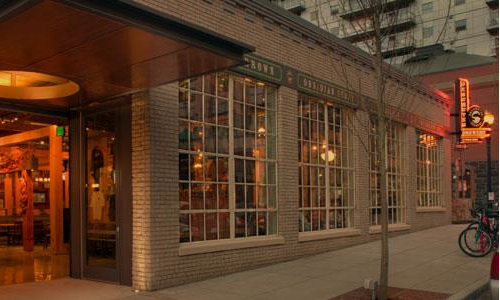 After arriving in Portland at about 10pm on a Saturday night, I dropped my bags off at the hotel and confided in my handy Yelp app to show me the way to the closest brewpub. The Deschutes Public House was right around the corner, and within 15 minutes of stepping foot in PDX, I had a glass of Black Butte XXVI in hand. Not a bad way to kick off a trip to Beervana, eh?
Deschutes is one of the larger breweries in the state of Oregon, and although their main brewery is based in Bend, their brewpub in Portland's Pearl District (of last paragraph fame) is a great spot to dig into the brewery's vast selection of beers. The space is huge, and perhaps a bit touristy, but with over 19 drafts plus bottles you're sure to find a few beers that will make it worth your while. On the evening I went, they were featuring not one, but three years of their stellar barrel-aged Black Butte Imperial Porter on tap. Including the latest release, XXVI, which was just recently released after aging for 6 months in bourbon barrels. The beer was dry spiced with Theo Chocolate Cocoa Nibs, pomegranate molasses and Oregon cranberries. Absolutely delicious! I was also really impressed with a number of their other limited releases including the hoppy Belgian Foray.
Pfriem Family Brewers (Hood River)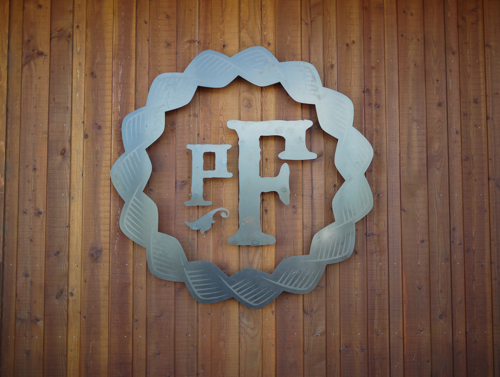 I'm going to take my editorial freedom to talk about one brewery outside of Portland. Pfriem Family Brewers is a small, 15 barrel brewery in the beautiful town of Hood River — about an hour's drive east of the city. I wanted to mention these guys because their riverside brewpub is such a great spot for a quick jaunt out of Portland. The food was awesome, the beers were awesome and you can literally sit in their dining room while watching the brewers brew the beer. Plus, you're in the heart of Columbia River Gorge, which is just breathtaking.
I started with Pfriem's summer seasonal release Tiny Saison, a fantastic, true to style session saison with bright lemon and floral aromas. A perfect lunch beer in the middle of a sweltering afternoon. Their Blonde IPA, one of their year round brews, was also a big standout — dry west coast hops and lots of bright citrus. And the cherry on top (or the dessert at the end of my meal) was their flavor-packed Belgian Strong Dark Ale. A big, complex brew with fig, dark chocolate and ripe fruit. Yes please.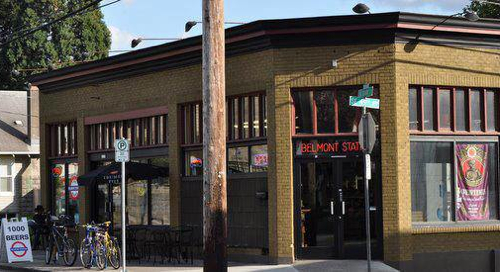 For Extra Credit
In addition to these five excellent breweries, here are a few more suggestions worth seeking out:
– Breakside IPA – another standout Portland IPA. Although I didn't make it to Breakside's brewery in Milwaukie (just south of Portland), I found a number of opportunities to drink this excellent IPA at bars around town.
– Belmont Station in Southeast Portland was the best bottle shop I stumbled upon. If you go, do yourself a favor and pick up a bottle from The Ale Apothecary, a small batch, wild/oak specialty brewer in Bend.
– Fort George 3-Way IPA – this was the best IPA I had all trip. Breakside and HopWorks were strong contenders, but 3-Way took the cake. Fort George, based in Astoria, OR, collaborates with two breweries every year to create 3-Way. This year's release was done with Block 15 and Boneyard, and was basically a west coast version of Heady Topper. So good!
That's it for Part II of Portland's Best Breweries, Brewpubs and Beers series. Stay tuned for the third and final installment.