This article is part of an ongoing series exploring America's best whisk(e)y bars.
My trip out to Oregon last week was really about two things: Portland beer and Willamette wine. But, I'd be lying if I said I wasn't planning to make a few whiskey stops along the way. The most important, of course, was Multnomah Whiskey Library.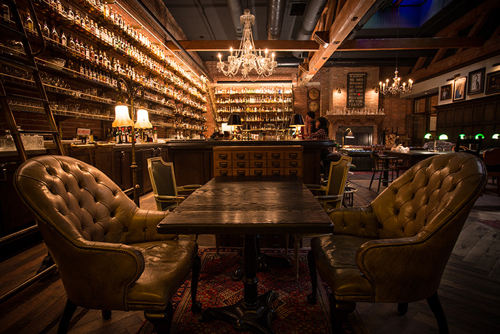 Multnomah launched a little less than a year ago, and immediately became one of those must visit US whiskey bars, with the likes of Jack Rose in DC or Brandy Library in New York. Really, any place that's going to curate a spirits list of over 1,000 selections belongs in this elite group of bucket-list bars. It's not until you actually walk into one of these places, though, that the magnificence really hits you over the head. And, walking into the Library in downtown Portland was truly awe-inspiring. I was immediately transported into a whiskey dreamland; engulfed by a mesmerizing visual experience of tall brick walls adorned by library-esque shelves containing spirit after spirit. So many beautiful whiskeys!
On my visit, I had an opportunity to sit down with Multnomah's GM, Jacob Heil, for a round of drinks. We talked about the bar's whirlwind first eight months in business which has catapulted MWL into the top tier of Portland's spirits and cocktails scene. The conversation was accompanied by an Old Fashioned (made table-side, I may add). And while I don't typically drink cocktails in whiskey bars that have such an interesting selection of individual spirits, I must admit that this particular Old Fashioned was one of the most delicious and refreshing cocktails I've had in a long time. Perfectly balanced, heat, spice and sweet, made with one of Multnomah's own single barrel Bourbon selections. A great way to warm up for the real show!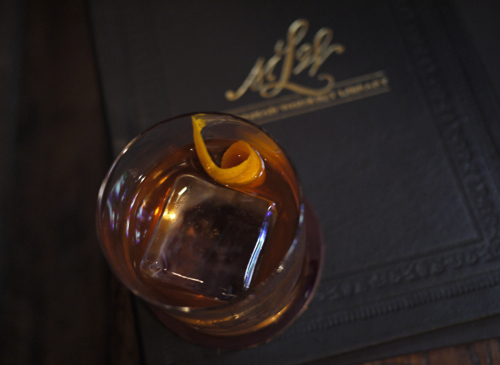 Multnomah, like the city that surrounds it, is truly a welcoming and friendly place. They've seemed to find the perfect balance between high class lounge and friendly/laid back atmosphere. In fact, from my conversation with Heil it became increasingly clear that Multnomah has built itself on this welcomeness and above and beyond service they provide (which is no question accounted for in the generally high price of their spirits). I found the bartenders and staff to be knowledgeable, genuine, and most importantly, ready and willing to take you through a great spirits journey.
As for their leather-bound tomb of awesomeness, Multnomah Whiskey Library currently boasts well over 1,000 spirits on its shelves – with Scotch being number one and American and world whiskeys following shortly thereafter. This is actually a pretty substantial feat considering Oregon's state-controlled liquor laws which limit the diversity of spirits that make it into the state. Heil and company literally had to search Oregon up and down for all of the spirits they carry. Talk about a new level of dusty hunting! The bar has, however, acquired a backlog of other "essential" spirits that aren't sold in the state quite yet, but won't be available for purchase until the government approves them (don't worry, they're working on it!). Alas, you'll just have to settle with the thousand+ other whiskey, Scotch, Tequila, mezcal, Cognac, rum and gin selections available. How will you ever cope?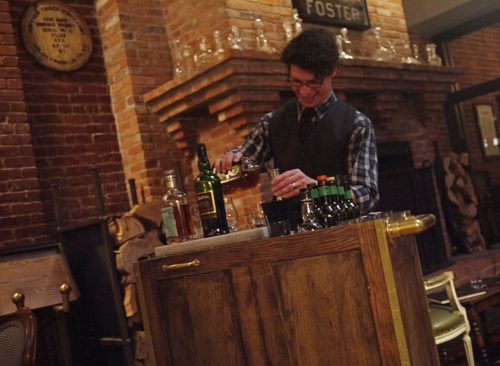 The cake topper to the whole experience, in my opinion, is that when you do finally decide on something to order, your drinks are presented couch-side from a classic wooden bar cart, manned by a bartender who is happy to geek out with you or take you through some educational background on the spirit(s) at hand. A classy touch indeed!
Three drams later (aka, what I drank)…
Even with the knowledgable bartenders, places like this require thought to make good selections when so many options are in play. My decision process is always rooted in three things: finding something I've never had, finding a (relatively) good value, and finding something that may be either hard to come by or something I've been wanting to try. Thankfully, like any great whisk(e)y bar would, Multnomah offers half pours, allowing guests to explore more spirits than they otherwise would be able to.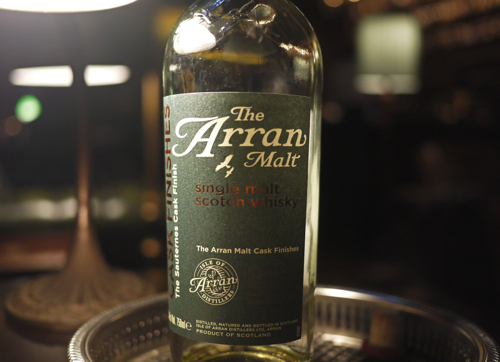 To that extent, my first selection was Arran's Sauternes Cask Finish (which came recommended by Heil). You're probably familiar with Glenmorangie's Nectar D'Or, but aside from that I can't think of too many other whiskies I've had that are finished in Sauternes casks. So, I thought this would be a great opportunity to explore. It was a good choice too; the sharpness of the spirit cut what could have been very easily overpowering Sauternes notes, and the end result was a beautiful expression with a sexy, dessert-soaked orange richness. You Nectar D'Or fans will dig this whisky.
For my second dram, I was in the mood for Sherry or peat, or both. Unfortunately, my DrinkInsider collaborator, Carol, isn't a big fan of either so we wound up ordering two half pours. For her, an independently bottled Auchroisk 17, which wound up being a huge hit for us both. Clean orange citrus nose, dry, spicy vanilla palate, sharp and woody.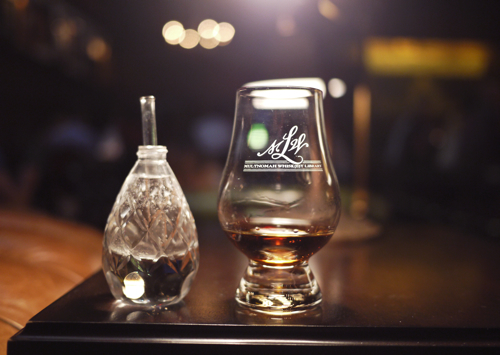 For me, a glass of Kilchoman 2006; the predecessor to Whisky Advocate's 2013 Islay Single Malt of the Year (Kilchoman 2007).  I'd never been able to get my hands on this 5th anniversary release, but as expected, this Kilchoman was a big, well-made smokey seaside whisky, with an underlying sweetness from the Sherry and peat all the way to tomorrow. It reminded me a little of some of the earlier Bruichladdich PC series (though not nearly as good). A solid dram, but it fell a little short respective to Kilchoman's impressive lineup.
After an hour or two of enjoying the dreamscape environment of Multnomah, I took a final stroll around the place, checking out the education area/members vault (yes, you can get a membership… just put your name on the list) as well as the wall of whisky icons. Oil paintings of individuals like EH Taylor, Pappy Van Winkle, Jim McEwan and George Washington line one of the walls. Another classy touch showing more insight into how seriously this place takes its whisky.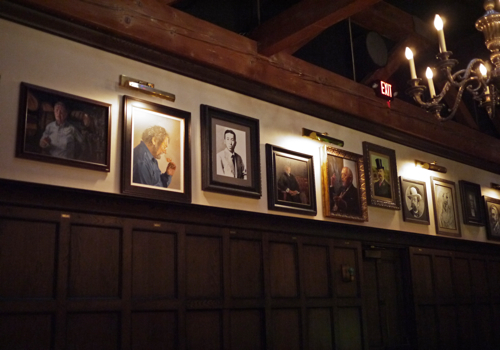 In short…
Multnomah is a world class establishment that deserves a place at the table when it comes to America's Best Whiskey Bars. With over 1,000 spirits and growing, this is a must visit next time you're in PDX.