The famous drinks writer Michael Jackson once called The Macallan "the Rolls Royce of single malts." He proudly heralded the distillery as one of the absolute best. And who could argue with that assessment? During Jackson's time, The Macallan was at the top of their game, looked at by whisky drinkers the world over as the elite of the elite; a distillery that was producing some of the finest sherry-aged whisky this world had ever seen. Whiskies that today are being sold at auction for thousands, if not tens of thousands of dollars.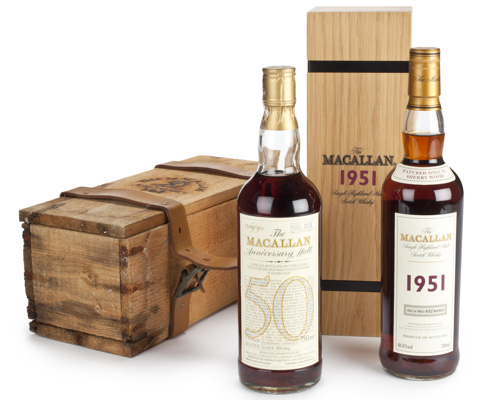 I don't think many can dispute that The Macallan is, and has been for quite some time, the quintessential luxury Scotch brand. 
Of course, one may argue that part of the reason they've held onto this status is because of their marketing prowess and ability to leverage their historical achievements. But, nonetheless, in today's market The Macallan is the epitome of whisky luxury… and, of course, with luxury comes the steep prices to match. 
The Macallan's latest release on that luxe whisky circuit is Rare Cask, a no age statement (NAS) product that came out late last year and retails for about $300. Yes, you read that right, a no age statement whisky for $300… it's not the first and it won't be the last. But if luxury is what you seek, you've come to the right place. From its sleek, upscale bottle design to the silky amber-hued body of the liquid inside, Rare Cask truly embodies the modern luxury brand that The Macallan has become (fine juice with bling). And despite how you may or may not feel about NAS whiskies, you've got to just go with The Macallan on this one and trust that they're going to take care of you. 
To dig a bit deeper into the world of Rare Cask, I recently met up with The Macallan's Northeast Brand Ambassador Craig Bridger, who has been working with the brand for about a year. We met at Abe and Louie's in Boston which was an appropriately high roller establishment for the evening, and provided plentiful views of fat steaks and expensive Cabs to set the mood. We warmed up our palates with Macallan 12-year and then jumped into the main event (or, at least what I thought was the main event. After Rare Cask, Craig wound up indulging me in a small pour of The Macallan 30-year which was a divine treat… but we'll save that story for another time). 
Rare Cask leads up a new range of whiskies for The Macallan which are meant to showcase some of the oldest casks in the distillery's collection. This whisky is the entry-point to that range, and was created from only one percent of casks currently maturing at the distillery. The initial production run totaled 125,000 bottles. Remember, The Macallan is the third largest whisky producer in Scotland (right behind Glenlivet and Glenfiddich), so when we talk "rare" here, you've got to leave a little wiggle room for context (i.e. 8 million liters per year). 
Tasting Notes
Like most of The Macallan's sherry-aged whiskies, Rare Cask is aged predominantly in first-fill sherry casks. And if you like the aroma that generously-aged whisky in first-fill sherry casks takes on, you may just want to jump in and take a bath in this juice (not that you don't want to bathe in most whiskies, amiright?). It presents a divinely sexy aroma, deeply rich and steeped in nutmeg and cinnamon. On the palate, the whisky enters with pure grace; it's like slipping into bed sheets at a $1,000 per night luxury resort. From there, the deep sherry richness takes over, followed by vanilla and chocolate, hints of citrus and an amazing spice-driven finish that builds masterfully. It's a really good whisky. And if you can get over the fact that it is, in deed, a $300 NAS whisky that is no doubt priced on The Macallan scale of pricing, I have a feeling you're going to really enjoy this one.
Which brings me to the final point I want to make. I know that some of you are frustrated by what The Macallan represents in today's whisky market. Luxury at a steep price. And it's tough because when a brand goes after the luxury market as directly as The Macallan has in recent years, they often push certain consumers out (for price/price to quality reasons or otherwise); including those consumers that have been fans for a long time. But as The Macallan knows perhaps as well as any, you can't be everything to everyone. You need to focus. They've just chosen to focus on people who prefer don't mind spending more money on the finer things in life.
So, would Michael Jackson still consider The Macallan the best of the best? Well, I don't think you can really simplify the whisky landscape that way anymore. There's too much out there. Too many different styles and great choices in this super premium range. But I'm sure he'd agree that The Macallan still knows how to produce some damn fine sherry-aged whisky. And from my side of the table, Rare Cask does a nice job of keeping that dream alive. 
DrinkInsider Rating:
The Macallan Rare Cask: 91 points