When it comes to the brandies of southern France, Cognac is the behemoth on the global stage. Case sales of the three top brands alone (Hennessy, Rémy Martin and Martell) add up to nearly 10 million annually. Yet, despite its dominance in the region, it can hardly be looked at as the only or the best. Just a few hours southeast of Cognac is another brandy-producing region that is just as important, and perhaps a bit more unique, intimate, rustic, craft and off the beaten path than its counterpart. For true drink lovers, there's no question that Armagnac is a hot spot on the spirit trail that you need to check out.
Like Cognac, Armagnac has been producing brandy for a very long time. Like 700 years long, which beats its counterpart by about a century and a half. But Armagnac lives in the shadows; has lived in the shadows since the beginning. Not due to the quality of the brandy it produces, but more so due to its geographical location, the unfolding of history around that geographical location and the relative attention it has commanded (or lack thereof). 
For the most part, Armagnac hasn't been infiltrated by global conglomerates, nor has it had the marketing dollars that those conglomerates bring with them. The producers are still mostly small (relatively speaking) and independent/family-owned. And together, as a region, the distillers of Armagnac only produce a tiny fraction of what Cognac produces on an annual basis.
In the US, Armagnac is an even smaller piece of the spirits market. We're talking about a quarter of a million bottles annually according to the Bureau National Interprofessionel De L'Armagnac (Cognac sells more than 50 million in the US). So you can't blame the American consumer audience for not knowing their Armagnacs well. There's just not that much available. When you walk into a store with as wide of a spirits selection as Julio's Liquors in Massachusetts (named Whisky Magazine's Retailer of the Year 2015) and can only find about a dozen Armagnacs (compared to several dozen Cognacs and hundreds of whiskies), you know it's slim pickings.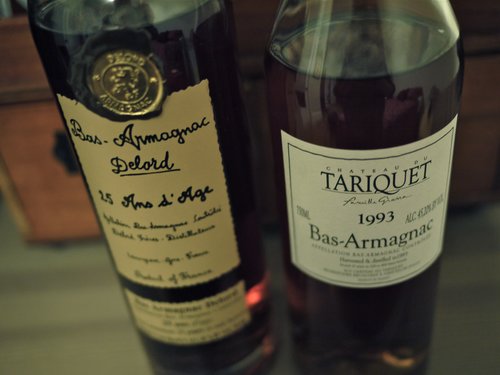 But I've managed to find a few great ones. Like the delicious Tariquet 1993 Bas-Armagnac that I've been sipping on lately. It's a 17-year Vintage Armagnac available for less than $100. Or the 25-year Delord for $70. Seriously, 25 years by a top producer for under $70? Yes. That's one of the exciting things about Armagnac in the US right now. It's still relatively unknown, so what does make it here is priced well, high quality, and reasonably attainable. Unlike Scotch, Bourbon and Cognac, prices and demand for Armagnac isn't going through the roof… just quite yet.
So what are the major differences between Cognac and Armagnac? Well, in short it comes down to a few things like grapes and distillation. Armagnac is typically distilled only once in column stills whereas Cognacs are distilled twice in pot stills. So more of the natural chemical compounds stay in tact with Armagnac, and the taste profile tends to take on bolder and more earthy/rustic flavors. Also, where Cognac mostly uses one primary grape (Ugni Blanc), Armagnac tends to use a variety of grapes including Ugni Blanc, Folle Blanche, Colombard and Baco. There are also other differences like location (about four hours by car), terroir, soil types, and barrel types. And, of course, the extravagance of the packaging (or lack thereof in the case of Armagnac). 
Classifications, however, are fairly similar between the two, save a few minor distinctions. With Armagnac there are five classifications: a VS must be aged for a minimum of two years in oak, VSOP for a minimum of four, a Napoleon/Extra/XO for a minimum of six, Hors d'Age for a minimum of ten, and Vintage Armagnac must be at least 10 years as well, but containing spirit from a single year. Typically, only the best grapes from the best years make it into a vintage release.
If you're looking to start or continue exploring Armagnac, I'd highly recommend checking out these two bottles by two top producers in the region. The Tariquet may take a little more effort to track down, but the Delord should be reasonably accessible (especially here in Massachusetts–thanks to Heavenly Spirits). Here's my take on these two fine brandies.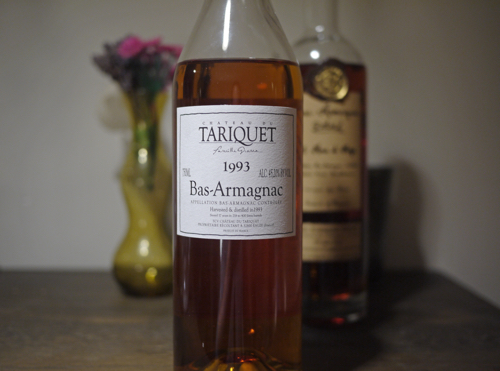 Tariquet Millesime 1993 Bas-Armagnac
Run by the Arnaud and Grassa families since 1912, Château du Tariquet has a longstanding history of producing Bas-Armagnac. The Château produces about 120,000 bottles of Bas-Armagnac annually. Like many producers in the area, Tariquet has been brought up over multiple generations. The latest of which–Remy and Armin Grassa–took over the reigns of the business in 2005, and have continued to grow the producer's footprint since.
Ugni Blanc is the traditional grape variety used in the Château's Bas-Armagnacs. In the case of Tariquet 1993, it's a blend of 60% Ugni Blanc and 40% Baco. The bottle retails for about $90 in the US.
The Tasting
The nose is mouth-watering. I get candied orange, pineapple, apple pie, tobacco and baking spices. It's one of those spirits that you could nose forever. The palate is luscious and elegant with a powerful spice that kicks in from front to back. I get oozing honey, stone fruit, and oak spices with a sharp peppery finish. There's sweetness, but it's balanced by an earthy character that I really enjoy. Overall, this is a striking Armagnac. It's well-balanced and easy drinking, but not for lack of complexity and finesse. And for under $100, a great buy. What else can I say, it's delicious. Oh, and there's no question that it'd go beautifully with a nice, fat Cuban cigar. 93 points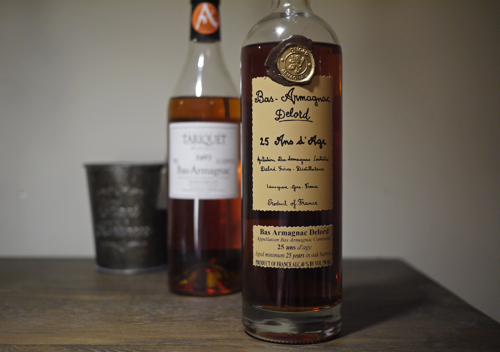 Bas-Armagnac Delord 25 Years
The Armagnac Delord story started in the late 19th century, and has continued for four generations. Similar to Tariquet, the youngest generation took over the operation in the early 2000s. The distillery is in the town of Lannepax, and interestingly, is one of the only Armagnac houses using the two methods of distillation—the continuous distillation method that is typical for Armagnac and the double distillation method.
The Bas-Armagnac 25-year is considered a classic, and has received pretty stellar reviews across the board. 
The Tasting
Out of the gates, you're hit by the mega funk. This nose is a lot earthier and more savory than the Tariquet. It also has more distinct grape notes. There's some funky cheese, biscuit, nuts… hope you're getting hungry. The palate, however, dials the funk back a bit to let in a more dessert-like profile–chocolate, raisin, honey, fig, toffee, vanilla. But there's still an underlying savory/earthy character that shines through. A little nuttiness for sure. And, interestingly, a lot of Bourbon-esque character. 
This is a completely different Armagnac than the Tariquet. But another fantastic example of how truly unique and interesting these spirits can be. 91 points
Thanks to Sean at Colangelo PR for the sample of Tariquet.