Craft Beer Is More Global Than You May Think
Turns out the whole world is on a craft beer rampage. This new infographic from Forbes and Statista shows just how extensive the global craft takeover has become. 561 craft breweries in Russia, eh?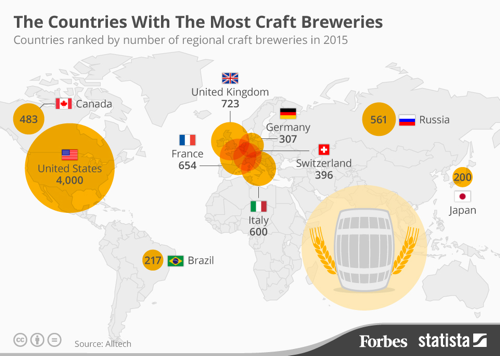 Cool Events: Allagash Friendsgiving
Allagash Brewing is celebrating Thanksgiving this year with a series of Friendsgiving with Allagash dinners around the country. The dinners will feature the Maine brewery's wild beers and will kick off in Oakland, CA this Sunday, November 15th. From there it's onto eight more cities before wrapping up the tour in Philly the following Sunday. Check out the full schedule and ticket info here.
Congratulations!
A big congrats goes out to the winners of the 2015 Wine Enthusiast Wine Star Awards. Ferrari Trento, a winery I wrote about last month, was named "European Winery of the Year," and JUSTIN Vineyards was named American Winery of the Year. Amongst others. The full list of winners can be found here. 
Whiskey Shortages
In the continuing saga of Bourbon producers claiming that demand has far exceeded supply, Michter's this week put out a press release stating that their  US*1 line of whiskeys is going on allocation. Now, I'm a fan of Michter's—I really enjoy their ryes in particular—but I just have to question the real intentions of these American whiskey producers when they put out releases like these. There's no doubt that consumption of Bourbon is skyrocketing in the States, but how much of this is marketing versus reality? I just know that I've seen a whole lot of Michter's on the shelves recently. So, you know, don't run too quickly to the stores.
But, damn, does this look good…
The New Utopias
Samuel Adams released their ninth batch of Utopias this week, which will retail for its typical price of about $200. I've written about a number of the past Utopias batches and have always been a fan of this truly unique beer. Say what you will about Sam, but this nearly 30% spirit-like brew is quite a product. Worth $200? Depends who you ask and how deep their pockets are. This year's batch was finished in White Carcavelos wine barrels, in addition to barrels that once housed Cognac, Armagnac, ruby Port, sweet Madeira, and Buffalo Trace Bourbon. Read more about the new release here.
Total Wine Opens In Massachusetts
Total Wine & More, the nation's largest, independently owned retailer of fine wine, beer and spirits, will open its first Massachusetts store in Natick this coming week. This will be the retailer's 129th location in the U.S. Not that I want to drive you away from the local stores, but with more than 8,000 wines, 3,000 spirits and 2,500 beers in 20,000+ square feet of space, this will definitely be worth a trip out to the 'burbs.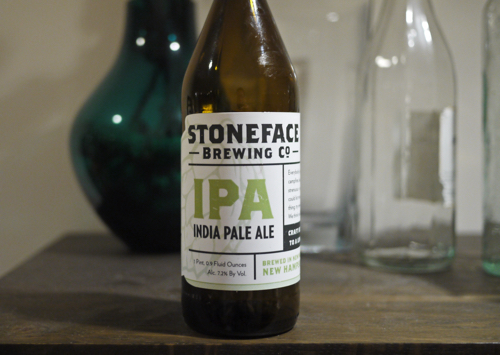 Drink of the Week
Stoneface IPA

A few months ago I posted an article on the best pale ales in New England. I realized after I published the piece that I had included every New England state except for New Hampshire. I didn't do this intentionally. In fact, I love New Hampshire. My business is based in Manchester, and most of my vacations are in the granite state. Needless to say, I felt pretty bad that I left NH out of the list, but the reality is that there just wasn't a really good pale ale that I knew of from NH that compared to the others on the list. 
I recently stumbled upon Stoneface Brewing, though. This brewery is based in Newington (not too far from Portsmouth), and has apparently been around for about two years. I clearly did not know this. To my credit, their bottled beer just started coming into Massachusetts very recently. I tried their IPA this week and thought it was fantastic. Seriously well balanced, juicy orange and tropical fruit, fat hops and a nice sweet (but not too sweet) malty undertown that brings it home. I haven't tried their pale ale yet, but judging from the quality of this IPA, I have high hopes. So, maybe the next time I do a best of New England beer post, we'll get to see all of the states covered. Cheers to that! 92 Points
And, hey, happy Friday the 13th.