For the final installment of our 2015 gift guide series we're counting down 10 great gifts for wine lovers. Check out our Gift Guide for Beer Lovers here and our Gift Guide for Spirits & Cocktail Lovers here.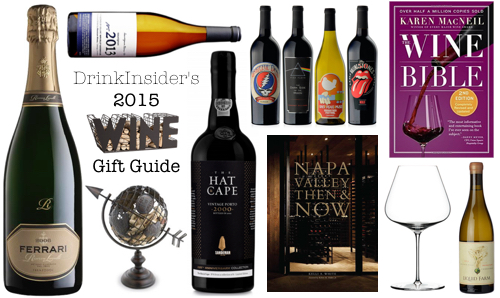 New California Wines
There's a new generation of winemakers in California that are producing some of the most exciting wines in the Golden State. Wineries like Bedrock, Idlewild, Ryme Cellars, Liquid Farm, Arnot Roberts, Massican, Forlorn Hope, Wind Gap, Matthiasson… to name a few. And if you have a wine lover in your life that you really want to impress, get them a bottle of any of these wineries wines.
Most of the above mentioned sell their wines in limited supply, either online direct or through selective wine boutiques across the US. But most of them are accessible if you just do a little searching around. And while you're at it, buy a few bottles for yourself!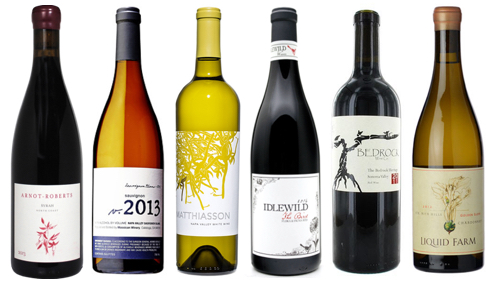 Napa Valley Then & Now
At over 1,200 pages, Napa Valley Then & Now is a serious book for serious wine lovers. The book, released in November this year and written by sommelier Kelli Audrey White, provides an "in-depth look at the history, the land, the wineries and the wines of the region, with a special emphasis on tasting notes of older vintages." It covers the rise of Napa's wine industry and serves as a thorough guide to California's most beloved wine region. With thousands of tasting notes covering many of Napa's historic wines and vintages, this book is impressive, to say the least. Introduction by Robert M. Parker Jr. Buy it online for $95
Check out this recent podcast from The Guild of Sommeliers featuring an interview with the author, Kelli Audrey White.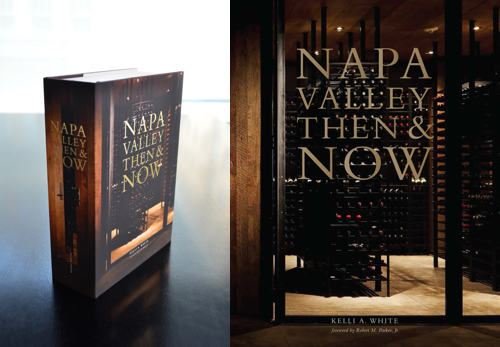 Sandeman 225th Hat & Cape
The House of Sandeman recently released their 225th Anniversary Collection, which features a limited edition 2000 Vintage Port bottled with six different labels depicting key moments in the company's entrepreneurial and inspirational history. It's a delicious Port and a really cool set. The bottles come in wooden cases each containing a commemorative anniversary book. Collect all six! Or, you know, just buy one for that wine collector in your life. $100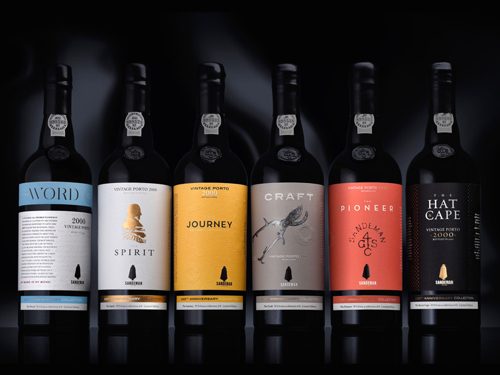 Kermit Lynch Wine Club or Gift Sets
When it comes to wine importers, especially those focused on Italy and France, Kermit Lynch is about as good as they get. Since the early 1970s, Kermit has been seeking out and bringing to the US some truly amazing old world wines. I recently tasted through a selection of Kermit's most recent wines and I was blown away.
So what does this have to do with gift giving? Well, Kermit Lynch offers a few great gift packages on their e-store. They have two monthly wine clubs which are very reasonably priced ($39 or $69 per month). And they offer a number of gift packs, including the Kermit Lynch Starter Kit, which features three iconic Kermit wines and an autographed copy of Kermit's 1988 book, Adventures on the Wine Route. The holiday price for that kit is $121. Check out more KL gift sets here.
Wines that Rock
If you have a friend or family member that loves wine and classic rock, Wines that Rock may be just the ticket. Wines that Rock has created a whole line of premium wine with killer rock n' roll labels. Their current wines include Grateful Dead Steal Your Face Red Blend, The Rolling Stones Forty Licks Merlot, The Police Synchronicity, and Woodstock Chardonnay.
Earlier this year, I ordered a limited edition Grateful Dead 50th Anniversary bottling from Wines that Rock that I absolutely love. It is by far one of the coolest editions to my Grateful Dead collection. And while that bottle sold out in about 24 hours, they just released a second limited edition 50th Anniversary Cabernet featuring the Grateful Dead Bears. Something I guarantee your deadhead wine-drinking friend will love. But, really, these wines are great for any classic rocker. $40 and up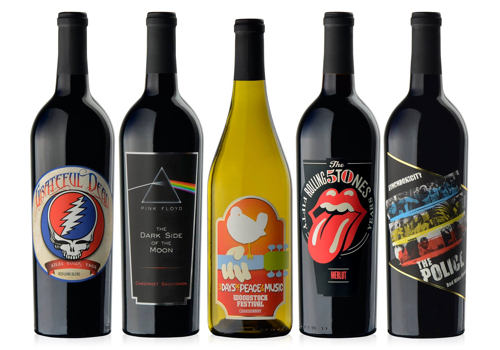 Zalto Wine glasses
For the second year in a row I'm recommending Zalto wine glasses. Seriously, if you're gift recipient is looking for ultra premium, elegant glasses that bring out the true essence of wine, these should be your go to. 
Zalto glasses are hand-blown by highly skilled glassblowers in Neunagelberg, Austria. They're delicate, but they're not fragile. They're lead-free, and have angles that are designed to mimic the tilt of the Earth (according to Zalto). There's something very special about these wine glasses, and when you drink from them, wine seems to express all of its inner secrets. The Zalto Denk'Art Universal Glass is a glass for any occasion, and a sure bet for the wine lover in your life. But Zalto also offers a host of specialized glasses, including the big bowl Burgundy glasses (of which I have a pair), and, a very sleek and sexy beer glass (though I've never tried that one). Zalto glasses are available on WineEnthusiast.com and run $60 and up per glass.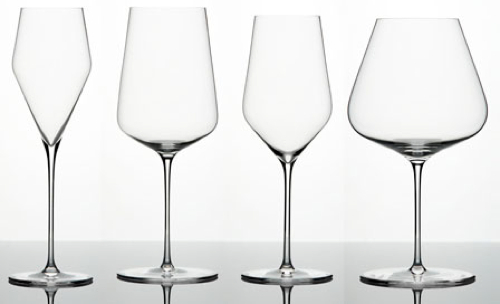 The Wine Bible, 2nd Edition
James Beard Award winner Karen MacNeil recently released The Wine Bible, second edition. This book is packed full of wine knowledge, from in-depth information about the top wine regions of the world to helpful "wines to know," building wine-tasting memory, fun facts, glassware and food pairings. So, basically, everything. The writing style makes the reading easy to digest, and the information is relevant to all kinds of wine lovers–from the beginning drinker to the expert. It really is a must-have wine book. Buy it on Amazon for $17 (paperback) or $26 (hardcover).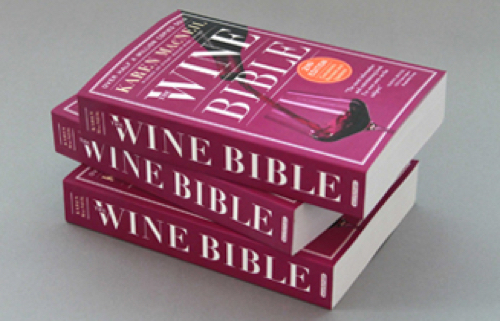 Bubbly: Ferrari Trento Riserva Lunelli
Everyone needs a little bubbly around the holidays, and the sparkling wine that impressed me most (from a quality to price ratio) this year was Ferrari Trento's Riserva Lunelli 2006.
Ferrari is the flagship winery of Italy's Trento D.O.C. Their sparkling wines are made using the traditional method, and they produce sparkling wines that will go toe-to-toe with some of the finest from Champagne. In fact, they were just named Wine Enthusiast's European Winery of the Year for 2015. You can read my coverage of Ferrari here.
Although not as mind-blowingly delicious as Ferrari's premier Giulio Ferrari Riserva del Fondatore (which sells for about $150+ depending on the vintage), Riserva Lunelli is a tremendous sparkling wine for under $60. It's a Blanc de Blanc, aged in large Austrian oak casks and matured for seven years on the lees. It's creamy, absolutely delicious, and is the perfect bubbly to give or serve this holiday season. $56
Gifts by Zachy's
Zachys.com is one of my go-to online wine shops (they also have a retail location in New York and have one of the most active wine auctions in the country). This year they introduced Gifts by Zachy's, in which they've curated 5 gift packs–Italian, French, California, Perfect Holiday Wines and "World Traveler." Each gift pack comes in three levels: Executive – $75, Premium – $150, or Deluxe – $300. The packs are put together and shipped out by Zachy's, and your gift recipient will receive a well-curated three-pack of wine at their door. It's probably one of the simplest ways to give good wine this holiday season.
Something to Put All Those Damn Corks In
I don't know about you, or the wine lover in your life, but I save my wine corks. The problem is, I don't really have anything to do with them. You can put them in an old Scotch canister (that's what I do). Or in that drawer that now refuses to close. But if I were your friend or family member who collects way to many corks I'd want something cool that I can put my wine corks in. Like a lamp. Or a barrel accent table. Or coasters. Or, check out this handy "Put a Cork in It" gift list Wine Enthusiast put together.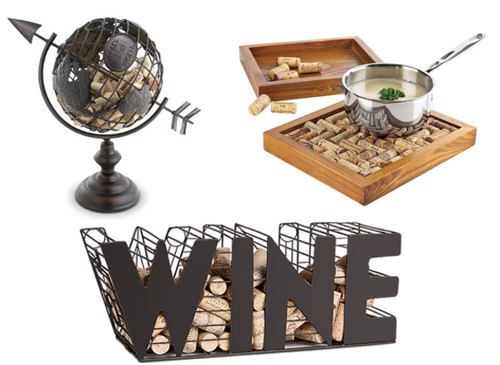 That's it for this year's Wine Gift Guide. Don't forget to check out our 2015 Beer Gift Guide and 2015 Spirits and Cocktail Gift Guide.