New Orleans is one of America's great drink cities, and in this next installment of Drinking New Orleans, we're taking a look at five hot spots for beer, booze and cocktails in the Big Easy.
Looking for wine hot spots? Check out our New Orleans wine roundup here.
Beachbum Berry's Latitude 29
Jeff "Beachbum" Berry has been one of the leading forces in the modern tiki revival. Imbibe magazine named him one of the "25 Most Influential Cocktail Personalities of the Past Century." Berry's latest endeavor, Latitude 29, is a laid back and thoroughly awesome tiki joint in New Orleans' French Quarter. Since opening in 2014, it has quickly become one of the best cocktail bars in the city, and a go-to for flavorful creativity and killer island eats.
If you're a tiki fan, you'll immediately fall in love. And if you haven't yet been converted, you will be. It doesn't get much better than a superbly made tiki cocktail, and Beachbum Berry's island-inspired tiki concoctions are incredible. Start with a Zombie, then maybe check out the Navy Grog, or perhaps the Suffering Bastard is more your speed. No matter which direction you go, your taste buds and mind will be blown.

Beachbum Berry's Latitude 29 is located in the French Quarter at 321 N. Peters Street, New Orleans.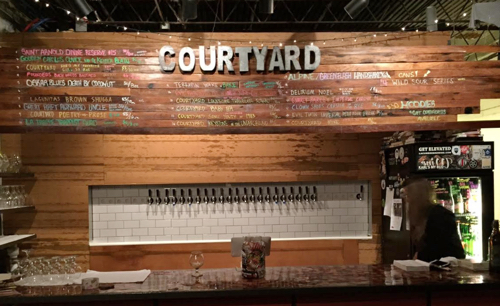 Courtyard Brewing
The craft beer scene in New Orleans has been a little slower to catch on than in other parts of the country. But it's coming around, and there is finally a craft brewery in town that's doing some good hop-forward beers. Courtyard Brewing opened in 2014 and although they only have a three-barrel system and don't distribute, they're still an exciting addition to the scene. In fact, their own beers aside, this is one of the best beer bars in NOLA. When I visited they were featuring a draft/bottle list that included beers from Evil Twin, Alpine and 3 Fonteinen.
But Courtyard's own beers are the main reason to come here. This young nano brewery is making some really solid brews, and I expect that they'll just get better and better in the coming years. Their hop-forward IPAs like Sonic Youth in 1983 and Lonesome Traveler are highlights. The latter of which is a rotating single hop IPA that was featuring the unique Rakau hop from New Zealand when I was there. I also enjoyed their black IPA, Keystone of the Underground, and She's My Favorite Girl So Far, a crisp, nicely malted brown ale. 
Courtyard Brewery is located in the Lower Garden District at 1020 Erato St, New Orleans.
Cure
Cure has become one of my go-to drink spots every time I visit New Orleans. When it comes to great craft cocktails and walls of whisk(e)y, this cool bar on Freret Street is one of the best in the city (and perhaps the country). If you want to stick with the program, their menu has about 50 cocktails, including a seasonal list that changes out every few months. If you want to verge from the road, Cure's bartenders are more than capable of making your fantasy cocktail come true.
Cure is what New Orleans cocktail culture is all about. It's imaginative, original, and their bartenders are masterful at building flavors out of booze. Go, and be impressed. 
Cure is located uptown at 4905 Freret St, New Orleans.
The Cure photos in this post are by New Orleans photographer, Kevin O'Mara. Check out more of his awesome photographs here.
NOLA Brewing
Since the last time we covered this brewery, NOLA has continued to expand their cool brewery space Uptown and their presence as a major force in the local beer market. They've opened a new tap room that now serves really good food—McClure's BBQ. They've got way more beers on draft; including many brewery-only experimental beers and collaborations. And they've got an outdoor patio that overlooks the Mississippi River.  
When I visited, they had about two dozen beers available, including a handful of fresh IPAs and a tasty collaboration beer called NOLA Fulton Mesippi Funk—a lightly funked up amber saison aged in oak with Brettanomyces. If you haven't been in a while, it's time to go back. And if you haven't been, what are you waiting for?
NOLA Brewing is located Uptown at 3001 Tchoupitoulas St, New Orleans.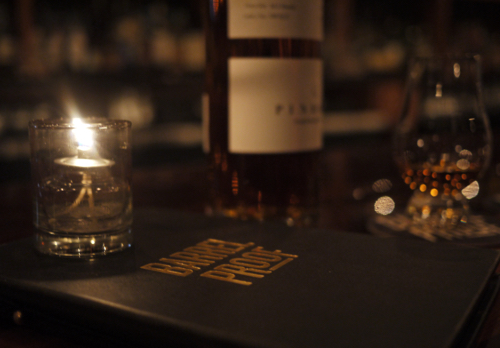 Barrel Proof
Just around the corner from Courtyard Brewing in the Lower Garden Distict is Barrel Proof–a minimalistic, ominously cool whiskey joint with rusty tin walls and a long, dark wooden bar. The whiskey list is excellent. They've got a well-curated selection that will appeal to whiskey drinkers of all kinds (there are over 250 whiskies in total) and the prices are reasonable. They offer one- and two-ounce pours, and whiskeys are served in proper glassware.
When we visited, I ordered a glass of Pinhoook Bent On Bourbon–a small craft distillery I recently caught wind of while I was down in New Orleans–and a 1996 Bourbon Cask Arran Malt which I've been wanting to try for a while. If you're looking for a cool spot to enjoy great whiskey, Barrel Proof is hard to beat. 
Barrel Proof is located in the Lower Garden District at 1201 Magazine Street, New Orleans. 
That wraps up this edition of Drinking New Orleans. Check out our first NOLA trip here, or our recent New Orleans wine roundup here.