Believe it or not, there was a point in our nation's history when we cared about American brandy. Now… not so much.
In today's market, the majority of American craft spirits consumption is composed of grain-based alcohol. Whiskey, vodka, gin… you know the type. In fact, recent data shows that whiskey alone makes up nearly forty percent of craft spirits. American brandy, on the other hand, is not so fortunate. While it may be true that approximately 20% of American craft distilleries produce a fruit-based spirit of some kind (according to ADI), the reality is that craft brandy has a long way to go.
But, fear not, brandy lovers. There is, indeed, a burgeoning American craft brandy market on the rise, determined to restore America to its rightful place as a nation of brandy drinkers. Don't believe me? Ask Chip Tate, the founder of Balcones, who left his whiskey-focused distillery last year to start making brandy. Or better yet, take a look at the distillery leading this resurgence: Louisville-based Copper & Kings. At just two years old, this bold young distillery has already created a wave of new interest in American-produced brandy; and that wave just seems to be getting bigger.
The Birth of an American Brandy Revolution
It was a big statement, and perhaps a bit of a ballsy act, to put a brandy distillery in the heart of bourbon country. But getting to know Copper & Kings and its founders, you begin to realize that it couldn't have happened any other way. Lesley and Joe Heron, who started the business in 2014, have nothing but respect for American whiskey and the heritage that comes with it. Preserving Kentucky's legacy–both from the perspective of bourbon distillation and brandy distillation (which dates back to the 18th century)–is a big part of how Copper & Kings approach their business.
While they may use traditional brandy grape varietals that are common in French brandies like Cognac and Armagnac, Copper & Kings is pure US of A. They use copper pot stills, produce bold non chill-filtered (and often over-proof) spirits, and age their brandy in ex-Bourbon barrels. Their distillery drips with the influence of American art and music, and their use of "sonic aging"—subwoofer pulsation (yes, this exists)—in their brandy maturation is a big nod to the American music roots from which they came.
It's distilleries like this that America needs to give it a big brandy kick in the ass.
Spotting trends
Lesley and Joe Heron seem to have a knack for spotting drink trends. Prior to launching Copper & Kings, they founded several successful beverage businesses. The most recent of which was Crispin Cider. During their time building that business, cider became one of the fastest growing alcoholic beverage in the US, and they ended up selling to MillerCoors for a deal that was estimated to be worth in the high tens of millions. Some might say that the Herons got lucky with their timing, but I'd say that these two just have an impeccable eye for beverage categories on the rise.
So how's the juice?
I recently had an opportunity to try some of Copper & Kings brandies. Here's what I thought.
American Brandy (47%, $40)
American Brandy is a blend of brandies that Copper & Kings has sourced from a handful of carefully selected American producers. The brandies are all pot-distilled and vary in age from approximately 5-15 years (though, according to Joe, the majority of it is around 8 years old). Once blended, the brandy is further aged in bourbon barrels at the Copper & Kings distillery. The barrels are then re-blended annually into new make C&K spirit at varying levels, using a solera-type process. The end result is a very unique product that Copper & Kings can proudly call their own.
My Review:
On the nose I get notes of rich grape and bourbon-soaked oak. There's vanilla and caramel along with stone fruit and cotton candy. It's a mouth-watering bouquet.
The palate comes off smooth and round with hints of fruit-laden spice. There's black pepper and spicy cinnamon, along with a little green wood and brown sugar. The finish doesn't linger for too long, but you do get a hit of hot fire at the end. 
As their first aged brandy to hit the market, this is quite an offering. It also sets a high bar for what these guys will do once they're actually working entirely with their own juice. The flavors are on point, the unique American-perspective shines through, and for $40 it's a great buy. It's also a brandy that I think bourbon-lovers will really enjoy. Nicely done. 90 points
Butchertown Reserve Casks Brandy (62%, $60)
Butchertown is a beast of a brandy. It's a blend of distiller-selected reserve casks (again, tapping into external producers), matured with a higher proportion of new American oak than their American Brandy. And it's bottled at a whopping 124 proof. Joe mentioned to me that they typically use around 90% ex-Bourbon barrels and 10% new American oak, but with Butchertown the blend is 75/25, which gives the brandy a more powerful whiskey tonality of more vanilla, caramel, etc.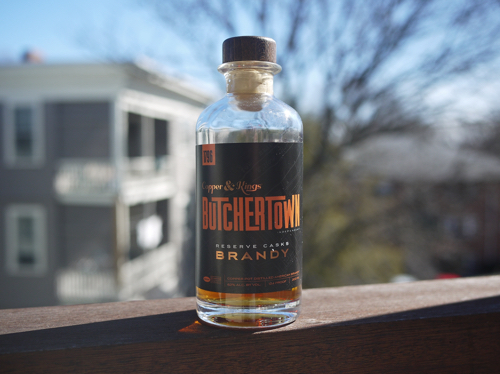 My Review:
Right out of the bottle, this 62% spirit will light your mouth on fire. But even with the smoke, fire and all, you can still get some terrific flavor under all that heat. Of course, to really enjoy this brandy, you need to tame it down a bit. So a few drops of water later…
I get a lot of cinnamon and dust on the nose with sweet cherry, and a heavy heaping of bourbon-aged oak. In fact, on the nose alone your brain may even be a little confused as to what you're smelling–bourbon or brandy. There's a lot of similar aromas going on. 
The palate, however, is where the grape spirit starts to shine. There's a ton of texture–a tannic grip, with lots of dust and chew and a blazing fiery spice. There's more stone fruit and cherry, baking spices, vanilla and even a little floral essence.
In short, this is a bold and feisty, bad mother of a brandy. It's American all right. It's got character and muscle, and even with water will make your hair stand on end. Delicious juice. 89 points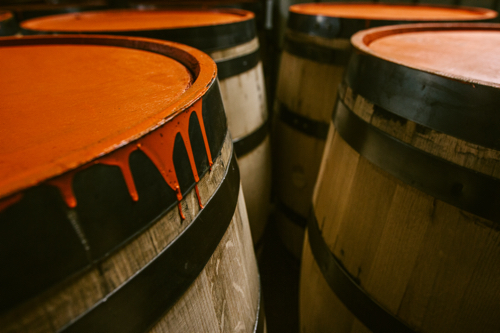 100% C&K
If you're wondering when Copper & Kings will be releasing their first 100% C&K aged brandy, you may have a few years to wait. Joe said in an email to me that they are likely still three to four years away from being 100% distilled in Louisville. As they say, nothing great comes from being impatient.
That said, this is the kind of stuff that's worth waiting for.