Looking for our 10 favorite Massachusetts liquors stores? Scroll down!
Sometimes you realize just how lucky you are to live in a city like Boston that has such an amazing selection of beer, wine and spirits. It becomes even more apparent when you go to another part of the country, or world, and recognize that this level of diversity and availability is not normal. 
As if we weren't spoiled enough in Massachusetts, a new wave of retail shops and expansions over the past few months has made the consumer landscape for buying booze even better. Here are two hot spots on our radar, plus one cool shop that's opening soon: 
Gordon's Boston (Now Open)
The new Gordon's in Downtown Crossing, the company's fifth location in the area, is not only in the heart of Boston but it also comes with another amazing Waltham import: Moody's Delicatessen. Honestly, I'm not sure which part of this equation is more exciting—having a great liquor store downtown, or having one of the best sandwich and meat shops in Massachusetts at my fingertips.
The new store opened just in time for New Year's. It's a beautiful space with over 600 wines, 200 whiskies and a 48-wine Enomatic sampling station. They did a really great job curating this space, with an excellent array of new California producers. And if they're taking queues from their flagship store in Waltham, I'm sure we'll see some great classes and tastings coming up in the near future.
Gordon's Boston is located at 29 Temple Place, Boston, MA 02111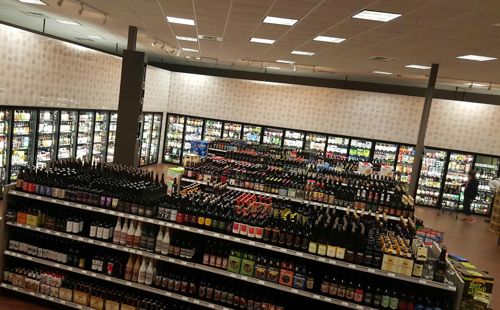 Redstone Liquors, Stoneham and Andover
Redstone has been one of my go-to craft beer and whisk(e)y shops for a number of years. I've never seen more great booze packed into such a small location. Seriously, what owner Kamal Ganglani did with his humble shop tucked into the very back of Redstone Plaza in Stoneham was nothing short of amazing. 
But now, Kamal has expanded into a new location (in the same plaza) with a greatly expanded footprint, finally allowing him to stretch out and keep building on that amazing selection he's built up. The new shop has an expanded wine section, now housing over 1,000 wines; and an even larger selection of beer and spirits that's easily one of the best in the state.
Even better, the new Redstone has a private high end room that features vintage and hard to find wines and spirits, and a new classroom where they'll be featuring private tastings and events. I visited the new store the other day and was blown away. 
Redstone Liquors is located at 109 Main Street, Stoneham, MA 02180 and at 89 Main Street, Andover, MA 01810.
Looking for other great liquor stores in the Boston area (and a few a little further out)? Here are 10 more stores we love:
Julio's Liquors, Westborough: Julio's is the best liquor store for whiskey (and spirits) in the state. Whisky Magazine has named them Whisky Retailer of the Year for the last three years in a row. Their educational program and tasting opportunities are second to none. And their selection of wine and beer is top notch. If you haven't been here, and live within reasonable driving distance, you are crazy. Make sure to check out their Go Whisk(e)y Weekend every February. It's one of the best whiskey events in New England.
Social Wines, South Boston: A cool shop with a very cool selection of wines. Social Wines isn't a huge location, but they've done a great job with curation. Their rosé selection is always top notch, and they have one of the better selections of new California producers in the state.
Norfolk Wine & Spirits, Norfolk: Another contender for best whisky shop in Massachusetts (especially when it comes to Scotch). Owner Bigram Singh has done an incredible job curating and putting together a great selection of whiskies, including many unique and hard to find bottles.
Marty's, Newton: Newly renovated and easily one of the best liquor stores in the Boston area for high-end wine and spirits. They've got a a terrific selection of pretty much everything (including one of the best brandy selections around), and also including many hard-to-find and vintage bottles.
Craft Beer Cellar: These guys do craft beer retail the right way. CBC has expanded throughout the country, but Massachusetts is their home base, and they've got stores all over now, each with its own unique charm and educated staff. Go, and great craft beer you will find.
Pemberton Farms, Cambridge: This is my local joint, so I've got to give them a shout out. But even if they weren't my local, Pemberton has done a stellar job with building out one of the best beer selections in the Boston area, and their American whiskey selection is solid as well (and getting better all the time).
Bin Ends, Braintree and Needham: If you're looking for the big name brands in wine, Bin Ends probably isn't the right shop for you. But if you're looking for good wine at good prices, this is about the best shop in the area. I've been a fan of this store ever since they opened, and their monthly Fancy Flea Markets are the best monthly wine tastings in the state.
Federal Wine & Spirits, Boston: Federal is perhaps the strangest store in Boston, but their Scotch and wine selection is deep, highly curated, and unique. Go and talk to Joe; you will be wowed by the whisky wonder he puts in front of your face.
Urban Grape, Chestnut Hill and South End: Another really cool shop with a very unique wine selection. Both shops are worth a visit.
Yankee Spirits, Sturbridge: If you're driving from Boston to Connecticut or New York or Western Massachusetts, you will inevitably pass through Sturbridge on the Mass Pike. When you do, pull off for a few and check out this massive store. There are some great finds and deals to be had.
After all this shopping, you may need a storage facility to store everything the right way. Click here to check out our wine storage facility recommendation for the Boston area.