This past weekend marked the 25th anniversary of one of America's largest annual wine events, Boston Wine Expo. I was there, as usual, to explore, enjoy and taste my way through a global array of wine and food. Here's my rundown of the wines and wineries that made my shortlist. There were some really great finds this year!
Brooklyn Oenology, New York
It was great to see an up and coming urban winery from Brooklyn representing at Boston Wine Expo this year. Expo isn't always the best place to find these kind of cool young wineries, so it was a pleasant surprise.
BOE was founded by winemaker Alie Shaper in 2006. She makes a fairly extensive portfolio of wines that are all born from New York grapes. Her labels are beautiful; each done in partnership with local Brooklyn artists. I loved their 2010 Motley Cru (pictured above), a robust red blend made with Merlot, Syrah, Petit Verdot, Malbec and Cabernet Sauvignon. I also thought their 2012 Orange Gewurztraminer was a standout–easily one of the most interesting wines I tasted all show. And, I'd be remiss not to mention their 2014 Friend Riesling. Not only because it had one of the best wine labels I've ever seen (cats!), but also because it was lip-smacking delicious.
Check out Brooklyn Oeneology's Tasting Room in Williamsburg, Brooklyn or find their wines online.
Condé Predappio, Italy
One of the things I love about Boston Wine Expo is that if you look hard enough, and keep your mind open to exploring new things, you can find some really special wines tucked away… like Condé's 2011 Massera.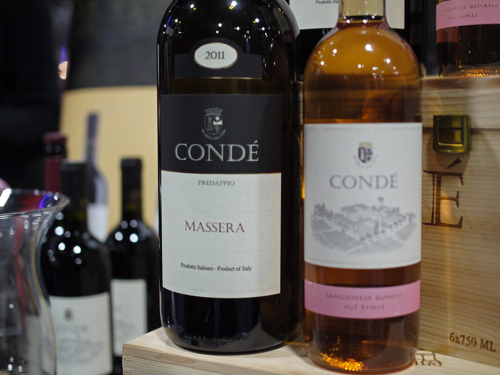 Vini Condé is located in the heart of Emilia Romagna, on the hills surrounding Predappio. The winery is owned by the Condello family, founded by Francesco Condello in 2001. Massera is their premium offering; a stunning wine made with Merlot grapes from a single-parcel on the estate. Massera, however, doesn't come cheap. So, if a $100+ wine isn't on your immediate to buy list, I'd recommend Condé's 2010 Riserva ($30)–a delicious Sangiovese, full of dark fruit and tobacco.
Learn more about Vini Condé here.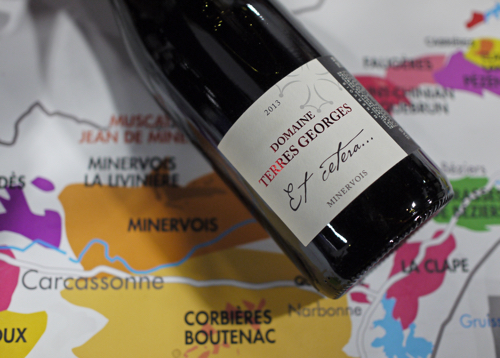 The Wines of Languedoc, France
Every year there are a few regions that showcase a collection of wines at Expo. This year, Languedoc was the region I came away most impressed with. When it comes to France, there really aren't many better value-driven wines than the wines of Languedoc; and the selection that was being poured at this year's Expo reiterated that fact. All of the wines featured were under $20 and I couldn't find one that I didn't enjoy.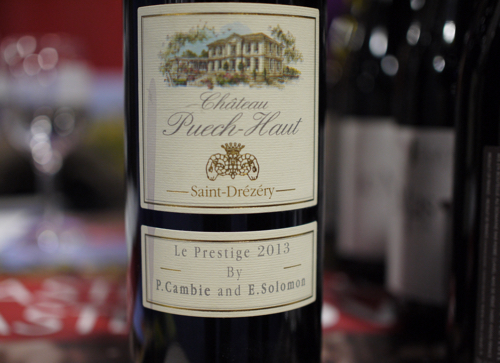 In particular, I thought the 2013 Chateau Puech-Haut Le Presitge was excellent. This wine is a blend of Grenache and Syrah, aged in concrete tanks and is an absolutely dynamite value at $18. If you care about scores, Robert Parker gave it a 93. The other standout, if I had to pick one, was the 2013 Domaine Terres Georges Et Cetera from Minervois. This wine is a blend of Carignan, Grenache and Syrah and has a really nice barnyard earth meets juicy red berry quality to it. And the best part… it'll only run you about $12.
Truchard Vineyards, California
There wasn't a big California presence at this year's Expo (there has been in the past, so I'll admit that I was a little disappointed). But there were a few standouts; and Napa Valley's Truchard Vineyards was one of them.
The Truchards were early pioneers of the Carneros AVA. They set up shop in the 1970s and the business is still family-owned to this day. All of their wines are estate grown and bottled, and I thought their whole lineup was showing really well. In particular, I enjoyed their 2012 Cabernet Sauvignon and 2014 Syrah–wines that no question benefit from the cooler climate of their Carneros estate. The Cab and Syrah each run about $25-$30 retail, but for the quality they bring to the table, I'd easily recommend them both.
Learn more about Truchard Vineyards here.
New York State Wines
In recent years New York State has had significant representation at Boston Wine Expo. I try to explore at least a few of the wineries each year, and I'm continually reminded of just how good some these wines are. I'm always impressed by wineries like Dr. Konstantin Frank and Ravines who are making really delicious, acid-charged whites and bold, flavor-packed reds. And they're doing so for pretty short money.
Two of the wines that stood out to me this year were Dr. Konstantin Frank's 2014 Gruner Veltliner and Ravines 2014 Dry Riesling. Both fresh, bright young white wines that pack a major punch for about $15 a bottle.
Learn more about New York wines here, or check out Ravines Wine Cellars and Dr. Konstantin Frank.
Canvasback, Washington
Canvasback, from Washington State, is the latest edition to the Duckhorn family and the company's first foray out of California. I've been on a Washington State wine kick lately so I was excited to try this Red Mountain wine at Expo (I think this may have been the only Washington wine at the event). The 2013 Canvasback Red Mountain Cabernet Sauvignon is the second vintage from this new winery and it retails for about $30-$35. It's described as a softer-style Cab for Red Mountain, but I guess you have to take that in context. It's still a pretty big, bold wine.
If you haven't had a chance to explore some of the great Cabernet's coming out of Washington State, I think this Canvasback may be a great place to start.
Learn more about Canvasback, and the rest of the Duckhorn family of wineries, here. 
Cirulli, Italy
While perusing through the many Italian wine tables, I came across this small Umbrian producer, Cirulli. The Cirulli family has been in the business of winemaking since the 1800s, but their winery in Ficulle wasn't opened until 2007.
I tried (and enjoyed) two of Cirulli's selections: Cirulli Sediana, a Cabernet/Sangiovese blend, and Cirulli Ginepreta, a Cabernet/Merlot blend. While I'm not positive how available these wines are in the US, I'd recommend keeping an eye out and/or putting them on your up-and-coming producer's to watch list.
Learn more about Cirulli here. 
Hewitt Vineyards, California
Every year, Boston Wine Expo hosts an experience called the Vintner's Reserve Lounge which offers up a more intimate tasting experience with a higher end selection of wines. Although I didn't get to spend much time in the Vintner's room this year, I did take a quick stroll through to taste some of the high end Napa Cabernets on display. The Cab I came away enjoying most was Hewitt Vineyards 2012 Rutherford Cabernet Sauvignon.
It's hard to justify a wine with a $100 price tag (at least for me), but admittedly this Hewitt was on point; and a terrific example of the impressive 2012's coming out of Napa. Powerful but elegant. Structured and layered. Lots of rich dark fruit and dessert notes tapered by earth, oak and dust. It's a 94-point wine by way of Wine Spectator, and by way of me I'd say it's pretty damn delicious.
That'll about wrap it up for my 2016 Boston Wine Expo shortlist. See you next year!