Scroll down for 8 great Bordeaux wines under $25!
There's a common misconception that wine from Bordeaux has to be expensive to be good. I get it. Bordeaux is, after all, one of the greatest and most well-known wine regions in the world, from which some of the most expensive and sought-after wines emerge. It's not hard to understand why people don't tend to associate Bordeaux with value.
But, what many don't often realize is that there's a second part to the story. That is: Bordeaux may be one of the greatest wine regions in the world, but it is also one of the largest, accounting for nearly 700 million bottles of wine every year (or, more simply put: a sh*t ton of wine). Only a small fraction of which, I would add, is in the elite top tier that you read about in auction guides or see behind locked glass at stores. The thing about Bordeaux is that it has something for everyone; and I'd argue that if you know where to look, Bordeaux can be one of the best bang-for-the-buck wine regions in the world.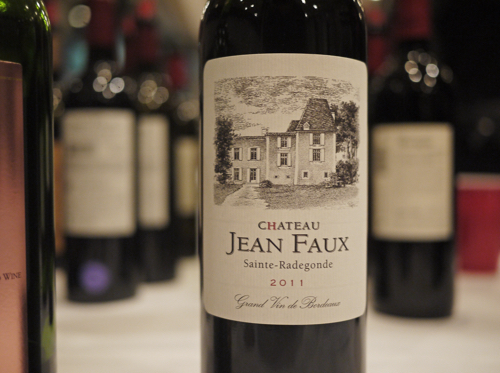 How to find value in Bordeaux
Bordeaux is comprised of over 60 individual appellations, and only a handful of them are globally sought-after "brands" like Margaux, Pauillac, Pomerol, Saint-Émilion, Saint-Julien and Sauternes. If you're looking for value in Bordeaux, I recommend looking outside this inner circle. There you'll find a host of other regions that share similar soil types, terroir, grape varietals and wine heritage, but don't come with the major brand price tags. Entre-Deux-Mers, Fronsac, Canon-Fronsac, Listrac, and the four regions that make up the Côtes de Bordeaux–Castillon, Francs, Blaye and Bourg–are some of the regions you may want to get to know.
(Just keep in mind that when you're out looking for these wines from the lesser-known regions, most are labeled simply as Bordeaux or Bordeaux Supérieur)
Of course, I'm saying all of this like I've been on the Bordeaux value train forever. But, admittedly, it took me a while to come around to thinking of Bordeaux as a hotbed for great value wines. I've always looked more to regions like Languedoc for value. But after an event I attended last year showcasing the wines of Côtes de Bordeaux, I began to think a bit differently. Then, just a few weeks ago I attended a series of events that showcased dozens of $25 and under wines from more of the lesser-known Bordeaux regions, and I was thoroughly converted.
One of said events was an event at Troquet in Boston hosted by Planet Bordeaux, an organization that represents Bordeaux AOC & Bordeaux Supérieur winemakers. The evening was hosted by NYC sommelier Mike Madrigale and featured an incredible lineup of Bordeaux, Bordeaux Supérieur and Côtes de Bordeaux wines. All in, it was a terrific showcase of the region, and I was impressed every step of the way.
Some of my favorites included:
Chateau Recougne 2012 – A spicy, ripe and smokey red wine, bleeding with character. It was one of Mike Madrigale's favorites, and a perfect example of how $15 can get you a truly well made wine in Bordeaux.
Chateau Saincrit Vielles Vignes 2012 – A sexy, fruit forward crowd pleaser – $18
Chateau Jean Faux 2011– Pascal Collotte purchased this 18th century Chateau in 2002 and has become one of the rising stars of the new Bordeaux. He's making small production wines in the Saint-Émilion style. This 2011 was one of my favorites from the tasting—expressive texture, dense fruit, toasted spice and elegant tannins – $24
Chateau La Rose du Pin 2010 – A weighty and age-worthy red from Entre-Deux-Mers made by the Ducourt family (see below) – $14
Grand Vin de Reignac, 2010 – An Entre-Deux-Mers chateau that dates back to the 16th century, rooted in gravel soil which is typically not found in this region. The wine is stony and ripe, deep and age-worthy, and another great example of the kind of well-made value wine you can get in these lesser-known regions – $24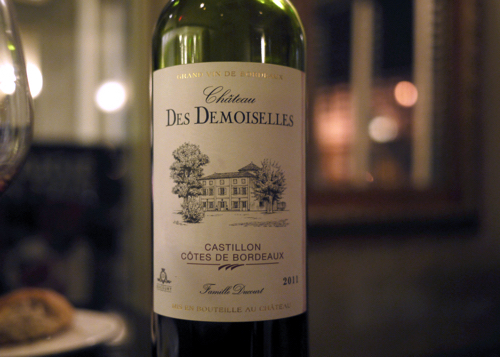 In addition to the Planet Bordeaux event, I also had the opportunity to sit down with one of the winery representatives, Jonathan Ducourt, for a one-on-one dinner at the fantastic Craigie on Main. The Ducourts have been a prominent Bordeaux family since the mid 19th century, and they now own 14 chateaus in 6 different appellations in the region. Jonathan is part of the new generation of Ducourts that is currently driving the business.
Chateau La Rose du Pin, which I mentioned above, is from one of these 14 chateaus. During our dinner, Jonathan introduced me to another: Chateau des Demoiselles from Castillon (Côtes de Bordeaux), plus a few other wines from the Côtes that were not his family's. Here are a few more standouts:
Chateau Puy Galland 2011 – this is consistently one of my favorite wines from the Côtes. It's incredibly balanced, and perfect with a nice meal or just an evening at home on the couch. Highly recommended – $18
Château Baracan Cadillac Côtes de Bordeaux 2010 – A bold Cabernet Sauvignon-based wine with plenty of spice and toast – $15
Chateau des Demoiselles Castillon Côtes de Bordeaux 2011 – one of the definitive standouts of both tastings; this predominantly Merlot-based red wine has a little of everything: ripe berries, lively fruit, structured tannins, and age-worthiness. An easy recommendation at $18.
In short, Bordeaux is a full of amazing wines that won't cost you an arm and a leg. You just need to know how to find them.
A big thanks to: Troquet Boston and Craigie on Main for amazing food, as always. Also, thanks to Planet Bordeaux, Mike Madrigale, Jonathan Ducourt, Dana at Creative Feed and Stephanie at Teuwen Communications… phew!