As WhistlePig continues to ramp-up their grain-to-glass operation in Vermont, getting ever closer to putting out their own 100% house-made rye, they continue to do exciting things with purchased stock. Their latest limited edition release is a 15-year straight rye whiskey matured in ex-bourbon barrels, then finished in casks made from Vermont Oak harvested on WhistlePig's farm. The whiskey is the oldest WhistlePig release to date and will be available this May.
After a very strong showing with last year's Old World Rye, which was one of my favorite new whiskeys of 2015, I had high expectations for this year's release. It's exciting to see WhistlePig starting to incorporate more elements from their farm; like these Estate Oak barrels. Gives you a window into what their first 100% house-made whiskey may taste like when it's released in the coming years.
Like their other whiskeys, Vermont Estate Oak has a straight rye mash bill. It's bottled at 92 proof, and will likely run in the neighborhood of $200.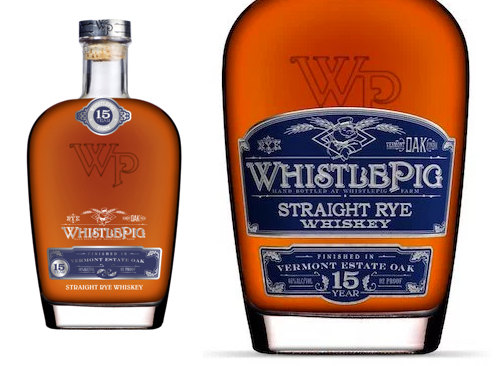 My Take:
On the nose, the whiskey gives off a wallop of fresh and dusty rye grain with butterscotch and burnt orange citrus. The palate is smooth and rich, with a mild sweetness and bold rye spices. There's a creaminess to this whiskey, and a great texture; dirty old leather and caramel, burnt oak, orange and honey, more of that butterscotch and a little cigar box essence.
In sum, this is another great whiskey from WhistlePig, and yet another example of why these guys are one of the best rye producers in America today. Though, I must admit that at a rumored-to-be $200 price point this whiskey may be a bit tough to justify for the general whiskey consumer. But if you don't mind spending the dough, I'm sure you'll thoroughly enjoy the juice. It's mighty delicious. 90 points