Maybe you've heard of Luxco? Maybe you haven't. Either way, it's pretty likely that you've heard of some of Luxco's products; like Rebel Yell and Ezra Brooks. The producer/importer has actually been around since the 1950s, and in the last 60 years or so they've amassed a significant portfolio of alcohol brands. Their latest creation is Blood Oath, a series of limited edition bourbons that was launched last year. Blood Oath Pact No. 1, the first release in the series, is a blend of three whiskeys including a 12-year high rye bourbon, a seven-year rye-forward bourbon and a 6-year wheated bourbon. The reviews were pretty good, but in all honesty, I didn't get a chance to try it. I did, however, get to try their second release in the series, Blood Oath Pact No. 2, which just recently hit the market.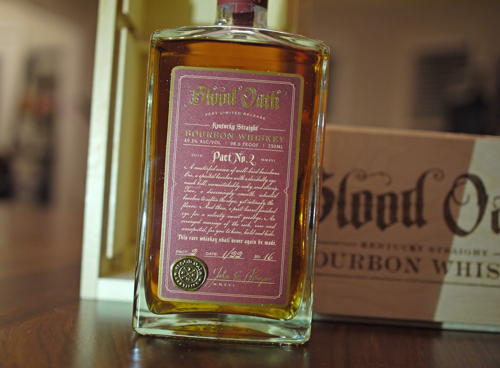 I must admit that I was intrigued from the start with Pact No. 2. As Luxco describes it, Pact No. 2 is an ultra-premium whiskey that combines rare, top-notch bourbons, blended and bottled by hand. In slightly more informational terms, it's a blend of three bourbons ranging in age from seven to 11 years. The seven-year is a rye bourbon finished in port barrels, which is blended with an 11-year wheated bourbon and an 11-year rye. It's bottled at 98.6 proof and retails for about $100.
If you're into sexy alcohol bottles, Blood Oath comes in a sexy alcohol bottle. It's sexiness is sheathed in a wooden box that is emblazoned with the Blood Oath logo. So, for those of you who are in the market for a Blood Oath-branded wooden box, here you go!
Okay, enough of this. Let's get down to what you really care about… the juice.
My Take:
The first hit on the nose is toasted oak. Lots of toasted oak. But beyond the wood there's a dry, rich aroma that's more earthy than sweet. There's a nice scent of fresh tobacco leaf, along with a peppery spice, maple syrup, cocoa and dried fruit. It's actually a really balanced nose. Has a bit of a "designer" feel to it.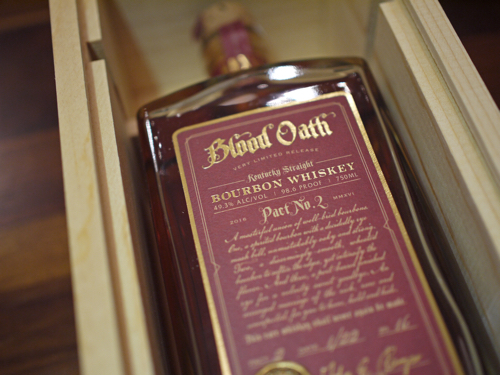 The palate comes off a little hot at first, with a heaping of pepper and wood. But the heat quickly subsides into a silky smoothness followed by a very dry profile. In fact, you event get a little wood tannin to add to the dryness. There's fruit, perhaps a dab of port, and some dirty cocoa. Honestly, I wouldn't have minded a little more of the port finish to come through, but it's not short on flavor. I don't personally think it needs water, but a drop or two doesn't hurt. Kind of a preference thing on this whiskey.
In Sum:
The price points on these new "ultra-premium limited release" bourbons are a little hard to swallow. On one hand, I think this is an enjoyable whiskey. I'd be quite content drinking it. On the other hand, $100 is a big ask when there are so many good bourbons on the market for half that. But, if price isn't an option, and you like rye-forward bourbons that are smooth and spicy with dirt, cocoa and wood, I think you'll dig Pact No. 2. It's a solid whiskey. I'd gladly put it, and its wooden box, on my shelf.
89 points
Thanks to Maggie at Common Ground PR for the sample.