The high end of the rum market in America is much less plentiful than the high end of the whisky market. Blame it on consumer demand (or lack thereof), or other factors, the reality is that it's pretty hard to find an extensive selection of super premium options in this category.
Which is why I'm always excited when a new super premium rum is released… even if that rum is just the annual edition of an ongoing series.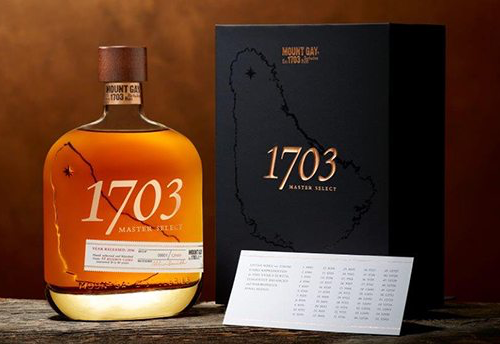 On that note, I recently got my hands on the newest edition of Mount Gay's 1703 Master Select, which was released in February. This year's release contains rums aged between 10 and 30 years and retails for about $150. If you don't recall hearing about Master Select previously, it's because this product was previously known as 1703 Old Cask Selection.
Same product, new name (and new bottle). But, it is still, according to Mount Gay, the distillery's "rarest" rum available.
Credit for the blend goes to Mount Gay's Master Blender Allen Smith. Smith has been with the distillery since the early 1990s, and originally created 1703 Old Cask Selection in 2009. It has been released annually in the years since.
To his credit, this is a standout rum–a great example of what can be achieved when high quality rum is matured and blended with skill and purpose. Not only is this delicious juice, but it has got a depth that'll keep you coming back over and over. The kind of layered complexity that you'd hope to find in a rum of this age, but most often don't.
While $150 isn't exactly cheap for a 750mL bottle of booze, it is pretty damn reasonable when you consider the prices of super premium whisky these days. Especially the ones that have been aged up to 30 years.
Here's my take…
A rather voluptuous nose. Fat and rich. Plenty of cocoa powder and mocha. Wood, vanilla, caramel… typical culprits of a long wood-aging process. The palate is far from sweet. Very dry; much more of a rich, savory, earthy tone. Even a little umami. There is, however, a precise touch of sweetness in the form of brown sugar, caramel and clove. A nice counterbalance to the other flavors. The finish is long and spice driven. Nicely heated at 43%.
There's a lot to like about this rum. It's a great blend, with a lot going on. Sip it all night long with a cat by your side. 91 points.