I've been continually impressed by the brandies coming out of Kentucky-based Copper and Kings Distillery. From their flagship American Brandy to their overproof limited releases, this young distillery hasn't led me wrong yet.
Check out my story "Copper & Kings, and the Rise of American Brandy"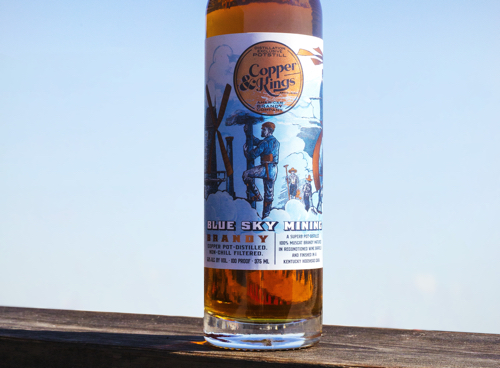 Their latest limited release is perhaps one of the most interesting products to come out of the distillery to date. Blue Sky Mining is a 7-year old pure Muscat Brandy aged 30 months in a Kentucky Hogshead.
Founder Joe Heron says, "Blue Sky Mining is meant to reflect and celebrate what really makes America great–the imagination, the invention, that unique ability to dream big and then to actually mine that big blue sky…"
In short, this is a single varietal (Muscat grapes) Brandy that was given the Copper & Kings treatment. That treatment being Bourbon-soaked wood, new American oak, non-chill filtered, high proof. Actually, 50 proof—which is what Blue Sky Mining is bottled at—is pretty low for Copper & Kings, who is known for bottling many of their releases above 60 proof.
But, I think 100 proof suits this Brandy quite well.
Blue Sky Mining was released in late March, 2017 and retails for $40 for a 375mL bottle. Only 600 bottles were released.
My Take
Woody Bourbon on the nose, with rich caramel, grape, melon, and light floral notes. A spicy and textured, yet creamy mouthfeel; dry and peppery, with stone fruit, apple, clove and vanilla.
In my quest to keep finding unique American craft spirits that stand out, this is yet another terrific example from Copper & Kings. 89 points