Deep within the Santa Cruz Mountains, amongst the woods and ancient Redwood trees, Bradley Brown is crafting some of the best wines of his life. From his 10 acre, high-elevation certified organic estate he has taken on Syrah, Pinot Noir, Roussanne and Grenache, and has developed a style of purity that continues to evolve with every vintage. His wines are fresh, full of energy, delicious – and they may just be some of the most exciting domestic wines I've tasted recently.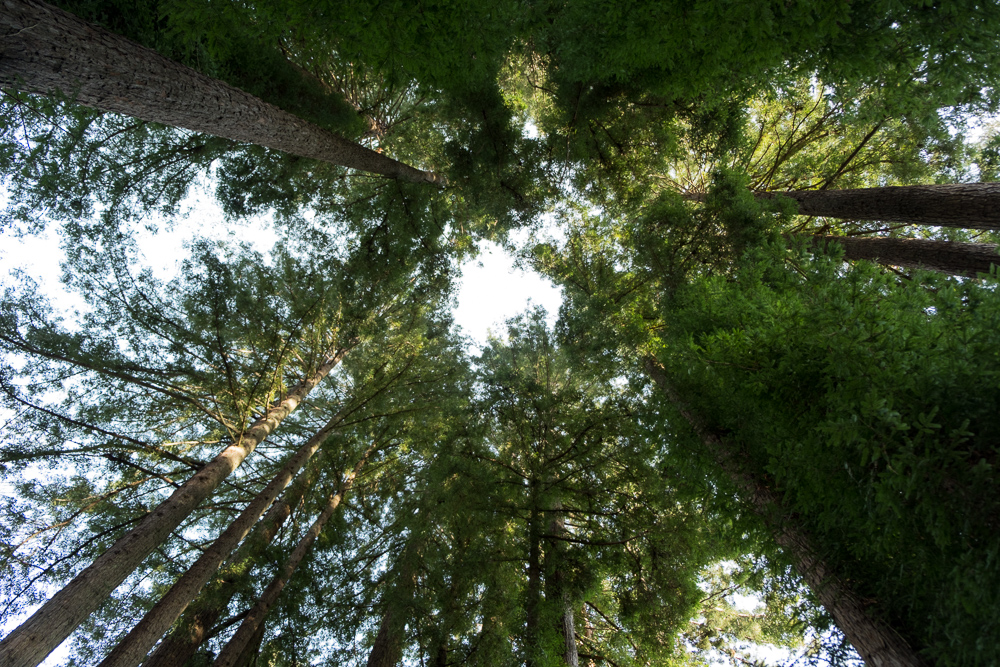 Like many California winery founders, Bradley started Big Basin Vineyards because he fell in love with wine and wanted to try his hand at making it. Though, unlike many others who look to Napa, Sonoma or other more popular wine regions, Bradley looked to the Santa Cruz Mountains – a relatively small wine-growing region with little vineyard land (only about 1,500 acres planted to vine), steep slopes, a cool climate, and nearly impenetrable forests.
He found an old vineyard site near Big Basin Redwoods State Park, which is a ways off the beaten path (i.e. in the middle of nowhere) hidden in the mountains between Silicon Valley and the Pacific Ocean. The property had been planted to grape vines in the early 20th century by French immigrants but it hadn't been used as an active vineyard since the 1960s. Apparently, in the years that followed, it became a haven for wild mountain parties. When Bradley took it over, there was essentially nothing left to identify the site as a place where a vineyard had once thrived.
How he knew that exceptional terroir lay under thirty years of overgrown brush and poison ivy (and possibly many 70s era beer cans), I'll never know. But he found something special, and has called it home ever since.
In the past two decades, Big Basin has evolved into a respected winery that produces minimal-intervention, terroir-driven wines. While their estate vineyard provides the fruit for many of their releases, Bradley now sources from a handful of select vineyards across multiple mountain ranges in the northern Central Coast and Santa Cruz areas.
Coastview Vineyard, overlooking Monterey Bay, is Big Basin's primary site in the Gabilan Mountain Range. There, cool ocean winds and fog create an ideal climate for producing bright, textured and mineral-driven Syrah, Pinot and Chardonnay. The Coastview Vineyard is just a stone's throw from Calera's famous Mt. Harlan Vineyard.
Further south, near Pinnacles National Park and just to the east of Big Sur, is Antle Vineyard – an increasingly sought-after site that also grows fruit for producers like Dirty & Rowdy and Enfield (two of the hottest up and comers in California's new wine scene). At Antle, Big Basin sources older vine Mourvedre and Viognier that is grown in decomposed granite and limestone soils.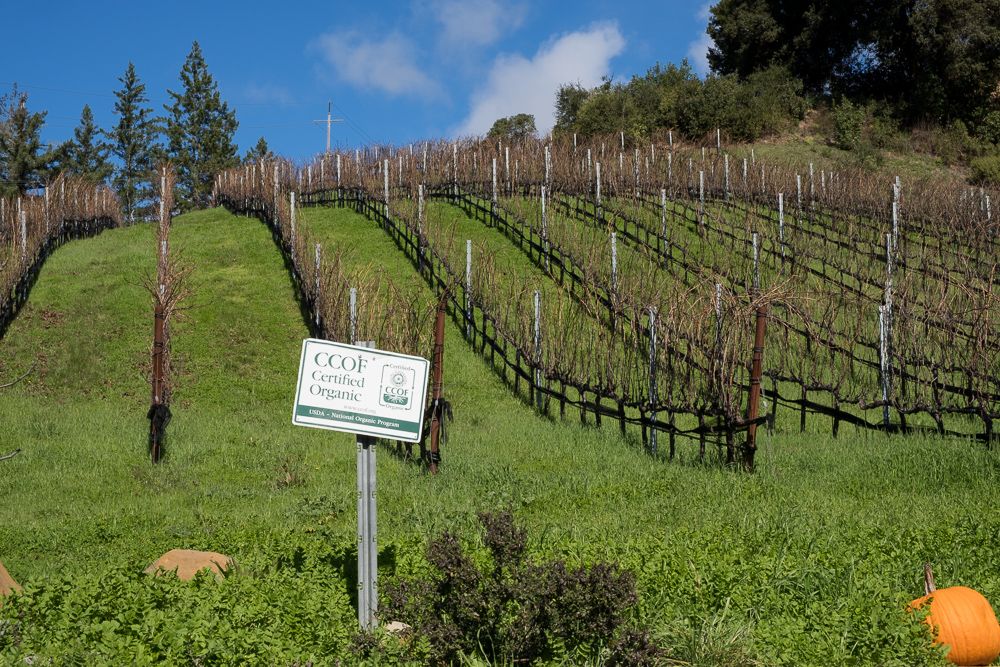 When I visited the estate winery on Memory Lane (yes, that's a real place) in the Santa Cruz Mountains, Bradley gave me an incredible tour through his wines (including some still in barrel). The tour took us through these rich, mountainous wine regions and unique vineyard sites that dot the landscape of the northern Central Coast. With over 15 wines in total, Big Basin showcases the terroir of this region perhaps as good as any winery that calls these lands their home.
And there are some truly outstanding wineries that call these lands their home – like Ridge, Mt. Eden, Calera and Rhys, to name a few.
Despite having grown up just a few miles from the Santa Cruz Mountains, this visit to Big Basin was my introduction to their wines. And, although I would have liked Big Basin's wine on my radar years ago, I'm glad I came to them when I did. The diversity of the wines Bradley now offers, the vineyards he sources from, his winemaking perspective… all of this has evolved greatly over the years and I think Bradley would tell you that the wines he is producing now are some of the best he's ever released.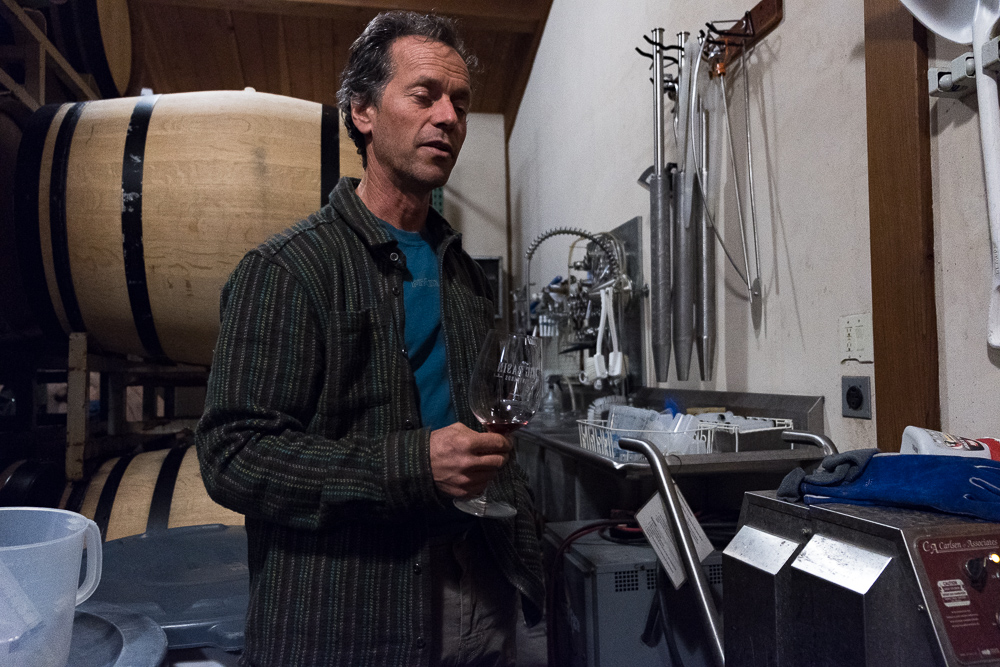 While Bradley refuses to call Big Basin a "natural winery," it would be hard to describe their wines without talking about the natural philosophy. His approach is focused first on the vineyard and quality of grapes. In the winery, he uses indigenous yeast to ferment, adds a good amount of whole clusters, picks on the early side, and is light-handed with new oak and sulfur. All of these minimal-intervention, old-world wine practices make a difference; resulting in lower alcohol wines that have freshness and energy.
If you're into the wines of new California producers like Pax and Arnot Roberts, Dirty & Rowdy, Enfield, Ceritas, Cruse, Jolie Laide, etc., or if you've been known to enjoy wines from the Northern Rhone, there's a good chance you're going to like what Bradley is doing.
So, where to start?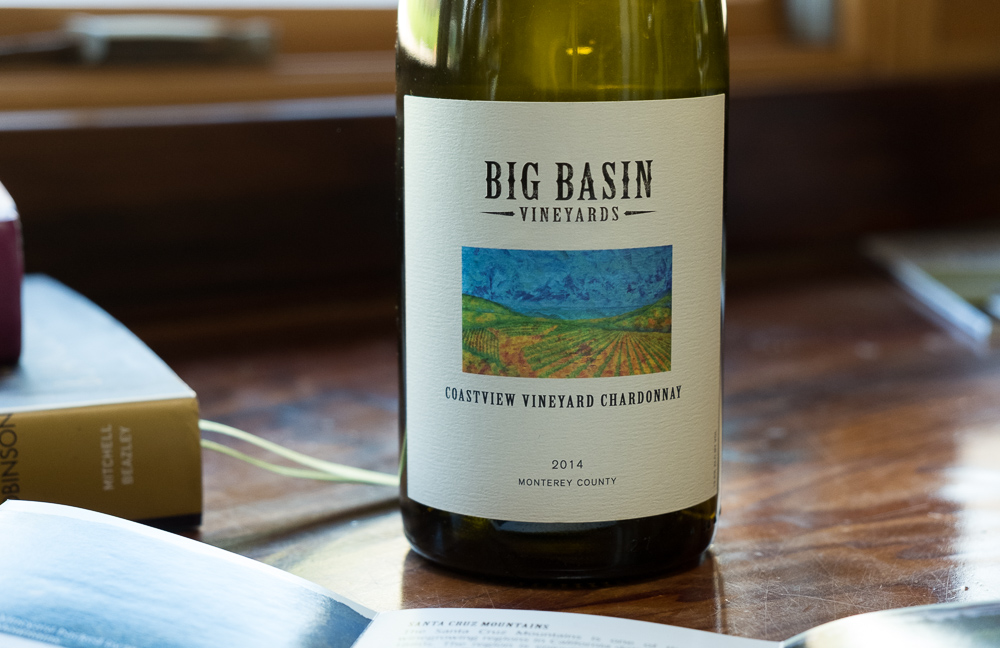 Coastview Chardonnay – Cool California Chardonnay… this is the good stuff, folks! Not the overly-oaked, sun-drenched junk your mother-in-law loves. Mineral-laced, fresh and energetic, floral and layered with richness but light on the palate with plenty of acid to go around.
Coastview Syrah Terraces – Born from Alban clones, made with mostly whole cluster fruit, this 94% Syrah/4% Viognier beauty is Cote Rotie in California. Beautiful fruit, acid and precision, with layers of minerality that will unfold with time.
Grizzly Grenache – 100% Grenache from the Certified Organic estate vineyard. Spicy and intense with floral notes and earth-driven character.
Lester Vineyard Pinot Noir – An expressive and bold Pinot made with 70% whole clusters. Tightly wound with incredible tension, driven by chalky minerality and bright red fruit. Just one of many delicious Pinots Big Basin has to offer.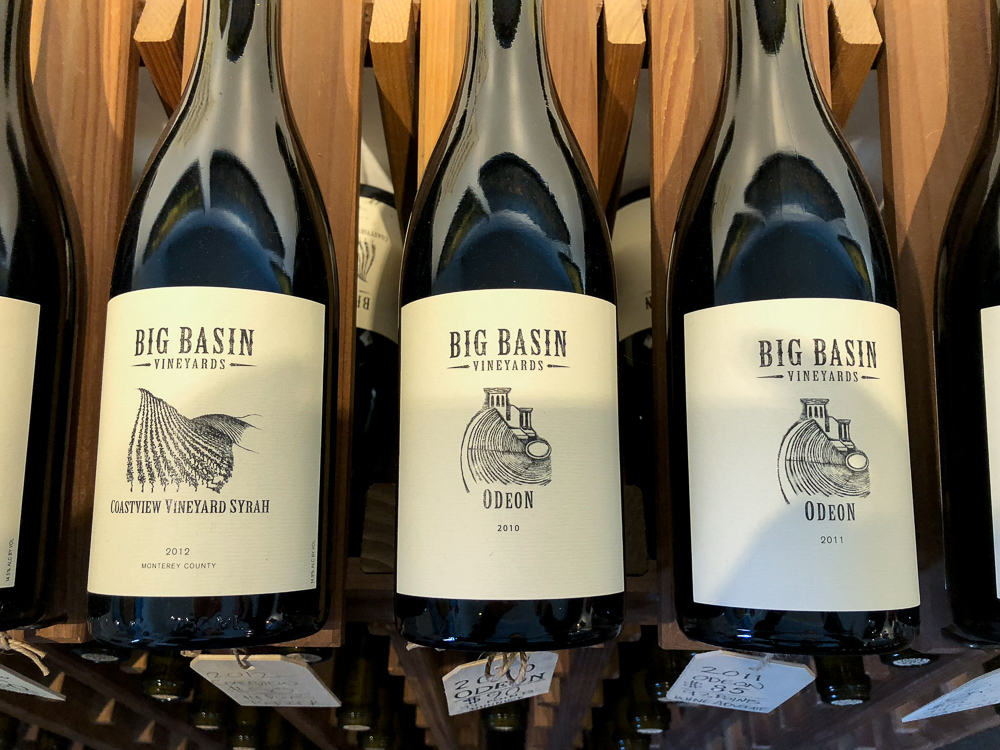 That should get you going, but really all of Big Basin's wines are worth seeking out. The easiest way to taste them is at the Big Basin tasting room in downtown Saratoga, where you can put on a vinyl record and engage with the friendly tasting staff. Or, if you're up for a little drive, I recommend taking a ride into the mountains to visit the estate winery on a weekend. From the Bay Area, these are relatively easy places to get to. And if you're visiting San Francisco or Napa/Sonoma, consider heading down for a day to explore the Santa Cruz area.
You can also check out all of Big Basin's wines online on their web store.
So what's next for Bradley? Well, after building out a portfolio that encompasses over 15 wines made from mostly Rhone and Burgundy varietals, Bradley will be introducing his first Bordeaux varietal wine in the near future. It comes from a very small plot in one of the most sought-after vineyard sites that he sources from. Only 60 cases or so will be produced and I have a feeling it's going to be a knockout. Keep your eyes open for this one!
Thanks to Bradley Brown and Big Basin Vineyards for their hospitality and time!