If you're looking for the soul of Chilean wine, look no further than Julio Donoso. World renowned photographer turned passionate winemaker, Julio is the man behind Bodega Montsecano–a small boutique winery in Chile's Casablanca Valley.
Julio just completed his 10th vintage. His focus is natural Pinot Noir and his winemaking philosophy–one he developed in part with pioneering Alsatian winemaker André Ostertag–is fervently minimalistic. It respects environment and place, and is strongly focused on the idea that nature is stronger than human.
The wines you'll find at Bodega Montsecano are intoxicating, completely unique, and some of the most exciting wines in Chile today.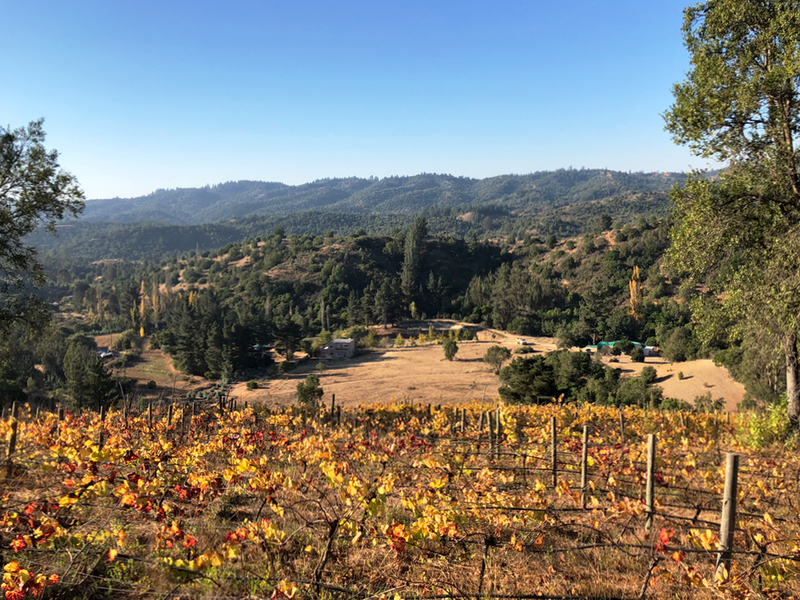 The word Montsecano roughly translates to dry mount, in reference to the land in which Julio's vineyard resides. It's a beautiful place, quiet and deeply rural, with rolling hills dotted with Pinot Noir vines. Julio has about 20 hectares (just shy of 50 acres) in total, but if you ask him how big the vineyard is or when it was planted his answer is that it's a work in progress. Along with a small team, he has planted everything by hand over the past dozen years. A little bit at a time.
Unlike many of the large wineries in Casablanca Valley, Montsecano can't be seen from Ruta 68, the main road that runs through the region. Even if you're driving out a ways to visit smaller wineries like Villard or Kingston, you still won't find Julio's property. Trust me, there are no signs that will get you there. If you want to find Montsecano, you have to commit to getting lost (both physically and mentally).
"Pass the small town of Las Dichas, and keep driving until you see an unmarked red gate on the left after a swimming pool," Julio's email said. "Open the gate and go to the end of the road."
Julio's email directions were a little vague, and admittedly, a slight panic set in when I was nearing his property. It was the kind of slight panic you might get if you were in a foreign land, on a dirt road in the country, without a solid cell phone signal, behind an unmarked gate that's clearly labeled "private property keep out."
In the quest for great wine, and despite speaking very little of the local language, I pushed on.
As I reversed down a narrow dirt road in my white Peugeot rental car, I saw a thin man in a cowboy hat emerge from a house. He was carrying a large knife (for trimming branches, I suppose) and dust swirled up from the ground as he approached my car. It was Julio; I got out and shook his hand, then walked with him to his winery.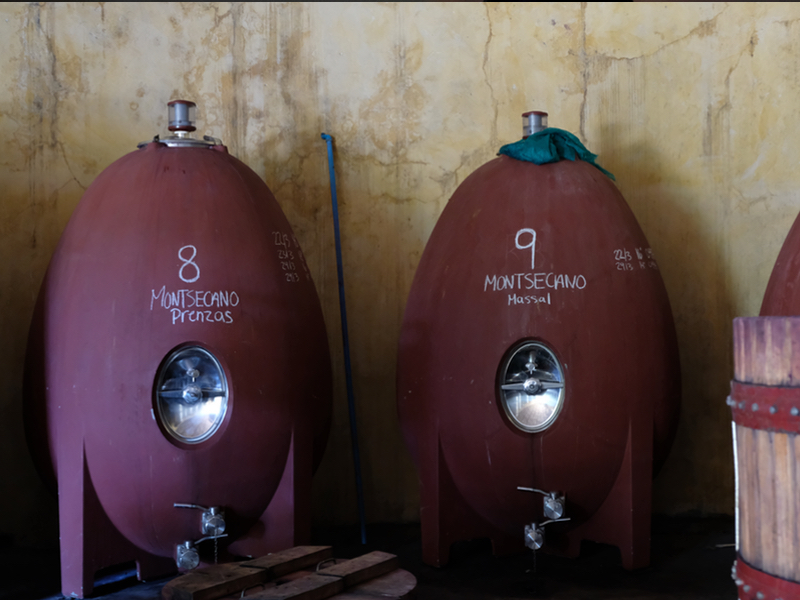 I've seen a lot of small wineries in strange places. When I met Sam Bilbro from Idlewild in Sonoma a few years ago (before he had his slick tasting room in Healdsburg), I met him in a tiny mushroom factory turned warehouse space in the middle of rural Alexander Valley. It was pretty weird (in a very cool way). But Julio's small operation is on another level.
For starters, Julio has built everything from the ground, up. On the day I was there he was in the middle of building a reservoir for the vineyard. The main building is a tall, oval structure with a sliding, metal door and a thatched roof. Inside there are about 10 cement eggs and a few steel tanks. The climate inside is naturally cool and humid and it has an incredible aura and energy.
It's impossible to explain through words, but you can literally feel the life in this cement room. There is a light wind and whisper from the trees that echoes down through the thatching on the roof. The plants, the building, the wine, the bugs, the sounds… everything is living in harmony in this place and it all impacts the wine Julio is making.
"This is all about happiness," Julio said. "This is a happy place."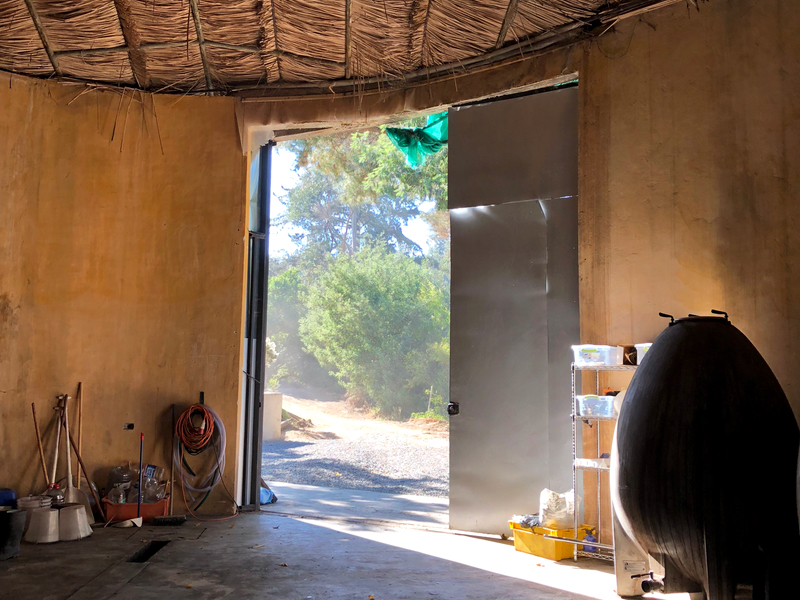 It becomes very obvious within minutes of talking to Julio that he is driven by soul, art and the deeper meaning of life. He made it very clear that the pursuit of fortune is not his objective. Montsecano is about passion and being a part of the process. It's about the romance of winemaking, and to that end, it's essential to create a peaceful and positive environment that lets nature do its thing.
"No treatment of temperatures," he states. "No additives, no sulfites, no electricity…just fruit. And it works."
Julio washed a few glasses off in a bucket of water and poured me some Chardonnay (his first ever) out of a cement egg. It's an experimental wine he made with his assistant Léonie during this past vintage. When I tasted it I was immediately rushed with an overwhelming sense of place that I have rarely ever felt.
We moved onto another new wine, a Pinot Nouveau. "The first taste of the new Casablanca vintage," Julio said. He made this wine in collaboration with French vigneron Dominique Derain–one of several pioneering winemakers that spends time in Casablanca with Julio during the Northern Hemisphere's off-season. The wine is beautifully fresh and delicious, but it will all go to France for Derain's own label, Domain Derain.
We next tried Julio's new vintage of Refugio Pinot Noir, followed by his flagship Montsecano Pinot Noir, which is the only wine made from 100% estate fruit. Both wines are biodynamically farmed, spontaneously fermented and aged in cement eggs.
These are wild wines, incredibly fresh, structured and bursting with energy. Julio picks his grapes quite early, but manages to capture concentration and juicy, quenchable fruit. On the Montsecano Pinot Noir, you can taste every bit of the minerality that comes from the granite earth in which his vines are planted.
The wines are delicious on their own, but once you understand Julio, his philosophy and process, they become otherworldly.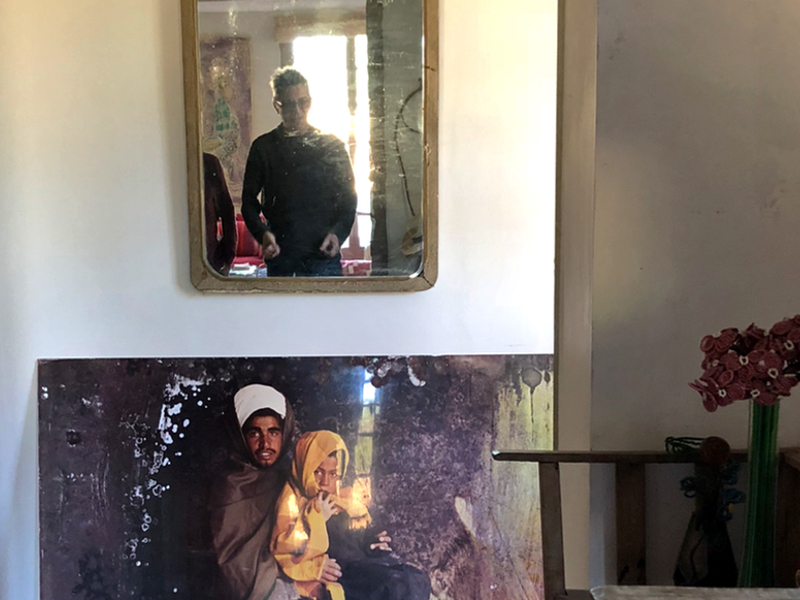 After the tasting, Julio took me to his house, just a hundred yards or so from the winery. He showed me some of his photography, including an old photo he found not long ago that had been damaged after years in storage. He loves what nature has done to the print, and has decided to re-print the "damaged" photograph as a new piece of art. Another example of nature being more powerful than human.
We left the house and went for a short ride in his truck around the vineyard. His dog, Rocco, looked on from down below as we climbed up the dirt path on the hillside, just narrowly skirting the edges. It didn't take long until we circled back around.
Before I left, Julio got a bottle of his 2017 Montsecano Pinot Noir, hand labeled it, and gave it to me. "Only 1,000 cases will be available," he said. I can't wait to try it.
On the way out I came back to the red gate, unlatched it and drove back onto pavement. It was like coming out of a daydream.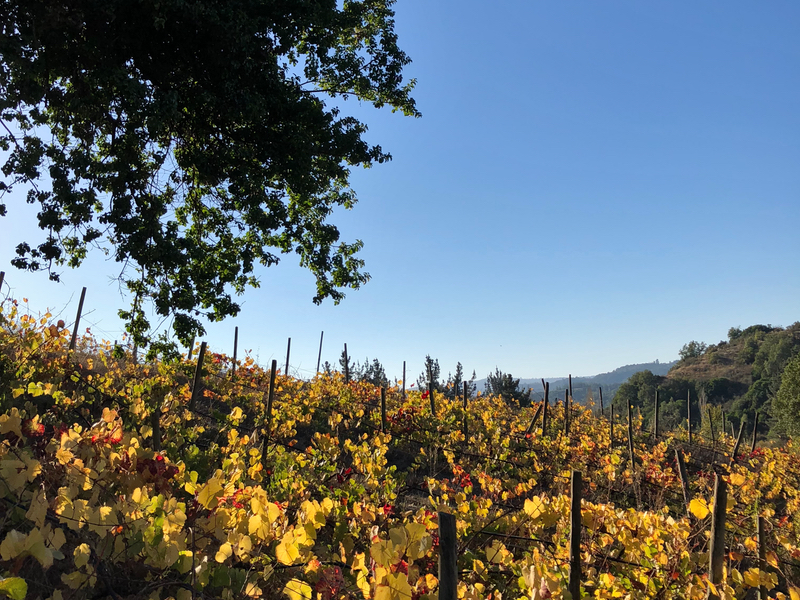 —–
If you want to taste the soul of Casablanca–the earth, the people and the life that makes it one of Chile's most exciting wine regions–find these wines. They are not only delicious, complex, terroir driven and everything else you want in a great wine, but they will give you a true sense of this unique place that Julio calls home.
A big thanks to Julio Donoso for the hospitality and wine. Cheers!