I've tried a lot of great whiskeys this year, but there's one I've continued to come back to over and over: A.D. Laws Secale Straight Rye Bottled in Bond.
This whiskey blew me away the first time I tried it, and I've been recommending it ever since. In fact, when it came to my own wedding earlier this year, I gave all my groomsmen a bottle.
Colorado-based Laws Whiskey House, however, is hardly a one-trick pony. While their Secale Rye BIB may be the standout, their entire portfolio of American craft whiskeys is impressive. From their flagship Four Grain Bourbon to their single grain releases to their unique cask finish series, this is a distillery that should absolutely be on your radar in the year to come.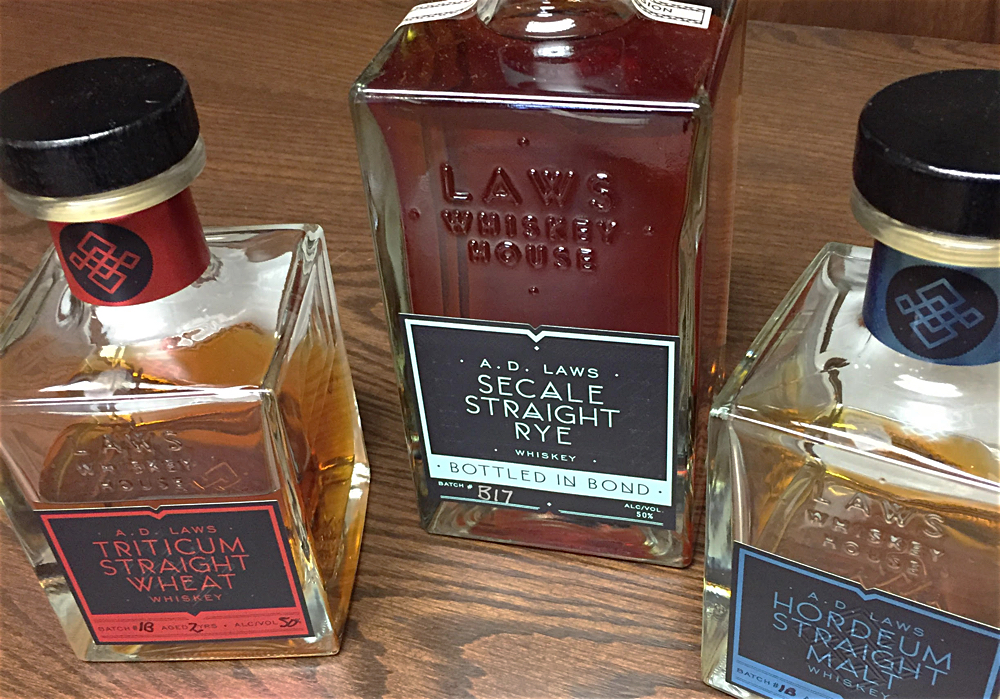 If you're unfamiliar with Laws, that's likely because you don't live in Colorado. The distillery's current distribution keeps things pretty close to home, with the minor exception of Illinois (including online sales at Binnys.com). But, with a recent recognition as the World's Best Rye in Whisky Magazine's 2017 World Whiskies Awards, I have a feeling that demand is going to take Laws out a bit further in 2018.
My first experience with Laws was on a trip to Colorado a number of years ago. But, it wasn't until my last visit this past summer that I actually made it to the distillery in Denver to try their full lineup of whiskeys. I stopped by on a weeknight, and was able to taste through a good number of the current releases—which they offer up as choose-your-own whiskey tasting flights for about $10.
I wound up doing two flights. The first, a selection of the core whiskeys like Four Grain Straight Bourbon and Secale Straight Rye. Their flagship Four Grain Bourbon is made from a mash bill of 60% corn, 20% wheat, 10% rye and 10% barley. It's a tasty whiskey, aged around 3 years and showcasing wheat, rye and barley that are grown in Colorado.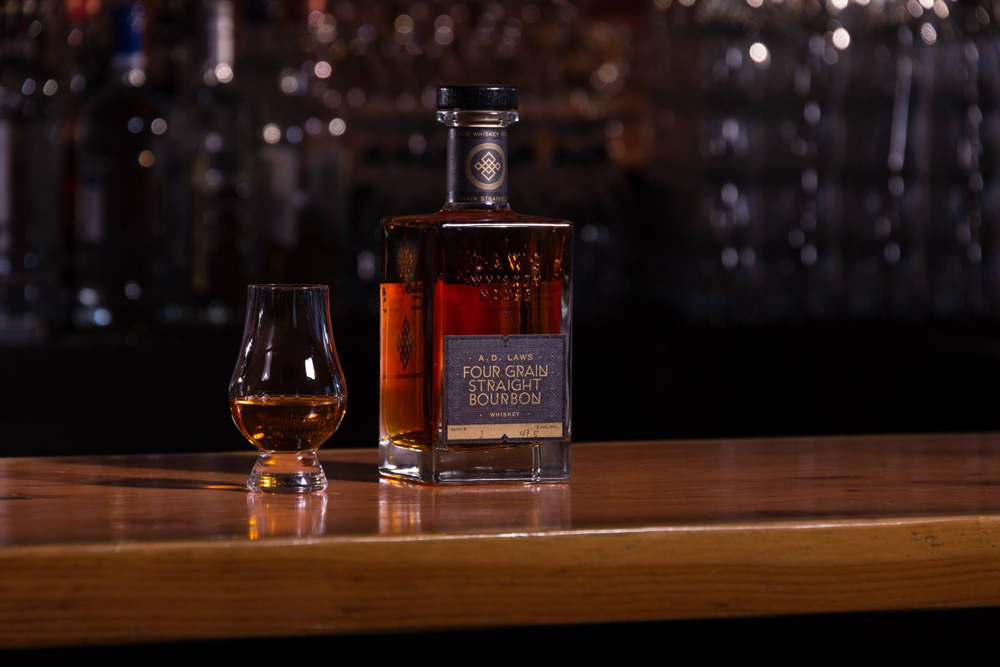 As with their Secale Straight Rye (made from 100% Colorado grains), Laws offers various bottlings of these flagship whiskeys at different proof points, which I think is a great option for consumers. They have the standard straight bottling, a Cask Strength bottling, and a Bottled in Bond bottling (which requires that the whiskey is 50% ABV, is aged at least four years, and is the product of a single season, using the grain of a single season, made by one distiller at a single distillery). Laws also releases single barrel selections as well.
All of Laws whiskeys are handcrafted at their Denver distillery where they mill their own grains and create a sour mash which is open-air fermented for four days. Distilling is done using a custom pot/column still and whiskeys are aged in full sized American White Oak barrels. All of this comes together to make a very unique spirit that is completely their own.
During my visit, I also tasted through a new line of cask finish Bourbons that Laws was beginning to showcase this summer—including: Port, Muscatel, Cognac, Armagnac and Sauternes. I love that more craft distilleries are experimenting with wine and other barrel finishes. When done right, it can really bring a whiskey to a great place (i.e. WhistlePig).
All of the special finishes start with Laws Four Grain Straight Bourbon, but get an extra 7 months to 2 years in wood.
My favorite was the Armagnac finish. This whiskey is dialed in to near perfection, with just the right amount of Armagnac essence blending into the nose and palate. The extra wood has added more depth to the Bourbon, and it's extremely well balanced, not allowing the finish flavors to overpower the great flavor profile of the base whiskey. It definitely takes their regular Four Grain to the next level.
If you like a heftier whiskey with rich dark fruit and woody power, the Port finish might be your speed. Port can have an overpowering effect on whiskey, but Laws has done a nice job of keeping the finish dialed in.
And for sweeter whiskey fans, try the Sauternes or Muscatel finish.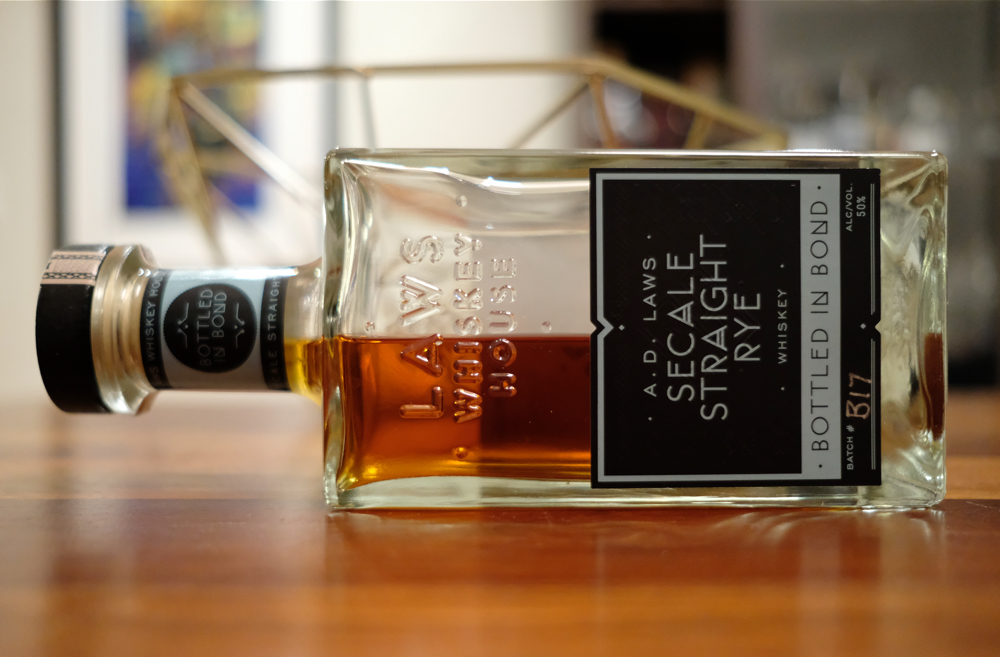 As for my favorite craft whiskey this year…
Secale Straight Rye Bottled in Bond (Batch B17) is just straight delicious. A 100% Colorado rye whiskey with a unique flavor profile achieved by the local grains, open-air fermentation and hand-crafted distilling method. At 100 proof, it's easily palatable with just the right amount of bite. No water is needed, but it can certainly stand up to an ice cube, a few drops of water, or whatever your pleasure. It would likely make for a drop dead Manhattan, but I've been drinking mine entirely neat.
My Take:
Fresh rye notes and cereal grains on the nose, mesh with apple, butterscotch, cinnamon and mint. On the palate there's a hit of sweet honey up front followed by spice, dark fruits, wood tannin, candied orange and a hint of pepper and chocolate on the finish. 93 points
According to my distillery contact, Laws is currently looking at opportunities to expand distribution to the west or east coast in the coming year or two. So, keep an eye out in your local market. Or, better yet, get yourself to Colorado where you can taste these whiskeys at the source!