This year for St. Patrick's Day, skip the cheap shots of booze and get yourself a top-notch Irish whiskey that you can sip and enjoy well beyond the holiday parades and shenanigans. My recommendation: RedBreast 15.
Don't care for St. Patrick's Day? Fine. Then, put the Bourbon and Scotch aside for a few nights and let the Irish woo you with their goods. After all, Irish Whiskey is the fastest growing premium spirit in the world. Perhaps it's about time you got on that train (if you're not already on it)?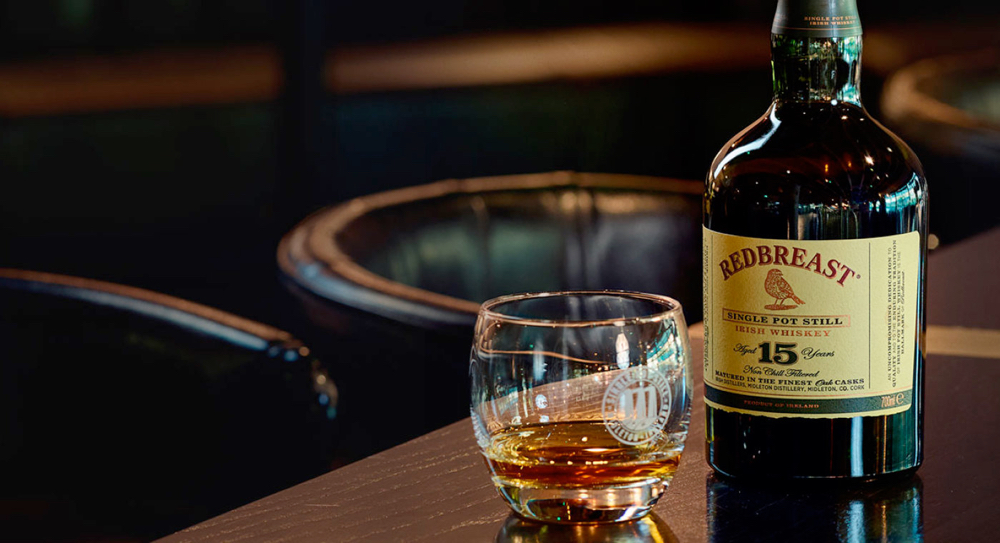 Of course, even in the Irish whiskey category, RedBreast is quite unique.
I remember first taking notice of their whiskeys in 2011, shortly after they launched their phenomenal RedBreast 12-year Cask Strength in the U.S. market. I received a sample, and after trying it, promptly went out and bought a bottle… which then proceeded to disappear very quickly. I gave that whiskey a score of 94 points—which is one of the highest ratings I've given. Shortly thereafter, Whisky Advocate named it Irish Whiskey of the Year.
But, it wasn't until a dinner late last year with RedBreast/Irish Distillers Master Blender (and Whisky Magazine Hall of Famer) Billy Leighton that I came around to the 15-year; a sultry Sherried beast if I've ever had one.
If you ask Billy what makes RedBreast special, he'll tell you that it's all about the Sherry cask maturation. Well, that and the fact that RedBreast uses both malted and unmalted barley in their mash (Scotch is just malted barley) and distills using copper pot stills. The result is a robust, aromatic and spicy spirit that is not only unique in the Irish whiskey category, but also in the world of spirits.
You can taste this unique profile throughout the entirety of the RedBreast portfolio, from the 12-year to the 21-year and beyond.
The Whiskey
RedBreast 12, their entry-level and most widely produced whiskey, is matured in first fill Sherry and first fill Bourbon barrels, giving it a very wood-influenced profile. It's expressive, full of dried fruits, Christmas Cake aromas, and layered with a nuttiness from the Spanish oak and vanilla sweetness from the Bourbon barrels. For $60, it's one of the best Irish whiskeys for the money.
But, in my opinion, I say skip the 12-year and splurge for the 15. For $30-$40 more you're going to get a whiskey that will tempt you with every sip and haunt your whiskey dreams. Compared to the 12-year, the 15-year has slightly less of a wood influence (even thought it has spent more years in wood overall). The reason is that the 15-year uses a combination of both first use and second use Bourbon and Sherry casks, letting the whiskey age more gracefully than the younger version, and allowing the pot still spirit to shine through. This also creates a more complex and layered profile
With the 15-year, you'll get a truly decadent richness that's layered with sherry and spice. That, along with nuts, toffee, vanilla, cocoa and an incredibly long finish takes this one over the top. In a portfolio of whiskies that's as impressive as RedBreast's, the 15-year is a true standout. An easy 93 points in my book!
So, as they say in Ireland, Sláinte!