I've covered a fair share of drink collaborations and themed releases over the years. As a marketing guy, I guess you can say that these kind of things interest me. But marketing aside, some of these collaborations and themed releases are actually quite cool and delicious. For this holiday season, there are a few that you may want to put on your radar.
Johnnie Walker's Black Blade Runner 2049 whisky brings Hollywood to the forefront, while Highland Park's Full Volume unleashes the rock & roll. Also, spirits club Flaviar.com launched a cool collaboration with TV show Damnation.
Here's a quick rundown of each.
Johnnie Walker Black Label The Director's Cut
Let's start with Johnnie Walker because I'm a big Blade Runner fan and for you whisky/sci-fi geeks, you must admit that this collaboration is pretty damn cool.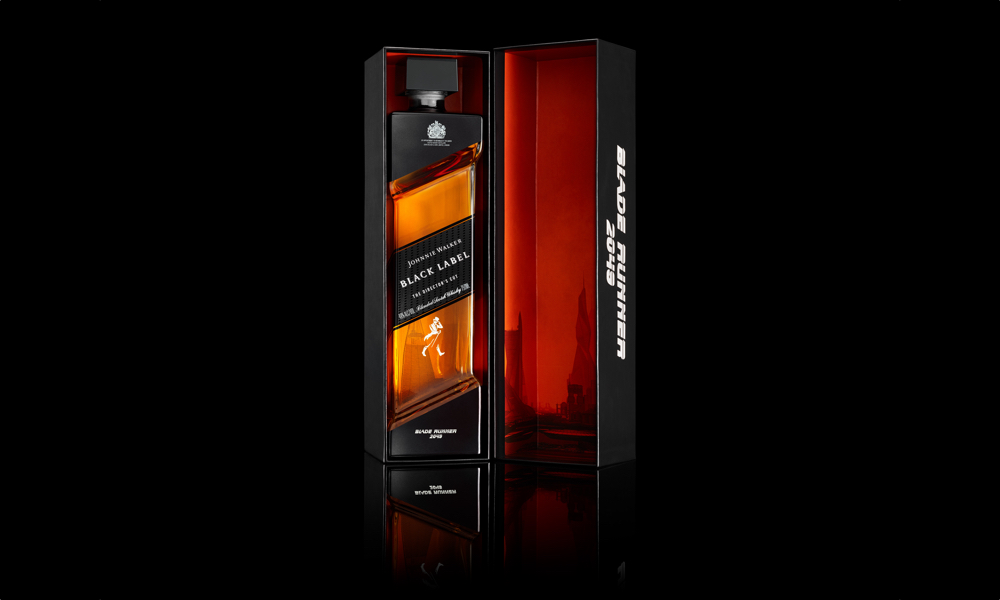 Blade Runner director, Denis Villeneuve, worked with Johnnie Walker Master Distiller, Jim Beveridge, to create this whisky. The collaboration originated because in the original Blade Runner (perhaps you sci-fi buffs will recall), Harrison Ford drinks Johnnie Walker. So for the new movie, Johnnie Walker gave Villeneuve the opportunity to design a bottle that could be used in the movie… which, once again, is shown in a scene with Harrison Ford.
The new bottle is sleek, sexy and downright cool. Just like the new Blade Runner.
Here's a quick video with Villeneuve talking about the collaboration:
As for the whisky, Black Label The Director's Cut is an amped up version of Johnnie Walker Black Label. One of the most noticeable differences is that it has a higher ABV of 49% (compared to 40%). This, of course, was done to compliment the year (2049) in which the movie is set, but it's a big improvement over the original.
Admittedly, I'm not a big Johnnie Walker drinker, but if I'm being honest with you (and myself) I really enjoyed this whisky. It's smooth and easy-going but it has a nice little bite from the higher proof point. It also has great flavor and balance, making it a really nice sipper (neat, or over rocks).
There's a smokey campfire peat that immediately comes across on the nose, followed by honey and marshmallow, apple candy and orange citrus. On the palate, you get a light salinity, smokey bacon fat, honey and tea, along with a dose of dried fruit and cocoa. The finish has a peppery heat that trails into a long, mellow afterglow. There's a lot going on.
If you're a fan of Johnnie Walker, Blade Runner, and/or a combination of both, I'd be amiss not to recommend this whisky. It's a winner.
Highland Park Full Volume
While Highland Park's Full Volume doesn't have a cool movie like Blade Runner to attach its purpose to, it does have a pretty groovy package that is steeped in rock n' roll.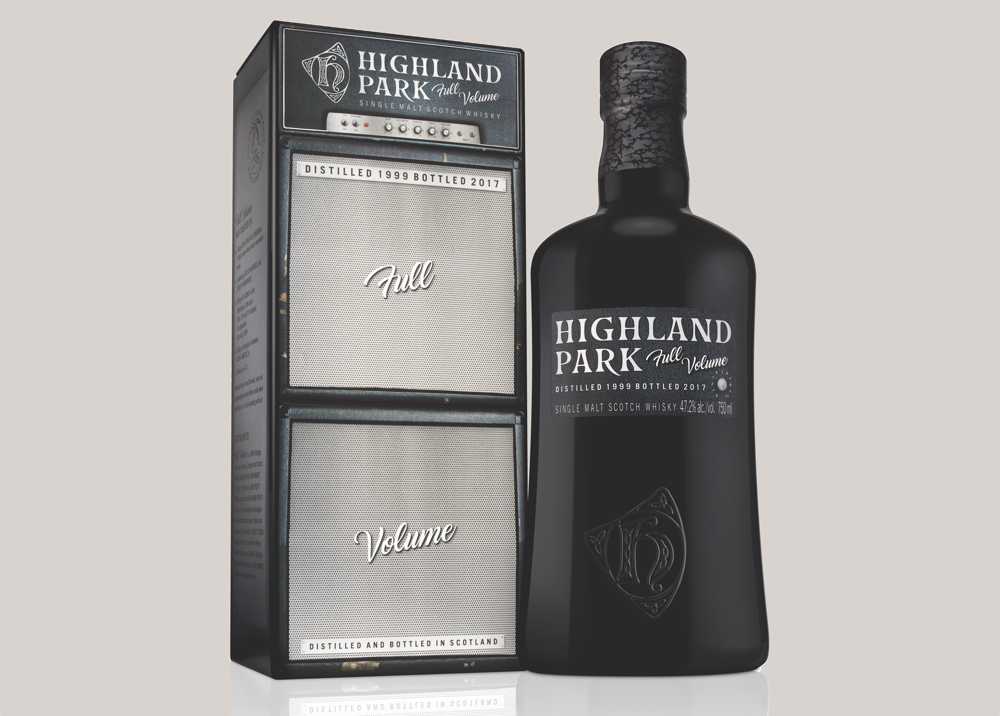 According to Highland Park's Jason Craig, "There are lots of similarities between creating single malt whisky and music. In music, amps and equalizers restore balance by fine tuning frequencies to alter tone and character. It is a similar role when creating a new whisky."
To demonstrate the common ties between music and whisky making, Highland Park worked with music producer/song writer Saul Davies, to create a piece of music for FULL VOLUME. Check out Saul and Gordon's chat below:
As for the juice, well it's approximately 18 years old (distilled in 1999, bottled in 2017), matured in 100% ex-Bourbon casks and bottled at 47.2%. SRP is $100 (which is pretty good for an 18 year these days).
Aroma-wise, tropical fruit blends with vanilla, cedar and bourbon barrel notes. On the palate, you'll get more vanilla, sweet fruit, hints of lemon and honey, dry oak, beat up old leather and a light peat smoke. It's a different profile than your typical Highland Park, mostly due to the lack of Sherry wood aging. So, perhaps a win for you HP fans that are looking for a unique bottle to add to your collection.
If you're not a fan of Bourbon barrel aged Scotch, like a little more richness to your whisky, and aren't a particular fan of Highland Park, this might not be the bottle for you.
Flaviar.com The Damnation Revolution Box Set
Flaviar is a cool sprits club that offers up tasting boxes, unique bottles, and online spirits sales. I wrote about a trip I took with them to the WhistlePig farm not too long ago. Recently they launched a special box set that was done in coordination with USA's new Damnation TV show. The show takes place in Prohibition-era America. Flaviar created this box to showcase spirits that are quintessentially American, tied to the speakeasies of the Prohibition era.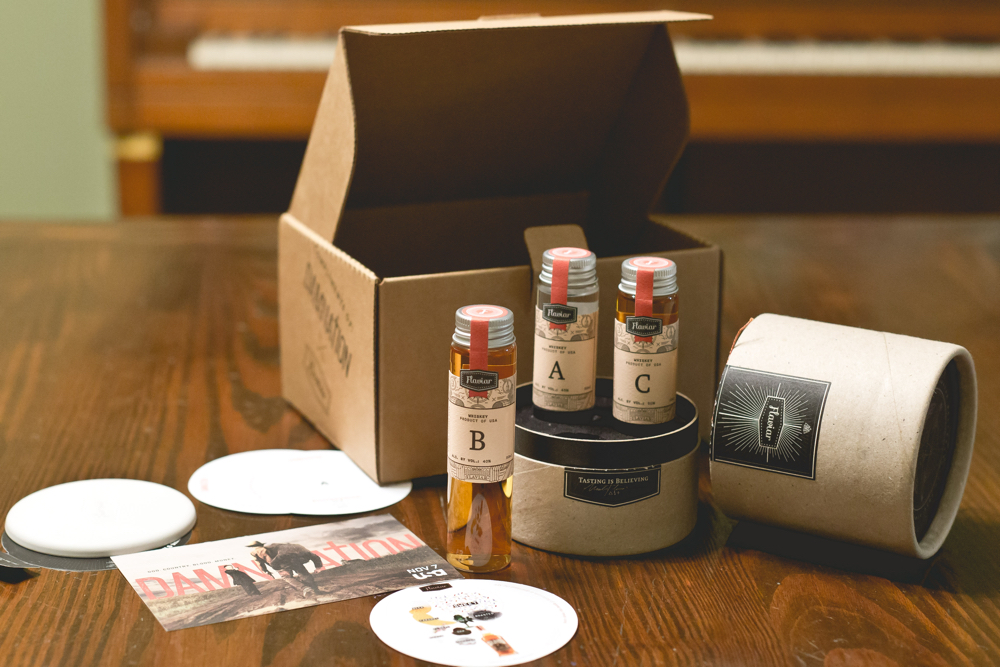 The set includes Journeyman's W.R. Whiskey, New Holland's Beer Barrel Bourbon and WhistlePig Rye. Check it out here. A fun gift or tasting pack if you want to try a few new whiskeys without committing to a full bottle.